To be honest, if you've narrowed down your choice to these two units, you cannot go wrong either way. But the question is, Generac GP2200i vs Honda EU2200i, which one is better?
For that reason, we're going to find out the answer to today's article. Stay tuned!
Image
Best Price
Best Choice
Best Price
Image
Best Choice
Image
Differences Between Generac GP2200i Vs Honda EU2200i
Before we come to the differences between the two products, here are some of the things they share in common.
2000 start-up watts, 1600 running watts
Weigh slightly the same at around 46lbs
The dimension for Generac GP2200i is 48 x 28 x 43 while Honda EU2200i is 51 x 29 x 42, which makes them almost the same in profile
So, what makes a difference between the two products?
Price
The Honda EU2200i costs a little more than the Generac GP2200i, up to $100-150. However, it also depends on where you get the unit from. Amazon often has really good deals to offer, sometimes up to 40%.
Utilities
Compared with other generators of the same class, the two machines are considered quiet. You can carry a conversation while having them operate.
However, I must say the Generac GP2200i is slightly better than the Honda EU2200i when it is operating with the low power mode. In the regular mode, the noise level will be similar to Honda, which is not too loud.
The GP2200i comes with a fuel gauge for you to determine how much gas you have left while the Honda EU2200i doesn't, meaning there is no other way to find out the amount of gas left but by looking under the fuel cap, or simply wait for it to be out of gas.
There are other useful features to come with the backlit fuel gauge of the GP2200i, which are current burnt rate, low oil/fuel indicator, and an alarm to tell you when the unit is overheated/overloaded.
Honda EU2200i basically has all the same features, except for the low fuel indicator.
So far, you can see that GP2200i is packed with more advanced features than its opponent – EU2200i.
Maintenance
As for the ease of use, both of the products are user-friendly; all you need to do is to follow the instructions mentioned on the user manual, and you're good to go.
Both units require proper maintenance for them to be under good conditions. Make sure you turn them on at least once every 3 months. Also, don't forget to add fuel stabilizers into the tank every once in a while.
Quick Rundown Of Generac GP2200i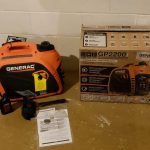 Generac 7117 GP2200i
Quiet, Compact, Easy to use. AC rated output running Watts: 1700, AC maximum output starting Watts: 2200. Rated 120 VAC Amperage-14.1
Truepower technology provides clean, stable power ideal for sensitive electronics, tools and appliances while the 1.2 gallon fuel tank allows 10.75 hours of run time at 25% load
Built-in handle makes it easy to transport and the integrated OFF/RUN/CHOKE knob simplifies startup procedures
Economy mode provides excellent fuel economy and noise reduction while the LED status lights alerts you on low-oil, overload and power
Parallel ready allows you to connect 2 inverters together for twice the power (parallel kit model 7118 sold separately)
Pros:
Easy to use
Comes with a fuel gauge for gas determination
Good values of money
Powerful motor with 2000 start-up watts, 1600 running watts
Auto shut off to prevent the unit from working beyond maximum capacity
Cons:
There are only 2 outlets available, limiting the application in certain circumstances
The instruction is not cleared on the use of panel

Quick Rundown Of Honda EU2200i
Sale
Honda EU2200i
More Power. Same Legendary Quality. - The EU2200i delivers 10% more power than the previous EU2000i - enabling you to power more of what you need, in the same lightweight, compact package. The EU2200i gives you the power to get more done.
Co-minder - Advanced Carbon Monoxide Detection System. CO-MINDER continuously monitors carbon monoxide (CO) levels. It automatically shuts down the generator before detected CO levels near the generator become dangerously high.
Honda My Generator App + Bluetooth Capability - Honda's exclusive My Generator smartphone app offers remote generator operation and monitoring with impressive performance. The app includes wireless stop and operation monitoring.
Lightweight And Compact - Weighing just over 47 pounds, the EU2200i is incredibly lightweight and portable. Thanks to Honda's inverter technology, it's easy to transport and store.
Commercial Grade Reliability - The EU2200i is powered by the Honda GXR120 Commercial Series engine. At 121cc, the GXR120 is at the top of its class - ensuring the EU2200 always produces the power you need to get the job done.
Pros:
Very quiet with a noise level of around 55dB
Lightweight and compact, which adds more portability
The starting mechanism is easy to understand and operate
Fuel-efficient
Cons:
Not very affordable
Doesn't have a built-in fuel gauge, making it hard to determine how much gas is left

Conclusion
So, who's the winner of the battle of Generac GP2200i vs Honda EU2200i? I suppose you already had the answer to yourself after reading this article.
Both units have their pros and cons, and they're great generators to have in your garage. Whether you end up buying Generac or Honda, I'm sure they will work just fine to satisfy you.
Popular Alternatives Worth Considering: