Whether you are a professional carpenter or a guy who loves to play around with wood in your garage, a powerful miter saw is an irreplaceable friend.
From a renowned manufacturer in the woodworking tool, Hitachi C10FSHS is a powerful miter saw that is used all around the world. However, is this saw suitable for your task? Is it worth your money? Let's find out in this article today.
>>> More: 10 BEST Miter Saws
Hitachi C10FSHS Sliding Compound Miter Saw Specs Overview.
Before we evaluate the power of this miter saw, let's take a quick look at its specifications.
Type: Sliding Dual Compound Miter Saw.
Dimensions: 17.2 x 19.9 x 34.7 inches.
Weight: 43 lbs.
Power source: Electric.
Voltage: 120V.
Amperage Capacity: 12A.
Color: Silver.
Blade length: 10 inches.
Motor speed: 3800 RPM.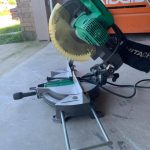 Rating: 4.3 out of 5 stars.
>>> Read Customer Reviews: Here
Hitachi C10FCH2 12-Amp 10-inch Miter Saw with Laser Marker Review.
Hitachi C10FCH2 Miter Saw
10" Sliding dual compound miter saw
Motor: 12 amp motor for the toughest cutting jobs
Same tools. New name. Hitachi power tools has renamed to Metabo HPT
Includes: C10FSHS miter saw, 10" 40T TCT Saw Blade, Pivoting Flip Fence, 10mm Box Wrench, Dust Bag
Bevel: 0-45 degree bevel angle range, to the right and left allowing users to quickly and easily flip the saw blade and leave the material in place
1. What do we like?
As one of the widely-used tools in the market, this Hitachi C10FSHS possesses a bunch of amazing features. In this review, we will point out some typical strong points of this product that might surprise you.
#1: Powerful Blades And Motor.
When you consider a miter saw, the ability to slide different types of wood in just a single cut should be on the top of your mind.
Hence, a 10-inch sharp carbide blade makes this Hitachi C10FSHS one of the most trustable woodworking tools. Including a no-load high-speed motor, this saw can help you tackle all types of fine wood.
Moreover, this miter saw also comes with a soft-start system that works well in reducing noise and recoil. Thus, it will be much easier for users to handle and control the machine right from the start.

#2: User-friendly features
One of the most outstanding features in this woodworking tool is the adjustable laser marker that allows you to predict the cut line. Featuring a miter scale, this saw enables you to achieve the high precision in every cut.
Moreover, an electronic speed control allows you to adjust the speed of the blade to fit with the type of wood you are dealing with. Since that, you can give fine and smooth edges to your wood project without any hassle.
To help you with different cutting angles, this Hitachi C10FSHS also features miter stops that can be adjusted to deal with 15 to 45 degrees to the left or the right.
#3: Warranty
When purchasing the woodworking tool, people might pay a lot of attention to the warranty. And this Hitachi C10FSHS can satisfy even the most critical buyers with five years of warranty from the manufacturer.
Thus, you can rest assured about customer services and returning or fixing product during the use. All you need to do is contacting them by hotline and receive the care you deserved.
2. What we don't like
Although many fantastic features make this product shine, it still has some disappointing things that might bother you.
The first thing you might not like about this product is that it is manufactured in China, but not Japan, like other products from the same brand.
Many users might question the durability of this product. Well, as it is not from the original Japanese manufacturer, this Hitachi C10FSHS might not be able to withstand such that extended use. However, if it is stored properly, it can be used several times before you need to purchase a new one.
Popular Alternatives Worth Considering:
Close the topic.
So, we have walked you through a comprehensive review about Hitachi C10FSHS miter saw. I hope that this article can help you have an objective view of this product. If you have any doubts, you can leave comments below. Thank you for reading!