If you are looking for a suitable miter saw, perhaps our Hitachi C12FDH Review will come in handy for you!
Check it out now!
Hitachi C12FDH Miter Saw
Hitachi Power Tools has renamed to Metabo HPT. Same great tools, with only a new name.
Laser marker system
Accurately indicates where the blade will cut on the material and can be easily adjusted to the right or left of the cut mark depending upon the users preference
Powerful 15 Amp motor with 1,950 Watts of output power
Smoothly powers through hardwoods with ease
Overview
The most interesting feature of Hitachi C12FDH is that it is equipped with a laser marker system, which will mark the point you will cut accurately.
Moreover, its powerful motor will enable you to cut smoothly on most kinds of materials. So, here is some brief information about this C12FDH model:
Weight: 59.2 pounds
Tall, pivoting aluminum fence
Capacity: 15 amp and 1950 watts
Laser marker system
***  Cons:
There are several cons of Hitachi C12FDH:
It's pretty difficult to adjust the fence.
It is not accurate enough for professional design.
It's less durable than some other saws.
You can encounter noise during your usage.
A Detailed Review Of Highlighted Features Hitachi C12FDH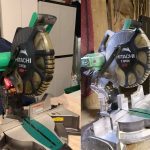 1. Cutting Capacity
The C12FDH model of Hitachi owns a 12'' blade and a powerful 15 amp motor, which allows it to spin up to 4000 RPM at its maximum speed.
To be honest, this level of capacity is pretty impressive for a miter saw!
2. Cutting Accuracy
This model has a laser marker system, which enables you to cut accurately. This system will be activated before you start your cutting. Then, it will show you where your cut will drop, which gives you full control of your carpenter work.
Besides, with the help of this laser system, you can adjust your blade to the right or left based on your preference without worrying about ruining the object.
3. The Aluminium Fence
With the height of 5 ⅛'', this fence makes your cutting work more stable, and safer when using. Personally, we think that this is the feature that not many miter saws can provide you.
4. Long Warranty
Hitachi offers a 5-year warranty, which is proof of its reputation. As you know, this is a well-known brand in the electric appliances field. So, if you don't know much about saw brands, this is an ideal choice.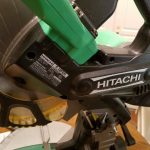 Conclusion
In our opinion, if you are just using Hitachi C12FDH to repair things at home, this tool is pretty awesome as it is easy to use and light when compared to other miter saws.
However, if you use it for professional carpenter work, this may not live up to your expectations. So, make a wise choice.
Last but not least, thanks for hitting the bottom of our Hitachi C12FDH Review. I hope that it is useful for you and you will soon find out your best saw!

See more reviews of miter saws from the same Hitachi brand: