If you are a generator-enthusiast, you must be engaged in the fight between Honda EU2000I VS Yamaha EF2000IS. To satisfy your curiosity, all features of these two machines will be listed in our post and the name of the champion will be announced.
Which one will grasp your admiration? Check the post below to find the answer.
Differences Between Honda EU2000I VS Yamaha EF2000IS
Two top candidates from two top brands have unquestionably many differences that determine each one's unique performance. We are sure that you can't wait to find out these distinctions, let's move on.
Product Specs
Here is a comparison table between these two products in terms of specifications
Image
The Winner (#1)
The Runner-up (#2)
The Winner (#1)
Image
The Runner-up (#2)
Image
Power Performance
The Yamaha EF2000iSv2 is believed to consume less fuel than the Honda EU2000I as they have shown that the former used 0.10 gal/hour while the latter's absorption is 0.12 gal/hour.
In the long run, the Honda EU2000I is only able to run about 8.1 hours at 25% load, yet its counterpart is proved to run much more efficiently, up to 10.5 hours at the same load.
Noise Level
Equipped with the advanced Noise Block system, which comes in handy in sound reduction and fiberglass insulation, the Yamaha EF2000iSv2 had its victory in the noise rating ranges.
Specifically, it claims sparsely low decibels ranging from just 51.5 – almost equal a normal conservation. Thus, you can chat or phone commonly next to the generator without having to raise your voice or disturbing the nearby neighborhood.
Fuel Consumption
Another point has gone to the Yamaha EF2000iSv2 when it comes to the fuel output.
While the Honda EU2000I is facilitated with a 4.1 L tank capacity, the number goes up to 4.4 L regarding its opponent.
These main differences in the tank have led to the inefficiency in fuel expenditure in the Honda EU2000I. It takes this device more material to run even less time compared with the Yamaha EF2000iSv2
Quick Rundown Of Honda EU2000I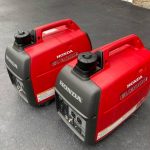 The following strong and weak points of the Honda EU2000I would be vital to you when considering buying this machine.
Honda EU2000I
2000 watts, 120V
Ideal for TV/DVD, satellite, fridge, coffee pot, and more
Super quiet
Easy to carry
Fuel efficient - up to 8.1 hrs on 1 gal of gas
Pros:
Produce up to 2000 maximum watts (16.7 amps) and clean power through a true sine wave filter
21 kg of dry weight, which is examined to be one of the lightest Honda devices permits great portability
Provided with a reliable 3-year warranty, all you need to do is registering the standard form of the guarantee
Uniquely designed with a low oil alert system – a great tool in alarming your oil level and avoiding damage in case you forget to replenish the oil.
Cons:
Limited fuel effectiveness
Kind of pricey

Quick Rundown Of Yamaha EF2000iSv2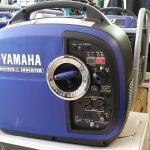 Check these advantages and disadvantages of the Yamaha EF2000iSv2 to understand why it is incredibly sought-after by the generator-lovers.
Yamaha EF2000iSv2
1600 watt rated AC output, 2000 watt maximum AC output, 13.3/16.7 amps @ 120V
Super-quiet muffler with USFS-approved spark arrestor - 51.5 dBA at 1/4 load
Smart Throttle varies engine speed based on load - improves fuel economy and reduces noise
Inverter system with Pulse Width Modulation (PWM) control
CARB Compliant
Pros:
The amazing battery cable
A separate shut off switch for the fuel is installed to enable the machine to run the carb dry and without any petrol needed
Great engine triggers wonderful fuel consumption capability, with the operating hours reaching more than 4.2 in the full load condition
Low and comfortable noise level and vibration
Furnished with an integrated fuel gauge permits the fuel level to be occasionally checked
Cons:
Not ideal for large scale work
No display screen

Conclusion
Each machine has its good and bad sides, but we still prefer the Yamaha EF2000iSv2 a bit more as this device can provide you with a trusted-worthy power and save you a little more cash.
Whatsoever, you hope that this Honda EU2000I VS Yamaha EF2000IS review can enlighten and help you make wise decisions. Thank you for spending your time.
Popular Alternatives Worth Considering: