Generac GP2200I and Honda EU2000I: Which portable generator is the better option for you? Still, have no idea? Let's scroll down to find the answer!
Differences Between Generac GP2200I and Honda EU2000I
Image
The Runner-up (#2)
The Runner-up (#2)
Image
Power Comparison
Maximum output is the first similarity between the two generators. More specifically, both Generac GP2200I and Honda EU2000I reach AC Maximum Output Starting Watts at 2200w.
Regarding this factor, Generac GP2200I and Honda EU2000I use gasoline to operate their engine.
However, there is a difference in terms of the fuel tanks of these items. It seems likely that The Generac GP2200I is superior to its competitor- the Honda EU2000I, due to the factors below:
The Generac has an outstanding fuel capacity of 1.2 gallons at maximum, which allows it to operate approximately 10.75 hours at 25% load.
Meanwhile, the item from the Honda brand can hold 0.95 gallons of gasoline. Amazing fuel-efficient engine permits the generator to consume the minimum capacity of gas and reach the maximum wattage. Thus, although its fuel tank isn't big, it can work around 8.1 hours at a quarter load.
There is a similarity between these products in terms of parallel operation. Both Generac GP2200I and Honda EU2000I are equipped with two inverter connectors, which allow these generators to expand the load volume of the connected devices. Therefore, you can enhance the total load and wattage.
There is no big gap between the Generac GP2200I and Honda EU2000I regarding the criteria. They all offer an Auto Shutdown function, which turns off these generators automatically without any damage to their engines. Hence, this is an excellent method of cutting power and costs.
When they operate in the efficiency mode, the Generac GP2200I can reduce the noise level and keep its productivity the same way as in the medium load. Furthermore, the gadget in this mode will minimize the motor functions, which aims to save power.
Since the Eco mode is on, the Honda EU2000I can work till fuel runs down due to the safety system. This feature offers great longevity for the machine.
In terms of criteria, the Generac GP2200I seems to be less optimal than the Honda EU2000I. We measured that the Generac device generates noise levels of approximately 60- 70 dB (depending on the load level), which is louder than its opponent (around 48- 57 dB).
Design Comparison
There is an interesting thing about the dimension criteria of these two generators.
The Generac GP2200I reaches 19 x 11 x 17 inches, whereas its competitor seems likely to be a bit smaller at 20.1 x 11.4 x 16.7 inches. However, the device of Generac is 0.4 pounds heavier when compared to Honda EU2000I (45.6 pounds).
There is no difference in this feature between the two machines. They all have integrated handles, which allow you to carry or transport them with ease.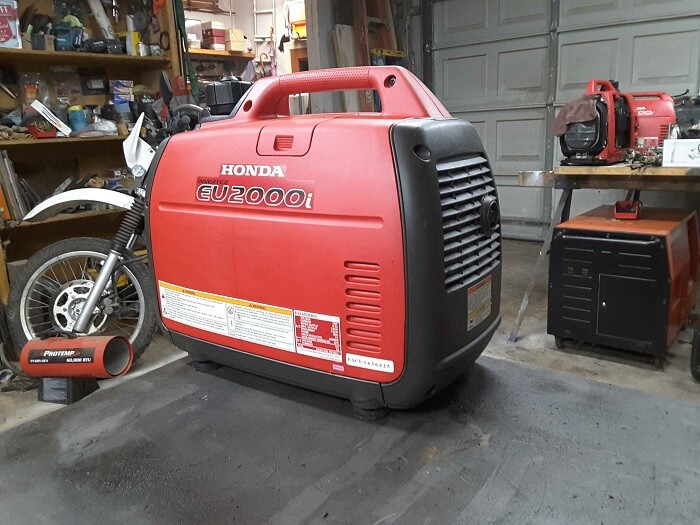 Features Comparison
Although there are some differences in mode, the Generac and Honda manufacturers offer their devices with learner-friendly features.
The Generac GP2200I has a built-in startup dial equipped with Stop, Choke and Run modes. Specifically, these functions allow you to control and start the portable generator easily and efficiently.
Thanks to the front and sides bundled with the control panel, you can manage and control Honda EU2000I with ease. To further simplify this complicated process for users, the producers have deliberately highlighted the operational and control points in gray color.
The Generac firm equips two outlets and one USB port for GP2200I, convenient for charging small appliances, such as i-pads or mobile phones.
In comparison, the Honda EU2000I only has two outlets and doesn't consist of any USB ports.
Quick Rundown Of Generac GP2200I
Generac GP2200I Generator
Quiet, Compact, Easy to use. AC rated output running Watts: 1700, AC maximum output starting Watts: 2200. Rated 120 VAC Amperage-14.1
Truepower technology provides clean, stable power ideal for sensitive electronics, tools and appliances while the 1.2 gallon fuel tank allows 10.75 hours of run time at 25% load
Built-in handle makes it easy to transport and the integrated OFF/RUN/CHOKE knob simplifies startup procedures
Economy mode provides excellent fuel economy and noise reduction while the LED status lights alerts you on low-oil, overload and power
Parallel ready allows you to connect 2 inverters together for twice the power (parallel kit model 7118 sold separately)
[i2pc show_title="false" title="Pros & Cons" show_button="false" pros_title="Pros" cons_title="Cons" ][i2pros]User Friendly
Easy to handle or transport
Convenient with three outlets
Having Eco mode to save power and money
Big fuel tank
Equip automatic shutdown function
Including parallel connectivity[/i2pros][i2cons]Can not use the eco-mode at highest loads.
[/i2cons][/i2pc]

---
Quick Rundown Of Honda EU2000I
No products found.
[i2pc show_title="false" title="Pros & Cons" show_button="false" pros_title="Pros" cons_title="Cons" ][i2pros]Lightweight
User Friendly
Quiet Operation
Easy to handle and carry
Automatic shutdown function
Parallel connectivity[/i2pros][i2cons]Quite Pricey
Lack of USB ports [/i2cons][/i2pc]

---
Product Videos
---
Conclusion
After comparing Generac GP2200I vs Honda EU2000I, we believe you already have your answer for your right portable generator.
Suppose you are on a tight budget and need to have a generator for tailgating, camping; the Generac GP2200I will be a perfect choice for you. In case you want to have a great quality with quiet operation, the Honda EU2000I will be a better option for you.