Honda EU1000I and EU2000I: Which portable generator is the better option for you? Still, have no idea? Let's scroll down to find the answer!
Differences Between Honda EU1000I and EU2000I
Image
The Winner (#1)
The Runner-up (#2)
The Winner (#1)
Image
The Runner-up (#2)
Image
Power Comparison
The first thing both generators have in common is that they use gasoline. However, the fuel tank capacity of the EU2000I is slightly larger than that of the EU1000i (0.9 gallons vs 0.6 gallons).
In terms of working time, the Honda GX100 98.5 cc engine of EU2000I can operate for about 8 hours at 25% load and 3.5 hours at full load. While the EU1000i's Honda GX50 49.4 cc engine exhibits less impressive capabilities, it can only sustain a working process for 6.8 hours at 25% load and 3 hours at full load.
Besides, EU2000I produces 900W of output and 1800W of maximum starting watts. It can also generate a running power of 1600W and a maximum power of 2000W.
However, the manufacturer only recommends using these two product models for small appliances and basic household items such as microwave ovens, coffee makers, TVs.
Honda also received many compliments for both generator models for their noise levels and energy-saving ability. More specifically, Honda EU1000I consumes around 0.08 GPH while the EU2000I uses a little more. Both generate noise levels at 53 to 59 dBA, which is less noisy than a normal conversation.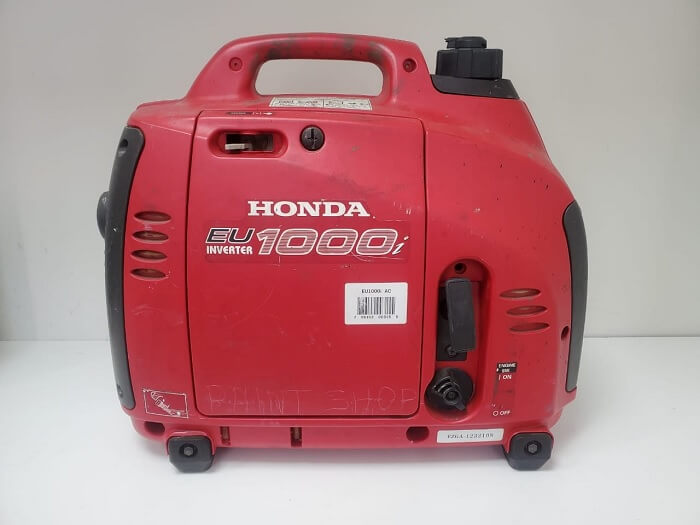 Design Comparison
Those who prioritize compactness in dimensions will love the Honda EU1000i due to its compactness of 17.7 x 9.4 x 15 inches. With a built-in handle and 29 pounds of weights, bringing the product with you on camping trips is never a difficult task.
By comparison, Honda EU2000I seems cumbersome with 20.1 inches in length, 11.4 inches in width, and 16.7 inches in height. Despite the same design, carrying it is tougher than the other model as it weighs 1.5 times heavier (45.6 pounds).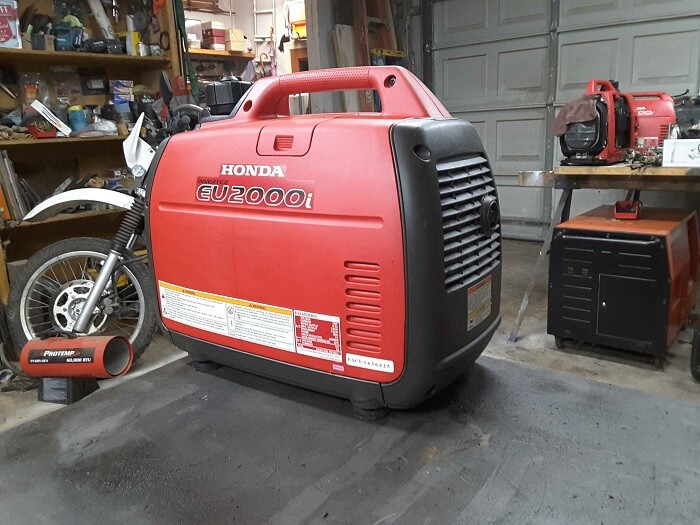 Features Comparison
Both generators have in common that they all include one 120V AC and one 12V DC. Two products also provide parallel operation outlets, which means you can connect another generator to double the output.
Additionally, they are all capable of reporting emergencies, including oil alert, overload alarm, and output indicator through a trio of LED lights on the control panel.
The manufacturer also applies a fuel-saving mode for two generators (starting by turning on the Eco-Throttle button). Similarly, Honda EU1000i and EU2000I also have the same oil-alert shutdown mode.
We enjoy the Honda EU2000I safety experience more, as it fully meets both CARB and EPA requirements (which means it is completely legal for use in Canada and the United States).
However, two generators operate on the traditional pull principles. We would appreciate them more if they included a start switch in this case.
Another disadvantage of the two is the lack of a fuel gauge. Hence, you need to remove the fuel tank cap to check the remaining gas, which is not effective in the event of a sudden power cut.
Quick Rundown Of Honda EU1000i
Honda EU1000i Generator
1000 watts, 120V
Ideal for TV, lights, fans, small power tools and more on camping trips, power outages and home improvement projects.
Very quiet generator operates between 53 to 59 dBA.
Lightweight and mobile at 29 lbs
The generator is very fuel efficient and can run up to at 1/4 load for 8.3 hrs on 0.6 gal of gas

Quick Rundown Of Honda EU2000I
Honda EU2000I Generator
2000 watts, 120V
Ideal for TV/DVD, satellite, fridge, coffee pot, and more
Super quiet
Easy to carry
Fuel efficient - up to 8.1 hrs on 1 gal of gas

Product Videos
Conclusion
This article has just shown you a detailed comparison of "Honda EU1000i vs EU2000I". If you prioritize a long operation process with a large capacity, the EU2000I is a good choice. However, it would be best if you bought a Honda EU1000i for mobility. As a final word, we hope this article can help you develop your favorite one.