Further down the page, you'll find some explanations regarding the key similarities and differences between the Horizon 7.0 AT and the Proform Carbon T7.
But before checking out explanations regarding their specs and features here's a table that summarizes the main technical summary sheet for these 2 treadmills:
Image
The Winner (#1)
The Runner-up (#2)
Heart Rate Monitor
Contact Hand Grips, Bluetooth 4.0 Compatible Receiver
The Winner (#1)
Image
Heart Rate Monitor
Contact Hand Grips, Bluetooth 4.0 Compatible Receiver
The Runner-up (#2)
Image
Specs Comparison
It is understandable when the price is always the first consideration while making a purchase. If you do, you'll definitely want to pick up a Horizon 7.0 AT because it is much cheaper than the Proform Carbon T7.
What is the maximum weight capacity these treadmills can handle? In this round, Horizon beats over its rival! It can withstand weight up to 325 pounds, which is more than the 300 pounds capacity of the Carbon T7.
Following this, we will compare their difference in size and weight. In this battle, the Proform Carbon T7 at 253 pounds has a slight edge regarding weight, as the Horizon weighs 212 pounds. However, their dimensions are quite similar. The Carbon T7 series measures 76.62" L x 35.24" W x 64.39" H , while the 7.0 AT has the size of 76.5" L x 36" W x 59" H .
Is their number of workout exercises different? The answer here is very clear as their dissimilarity is quite big! Proform Carbon T7 offers up to 30 built-in programs, while its competitor Horizon 7.0 AT has only six exercises.
In terms of engines, Horizon once again beats the competition with its powerful 3.0 CHP engine. This engine is slightly more powerful than rival Carbon T7's 2.75 CHP engine.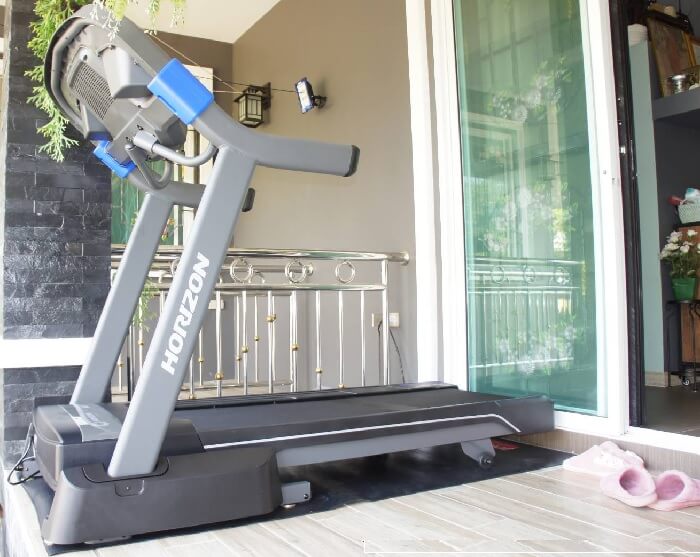 Let's talk about the incline these trainers can achieve. There is a significant difference between them because the Proform Carbon T7's ability can only reach 12% inclination. Meanwhile, Horizon 7.0 AT is much superior when it can tilt up to 15%.
Now we will take a closer look at the running area of the above treadmills. 7.0 AT owns a running path size 20" x 60". However, the Proform Carbon T7 is a bit smaller at 20" x 55". Despite the slight difference in size, both can reach top speeds of 12 mph.
Both the manufacturers of Proform and Horizon are equipped with a heart rate monitoring application, which helps users control their health and exercise process. Still, there is a big minus point that both do not have an engine cooling fan system.
If you are wondering whether the above two products can be folded or not, the answer is yes! They can be folded to the same size, about 41" L x 36" W x 70" H. Besides, they are all designed with a roller system for convenient movement. While the Carbon T7's wheels are only about 1.9", the 7.0 AT series has a larger wheel system with a size of 2.3" / 1.8".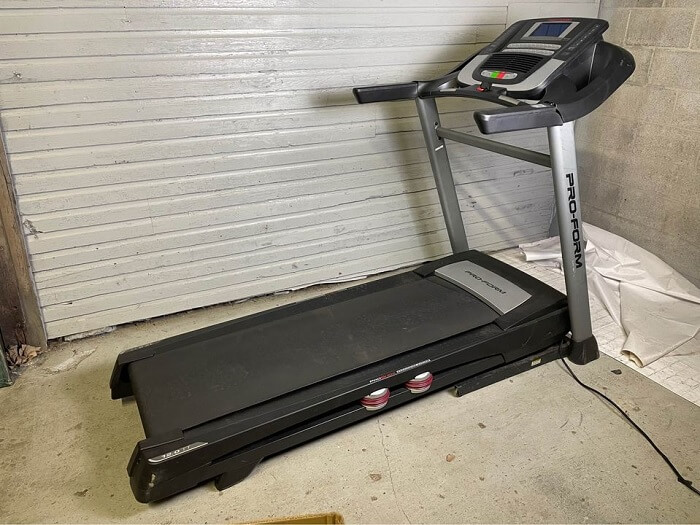 Features Comparison
With the control panel, you have complete freedom to control functions such as tilt, speed, and drop angle. According to the accompanying information, they all have a 7" full-color LCD screen, making for an ideal experience using treadmills.
If you need to connect to other devices, you can do it via Bluetooth. Plus, they're all compatible with any iOS and Android device, so you don't have to worry about their connection is limited. The only disadvantage regarding connectivity in both products is they are unable to connect to the Internet.
They all have built-in 2" speakers connected via Bluetooth or plug-in in terms of the speaker system. So convenient, isn't it?
So, what training apps do they use to support the exercisers? Proform Carbon T7 uses the famous iFit software, providing an extremely effective workout experience. Though Horizon 7.0 AT cannot apply this application, it uses the AFG Pro App software provided by the manufacturer instead.
Many treadmills are now equipped with USB fast charging ports to charge devices such as smartphones. Horizon scores point when it comes to this feature. Sadly, the Proform Carbon T7 doesn't have any USB charging ports.
For those who have a habit of using a water bottle, you can place it in the water bottle holder of each treadmill. Not only that but they are also designed with an area dedicated to placing objects such as phones, newspapers, etc.
Quick Rundown Of Horizon 7.0 AT
Horizon 7.0 AT Treadmill
Advanced Bluetooth connects to multiple devices to stream media through integrated speakers
Includes free app to control your workout and push data to favorite fitness Apps, plus device holder and rapid-charge USB port
Powerful, 3. 0 chap motor
60" 3-Zone cushioned deck for comfortable footfalls
Lifetime frame and motor; Power: 120v - 60Hz

---
Quick Rundown Of Proform Carbon T7
Proform Carbon T7 Treadmill
Balanced Nonflex Rollers
Incline-matching Technology
EKG Grip Pulse Tracks Your Heart Rate
30 Preset Workout Apps Allow You To Customize Your Workout

---
Product Videos
---
Conclusion
Both of the above treadmills are famous for their outstanding features and quality. However, after this Horizon 7.0 AT Vs Proform Carbon T7 comparison, we find the Horizon 7.0 AT is still superior because of its reasonable price, USB port, and powerful engine. Please make the choice that you think is the best. Thanks for reading!
---