Further down the page, you'll find some explanations regarding the key similarities and differences between the Horizon Fitness T202 and the Sole F63.
But before checking out explanations regarding their specs and features here's a table that summarizes the main technical summary sheet for these 2 treadmills:
Image
The Runner-up (#2)
Display
3" LED, backlit LCD screen
The Runner-up (#2)
Image
Display
3" LED, backlit LCD screen
Specs Comparison
Firstly, let's look at the price variation. Horizon introduces the Horizon T202 at the rate of about 800 dollars, while the Sole F63 is available at the market at a slightly higher price- 1000 dollars. So, we would recommend Sole F63 if you have a lot of money to spend on a treadmill. Otherwise, the Horizon T202 is for those who are on a budget.
Apart from the selling price, we also need to compare the dimensions and the weight of the machines to pick out the better treadmill. Generally, Sole F63 is a bigger and heavier treadmill compared to the Horizon T202.
Specifically, Sole F63 has the dimensions of 82 inches long, 35 inches wide, 66 inches high, and weighs about 254 lbs- 115kg, while the dimensions of Horizon T202 are 75 inches long, 34 inches wide, 58 inches high, and 187 lbs heavy- 84 kg. So, you can see a considerable discrepancy between the two models regarding weight and size. Hence, you can surely base on these factors to make the final buying decision.
Between Horizon T202 and Sole F63, there is no difference in the carrying weight capacity because both treadmills can handle a maximum of 325 lbs- 147 kg users. This high carrying weight capacity results from the rigid and durable frames, decks built-in in the two models.
Now, let's take some time to talk about the treadmill's incline level. Overall, the Sole F63 model overtakes its counterpart in that it has a wider incline level. In detail, the Sole F63 treadmill can tilt from 0%-15%, while Horizon T202 can only incline in the range of 0%-12%. Hence, if you want to train at a more advanced level, you can go for the Sole F63 model.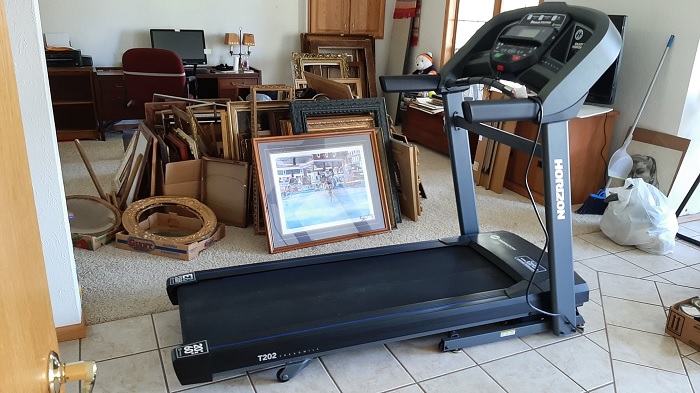 Regarding the number of pre-installed programs, both treadmills go with slightly fewer workouts compared to other treadmills for sales. In detail, to Sole F63, there are 10 pre-installed training programs- 5 more than those of Horizon T202. So, in case you want to have more training programs, go for the other treadmills.
Now, what about the power of the engine? Being built with a 3 HP and 2.75 HP motor, respectively, the Sole F63 and Horizon T202 model can speed up from 0 to over 12 miles per hour in the blink of an eye.
Ultimately, let's compare the size of the machine's tread belt. Horizon T202 and Sole F63 are in an assemblage with a pretty large 20-by-60 inch tread belt. This size is considered the "golden standard" for most treadmills nowadays. Anyway, this tread belt size can offer you extreme comfort in every step you take.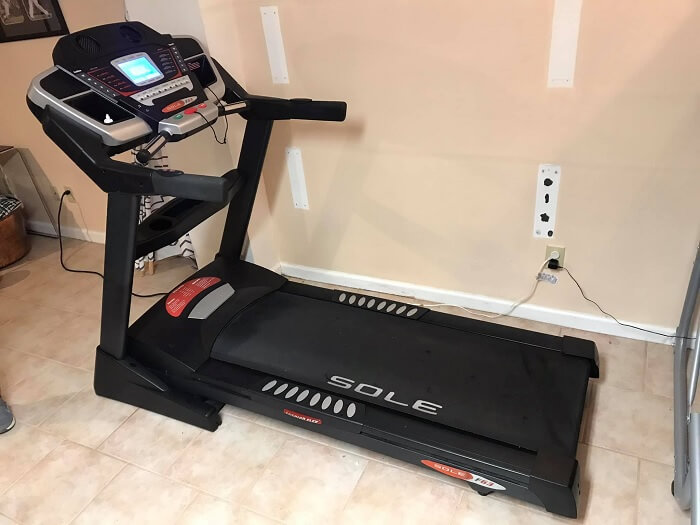 Features Comparison
Firstly, let's take a look at the wireless connection in Horizon T202 and Sole F63. Both machines are compatible with BlueTooth tech. It helps the products link with mobile devices, such as smartphones, tablets, earphones, and training apps. Speaker & sound systems are supported in the treadmills.
In terms of the display screen, Sole F63 possesses a 6.5 white back-lit LCD, while its counterpart has 3 back-bit LED windows coming with a small size.
Nowadays, treadmills often have wide connections with fitness apps to help users fully use treadmills as much as possible. Both Horizon T202 and Sole F63 models are compatible with many fitness apps on Apple Store and Google Play.
In the consoles of the machines, An integrated cooling fan is available to cool users down. And thirst? Do not have to worry because there are dual water bottle holders attached to the treadmills.
In the end, Heart Rate Monitoring technology is there to help runners follow every beat of their heart rate. In both models, users can use the handlebar grips to measure their heart rate. Sole F63 is even compatible with chest straps to check the heart rate via Heart Rate Telemetry Tech.
Quick Rundown Of Horizon Fitness T202
Horizon Fitness T202 Treadmill
Includes free app to control your workout and push data to favorite fitness Apps, plus device holder and rapid-charge USB port
Assembled Dimensions: 75" L x 34" W x 58" H | Folded Dimensions: 47" L x 34" W x 65" H | Running Area: 20" x 60" | Weight: 187 lbs
Max User Weight: 325 lbs
Quickly shift speed and incline with one-touch keys, quick-rotating Dial and handle bar controls
Powerful, 2. 75 chap motor
[i2pc show_title="false" title="Pros & Cons" show_button="false" pros_title="Pros" cons_title="Cons" ][i2pros]Small and Light
Affordable
Diverse Training Programs[/i2pros][i2cons]Limited Screen
Limited Incline Range[/i2cons][/i2pc]

---
Quick Rundown Of Sole F63
No products found.
[i2pc show_title="false" title="Pros & Cons" show_button="false" pros_title="Pros" cons_title="Cons" ][i2pros]Wide Incline Range
Big Display Screen
Comfortable Tread Belt[/i2pros][i2cons]Pricey ( compared to Horizon T202)
Heavy and Big
[/i2cons][/i2pc]

---
Product Videos
---
Conclusion
Hopefully, this comparison has pointed out the noticeable distinctions between Horizon T202 vs Sole F63. After analyzing all the features and specifications of the two running machines, Sole F63 overtakes its counterpart to be the better treadmill.
---