Further down the page, you'll find some explanations regarding the key similarities and differences between the Jet JWBS-14SFX and the Laguna MBAND1412.
Image
The Winner (#1)
The Runner-up (#2)
The Winner (#1)
Image
The Runner-up (#2)
Image
Power Comparison
Though the two models come with a 14-inch bandsaw size/wheel diameter, their cutting capacities are quite different. While Laguna 1412 owns a 116-inch blade, Jet Jwbs-14sfx is designed with a blade length of 115 inches.
However, Jet possesses a moderate resaw capability of 12 inches. With a more than 13 inch resaw performance, Laguna is ideal for various tasks, including cross-cutting large machining parts to size, cutting thin boards, or sawing curves for cabinets and furniture.
The difference in blade length and resaw potential leads to throat capacity. The throat capacity of JET is 13-½ inches, but Laguna comes with 13-⅝-inch throat capacity.
Moreover, the two bandsaws' motor type is a totally-enclosed fan-cooled induction motor with half a horsepower more at a total of 1.75 HP and motor speed of 1720 RPM with 115voltage.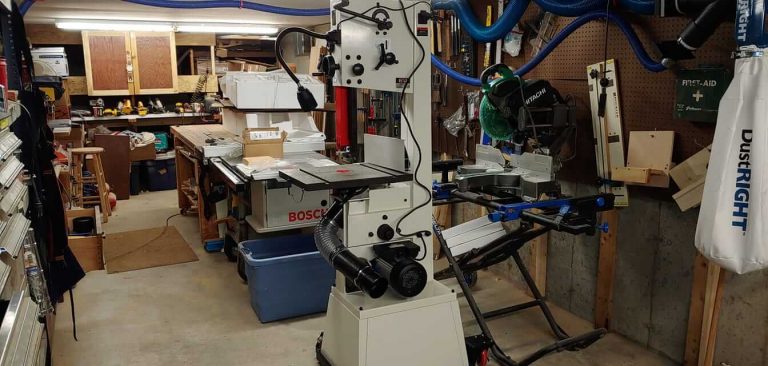 Design comparison
The first option, Jet JWBS-14SFX, has a dimension of 75.5 x 27 x 37 inches and weighs 272 pounds. On the contrary, Laguna 1412 only measures 18 x 25 x 70.25 inches in size and 266 pounds in weight.
In general, Laguna 1412 is the winner in the convenience competition. Thanks to its compact design, Laguna brings users a sense of convenience and portability without a doubt.
Features Comparison
The table height from the floor of JET JWBS-14SFX is 40 inches, while Laguna 1412's is just 38 inches. Therefore, their tabletop dimensions are also distinctive. In particular, JET's table measures 21×17 inches, and Laguna possesses a stand with a bit smaller size of 21×16 inches.
Moreover, JET's on/off switch is designed following the industrial-style push-button type. By contrast, Laguna 1412 features an illuminated on/off direct start switch with the safety key.
A similar point in the two models is the dust ports. Both of them are packed with the two 4-inch port dust collections, which are larger than other dustbins of other bandsaw brands. Thanks to the plastic blade shroud, these dust containers are more helpful and efficient in cleaning dirt and trash.
Quick Rundown Of JET JWBS-14SFX
JET JWBS-14SFX Bandsaw
Large Work Piece Support: 360 sq. in. cast iron worktable and 13" resaw capacity, so you can tackle more ambitious projects
Heavy Duty Design: Large cast wheels provide a smooth and controlled cut
Efficient Dust Collection: Dual 4" dust ports
Accurate Cutting: Larger, machined aluminum fence surface with easily visible measurements
Greater Durability: Robust stamped steel doors with welded steel pin hinges
[i2pc show_title="false" title="Pros & Cons" show_button="false" pros_title="Pros" cons_title="Cons" ][i2pros]Adjustable blade guide system
Large workpiece stand
Bolts model with oversized bottom
Heavy-duty sealed steel door
Larger shaped aluminum fence cover
Two 4-inch ports dust collection[/i2pros][i2cons]Loose tension handle [/i2cons][/i2pc]
---
Quick Rundown Of Laguna MBAND1412
[i2pc show_title="false" title="Pros & Cons" show_button="false" pros_title="Pros" cons_title="Cons" ][i2pros]More lightweight and compact than other bandsaws
Outstanding resaw capability
Quick-release blade tensioner lever
Fast and easy in changing blades
Illuminated direct switch with safety key
Plastic blade shroud to improve dust collection[/i2pros][i2cons]Not really affordable compared to other same bandsaw types
Relatively flimsy fence[/i2cons][/i2pc]
---
Product Videos
---
Conclusion
We have just introduced to you the two popular band saws – JET JWBS-14SFX Vs Laguna 1412 including their specs, pros and cons, and other features. We hope that you can tell them apart and pick out your suitable bandsaw for your tasks.
In case you just need a saw for your personal small cutting, JET JWBS-14SFX seems more perfect for these jobs. However, for the tasks that require more power, Laguna 1412 is a better choice.
In general, you should consider carefully their benefits and drawbacks before buying!