JET and Laguna are two prestige brands in the woodworking industry, and the battle of Jet Jwbs-14SFX Vs Laguna 1412 has been around for quite some time. Which unit will be the one to meet your needs and budget? Read on our in-depth comparison to find out!
Image
The Winner (#1)
The Runner-up (#2)
The Winner (#1)
Image
The Runner-up (#2)
Image
Differences Between Jet Jwbs-14SFX and Laguna 1412:
When you leave all the features of the two products aside, the $200 price gap will be what to make consumers think twice before making a purchase. Jet 714400K Jwbs-14SFX comes to the market at $1200, while Laguna Tools MBAND1412 costs slightly around $1400.
So, that's one plus for Jet's product. Let's see what the things they share in common, as well as the differences in terms of design, are.
Design
The Laguna Tools MBAND1412 appears to be a bit bulkier than its competitor with measurements of 46 cm x 64 cm x 1.8 m. The unit looks somewhat futuristic with the primary color of black and a little touch of red. Jet 714400K Jwbs-14SFX comes in the opposite color of Laguna 1412 – white, but we'd say it looks rather milk-cream-ish.
For that reason, Laguna 1412 is slightly more lightweight than Jet 714400K Jwbs-14SFX, but since they're both standing models and much likely to be fixed in one position, there's nothing much to discuss.
However, it's a different story if you're a professional or a shop owner that requires portability from the product; in that case, Laguna 1412 would make it less of a pain in the neck to move around.
Utilities
The first major difference is the resaw capability. Laguna 1412 has a resaw capability of 12" while Jet Jwbs-14SFX offers over 13" of that for cutting large wood planks as well as book-matched panels. The 1" gap seems minor, but it will come in handy in certain situations, especially if you're a serious woodworking hobbyist or a pro who knows what you're doing.
The next thing to mention is the blade guides. Laguna 1412 is equipped with ceramics blade guides, which are highly appreciated by the pros due to the effectiveness in adjusting the blades as well as the ability to hold up very well. As for Jet 714400K Jwbs-14SFX, the process can be done at ease thanks to the Jet's special easily adjustable blade guide system.
The blade is sold separately and will not be included when you purchase both Jet Jwbs-14SFX and Laguna 1412. You can buy a blade from Jet, Laguna Tools, Timberwolf, or any other brand, just make sure you get the right size: 116" for Jet 714400K Jwbs-14SFX and 115" for Laguna 1412.
Quick Rundown Of Jet 714400K Jwbs-14SFX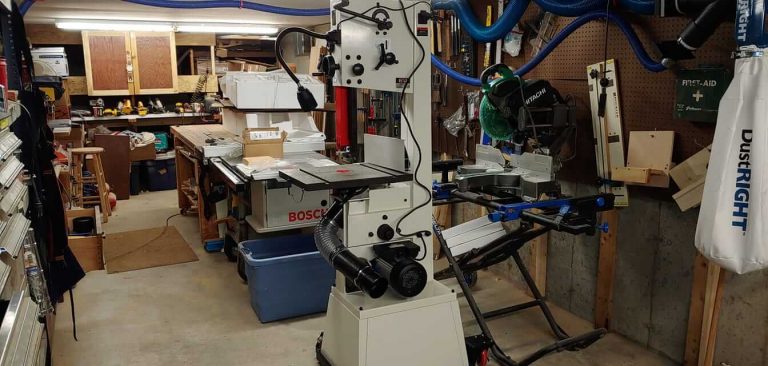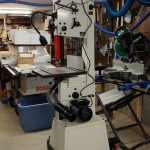 Jet 714400K Jwbs-14SFX Band Saw
LARGE WORK PIECE SUPPORT: Deep table with a massive 360 sq. in. of cast iron work surface.
DUST COLLECTION EFFICIENCY: Dual 4" dust ports.
ACCURATE CUTS: Larger, machined aluminum fence surface with easily visible measurements.
DURABILITY: Robust stamped steel doors with welded steel pin hinges.
STRENGTH AND RIGIDITY: Oversized lower bearing bolt pattern.
Pros:
A heavy-duty machine with high-quality tubular steel
Hassle-free in adjusting the lower and upper bearings (no tools needed)
Can cut through large stocks of wood without hesitation
The cast-iron table features up to 360 square inches for greater work support
5-year warranty
Clear and easy-to-follow manual user
Cons:
Has no miter gauge
You'll need to make additional purchase on the blade

Quick Rundown Of Laguna Tools MBAND1412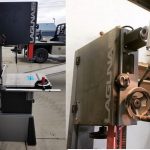 Laguna Tools MBAND1412 Band Saw
Motor: 13/4HP, TEFC, 60Hz. , Voltage: 115V, amperage: 14/7 (115/230V), 6' Cord with NEMA 5-15P plug
Csa certified, Illuminated on/off direct start switch with safety key, Pre-Wired 115V outlet for light
Steel frame construction, pyramid spine, cast iron wheels, cast iron 211/2" X 16" Micro-polished table surface
Resaw capacity: 12", throat capacity: 13 5/8", blade length: 115", aluminum rip fence: 18" X 5 1/2" X 1/2"
Heavy Duty Cast Iron Trunion 8" X 13", Table Tilts Right: 45Degree, Left: 7Degree, Positive Stop at 90Degree with Micro Adjust. Min. Blade Width: 1/8 inches
Pros:
Space-age looking design that delivers a great touch to your workstation
The compact size makes a great addition to limited-working space
Tool-less ceramics bearings
Effortless assembly
Effective dust collecting
Large aluminum rip fence measures by 18″x 5 ½" x ½"
Cons:
The blade is not included
Short warranty of 1 year

Conclusion
Jet Jwbs-14SFX Vs Laguna 1412, it is indeed a tough call to make. But when it comes down to the winner, we'll have to go with the Laguna Tools MBAND1412 despite the $200 price gap. The construction quality, as well as key features, make this machine an absolutely worthwhile investment.
Popular Alternatives Worth Considering:
Related posts:
>>> The 10 Best Cordless Band Saw For The Money
>>> The 10 Best 14 Inch Band Saw