Laguna has been in the woodworking industry for quite some time and is well-known amongst DIY junkies and handcraft makers for the high-quality bandsaws, especially the Laguna 14 BX 110 Vs 220.
Some people want to know whether the two products have the same motor, just bigger volts, or anything else worth mentioning. Welp, I'm here to help you figure that out.
Differences Between Laguna 14 BX 110 and 220
The primary colors of black and red will be what catches your eyes at first glance, giving you a futuristic and robust feel toward the two products. And yes, they look pretty much the same, so there's nothing much to discuss in terms of design.
Before we go into the detailed comparison, let's take a glance at both products.
Even though these products look basically the same, they have differences in the key features.
First of all, the motor of Laguna Mband 14bx220 is physically larger than that of the Laguna Mband 14bx110-175, and it has 30-40% more horsepower. That results in more ability to cut through wood planks, especially the bigger sized ones.
You'll notice a pronounced advantage of Laguna 14 BX 220 over the 14 BX 110 when cutting wood planks of the size 11 and 13 inches as it cuts smoothly like butter, while its counterpart requires a little push from you.
The second significant difference is the amperage draw on each model. The 2.5 HP draws in the range of 6-8 amps when it is pushed to the max, which is quite impressive.
The 1.75 HP, on the other hand, strikes up in the 20 amperage range. For that reason, make sure to have a dedicated 110V circuit if you're going to run that saw on 110V; also, don't push the machine too hard to avoid pushing those amps beyond the acceptable limits.
The third difference, which is derivative of the second, is how much heat both machines create. The higher amperage draws you're running, the more heat the saw creates within its motor.
The heat contributes a significant part of wearing down the motor. Don't get me wrong, these are both well-made motors for modest use; however, if you're going to use the 1.75 HP for commercial use or you're a heavy resaw user, that friction is going to add up time after time, turning it into a deciding factor of why you should go with the 2.2 HP.
Quick Rundown Of Laguna 14 BX 110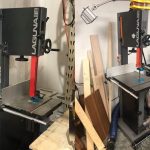 Pros:
Setting up the blade tension is a breeze even for newbies
Ceramic guide bearings
Decent dust collection
Cut through wood without hesitation
Large table with thick aluminum insert
Cons:
Not suitable for commercial purposes
Doesn't come with a blade

Quick Rundown Of Laguna 14 BX 220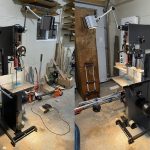 Pros:
Large aluminum fence is a big plus
Remarkably quieter than other units of the same class
Well-planned dust collection ports
Worthwhile investment
Robust exterior
Toolless ceramic bearings
Hassle-free set up
Cons:
Doesn't come with a blade
The parts are covered in a thin layer of oil to prevent corrosion; still, this makes it a pain in the neck to fully clean the machine

Conclusion
When it comes down to deciding which unit to buy between Laguna 14 BX 110 Vs 220, I will go with the Laguna 14 BX 220, simply because the cost uplift is not substantial, but the benefits regarding performance and durability are.
Popular Alternatives Worth Considering:
Related posts:
>>> The 10 Best Cordless Band Saw For The Money
>>> The 10 Best 14 Inch Band Saw