Further down the page, you'll find some explanations regarding the key similarities and differences between the Life Fitness T3 and the Life Fitness T5.
But before checking out explanations regarding their specs and features here's a table that summarizes the main technical summary sheet for these 2 treadmills:
Image
The Winner (#1)
The Runner-up (#2)
Heart Rate Monitor
Handle grips and Wireless Chest Strap
Handle grips Wireless Chest Strap
The Winner (#1)
Image
Heart Rate Monitor
Handle grips and Wireless Chest Strap
The Runner-up (#2)
Image
Heart Rate Monitor
Handle grips Wireless Chest Strap
Specs Comparison
To start, let's look at the price of the two models? Life Fitness introduces the model Fitness T5 at an extremely expensive price- 4250 dollars, while the Life Fitness T3 is sold at about half the price of its sibling's- 2750 dollars. So, if you do not have much money to spend, Life Fitness T3 seems to be a wise choice. Otherwise, the Fitness T5 is a decent choice, though.
It is time to put aside the selling prices to compare the treadmills' measurements and weight. In particular, Fitness T5 has bigger dimensions and weight compared to the Life Fitness T3.
In particular, the model Fitness T3 measures 79.5 inches-202cm long, 34.5-88cm inches wide, 57.5-147 inches high, and weighs about 243 lbs- 111 kg, while its sibling has the dimensions of 79.5 inches-202cm long, 32-82 cm inches wide, 61-155 inches high, and weighs about 341 lbs- 155 kg. So, there is a big distinction between the two practitioners concerning weight and size. So, the F5 model, with its heaviness, infers stronger and better frames and overall performance.
Now, let's turn to the weight carrying capacity between the Life Fitness T3 and Fitness T5. Once again, there is a wide gap between the two treadmills. In detail, Fitness T5 can handle a massive weight of a maximum of 400 lbs- 182 kg users, while the T3 model can only take users of 350 lbs- 159 kg. Hence, for those who are weighty, the model T5 is a better deal.
Now, let's compare the treadmill's incline range. In general, the Fitness T5 model ties with its partner in the same incline level they offer. The Fitness T5 treadmill can tilt from 0% to 15%, which also applies to Life Fitness T3. Hence, if you want more advanced training, both models can satisfy your needs.
Regarding the number of pre-installed programs, both treadmills go with slightly humble workouts compared to other treadmills at the same price range. Particularly to Life Fitness T3, there are 16 easy-to-use pre-installed programs, three more than those of Fitness T5. Anyway, both machines come with an acceptable number of programs.
How about the power of the engine? Being integrated with a 3 HP ( 6 HP peak)motor, the Life Fitness T3 and Fitness T5 model can quickly turn the speed from 0 to over 12 miles per hour in just a blink.
Ultimately, let's see how different the size of the machine's tread belt is. Overall, Fitness T5 and Fitness T3 are in a package with pretty big tread belts. However, the T5 model goes with a 22-by-60 running path, while its sibling offers a 20-by-60 tread belt. As you can see, the T5 model is leading in this battle.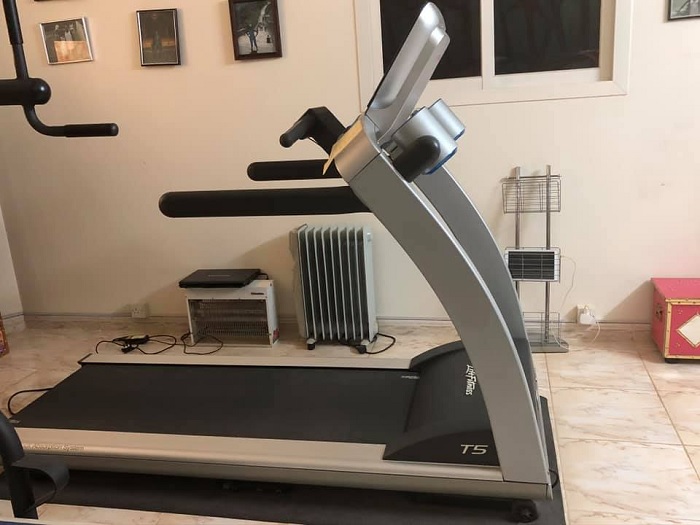 Features Comparison
First of all, both treadmills are compatible with BlueTooth connectivity technology. This tech makes machines easily connect with fitness apps and mobile devices, including iPhone and Android smartphones, tablets, earphones. For entertainment, speakers & audio jack systems are compatible with both machines.
Coming to the display screen, both models possess a big screen. Specifically, both Fitness T5 and T3 models support an attractive 22-inch LCD screen, not to mention that there is an integrated tablet holder, which plays as a supportive screen for the machines.
Nowadays, most treadmills are compatible with many fitness apps on Google Play and Apps Store. Life Fitness brand is no exception. As both Life Fitness T3 and Fitness T5 models are high-end treadmills, they can support numerous fitness apps, such as Nike+, Garmin and MyFitnessPal, Apple Health, Jawbone, and Fitbit. Besides, RunSocial App is available to train with other users on the platform from all over the world.
How about solving the problems of heat and thirst? No worries, as there is a cooling system and built-in water bottle holder on each treadmill.
Finally, the fact that both machines support Heart Rate Monitoring tech via handlebar grips and Telemetry is noticeable. Hence, users can easily track their heart rate at every step.
Quick Rundown Of Life Fitness T3
Sale
Life Fitness T3 Treadmill
The patented FlexDeck shock absorption system reduces impact to joints by nearly 30% compared to ordinary treadmills.
Simple navigation and ergonomically placed controls, including a lower control pad that brings the buttons you use most often closer to you. .
Energy Saver mode minimizes power drawn when the machine is turned on but not in use. The machine will turn off after 5 minutes of inactivity, and wakes up easily with a touch of the Energy Saver button on the console.
Oversized, dual cupholders plus a built-in reading rack and front-mounted accessory tray to hold cell phone, MP3 player, or remote.
Contact heart rate hand sensors (Wireless heart rate monitoring system included)

---
Quick Rundown Of Life Fitness T5
Life Fitness T5 Treadmill
Adjustable FlexDeck Select allows user to pick the level of firmness on the deck that suits them best
Spacious 22 x 60" running surface
Energy Saver feature reduces power draw when not in use
0-15% incline
0 to 12 MPH

---
Product Videos
---
Conclusion
Hopefully, this article has clarified the important distinctions between Life Fitness T3 vs T5. After considering the two models' specifications and features, the winner is Life Fitness T3, even though this model goes at a much lower rate.
---