Makita XSL06PT review will provide everything about one of the best miter cutting tools in the market. Let's find out now.
Makita is one of the best power tools brands in the world, and today, we will give you essential information in a Makita XSL06PT review. Why Makita XSL06PT? Well, it's simply perfect for professionals, and you should know one thing: high cost comes with the perfect experience and superb quality. Let's check out its features.
"Monster" Makita XSL06PT is working with a thick wood piece.
>>> More: 10 BEST Miter Saws
1. Makita XSl06PT Sliding Compound Miter Saw Overview.
Makita XSL06PT is one of the best cutting tools we've reviewed, and seriously, if you are into it, don't hesitate to get one.
Why do we say so? First, it's not a cheap piece of metal. It, indeed, has a higher price range than other products in the same class, but it comes with superb quality and utility. The cuts are created cleanly and evenly at high accuracy, while the motor is excellent. What more to expect?
Second, it's a real "monster." Really, this "beast" has high-tech batteries and power supply, which allows it to operate robustly and incredibly.
Last but not least, Makita XSL06PT is a long-lasting tool, while it's also guaranteed for three years. It's perfect, isn't it? Now let's find out more about Makita XSL06PT.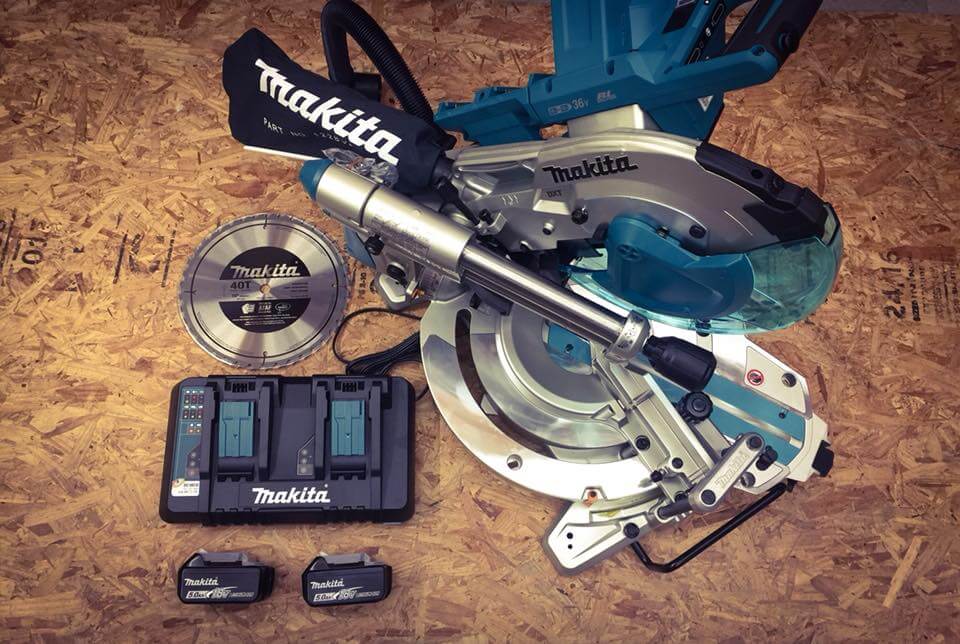 #1. Quality
Undoubtedly, Makita XSL06PT is among the wonderful power tool which can offer the highest cut quality in the market now. This machine allows you to create crosscuts, bevel cuts, and miter cuts so smoothly with top-notch accuracy thanks to its unique 2-steel rail sliding system.
Moreover, Makita XSL06PT provides the largest cut capability in its class: 5-1/4 inches in vertical cutting and 6-5/8 inches in crown molding. The tool can also be adjusted with a broader range than other saws. Specifically, the miter angle ranges from 0 to 60 degrees, while the bevel angle ranges from 0 to 48 degrees, which will fit your various purpose.
Well, what we love more about Makita XSL06PT is Makita Brushless powerful motor. Seriously, it's designed to increase power, speed, and more 50% of run time, which is incredible. The engine can also operate at a speed of 4,400 RPM to offer fast and clean cuts.
#2. Durability
As we mentioned above, Makita Brushless is a unique technology of this Japanese power tool manufacturer. They, the engineers, have applied this tech to create two 18V Lithium-ion batteries inside the miter saw to make it "live" longer, "run" stronger and more efficiently.
To make it more transparent, this technology will help provide enough amount of power to the machine when starting. However, it will re-adjust the power during the operation if necessary, which is very useful and intelligent.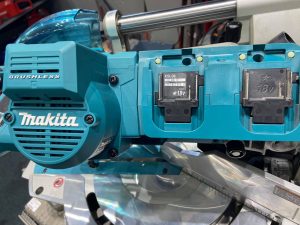 #3. Portability and uses
How heavy is it? It's 60 lbs weigh, and yes, you should probably place it at a stationary position.
However, it's super easy to use and handle. The sliding system makes your project done more quickly, smoothly, and precisely. The cuts are clean and even without much effort.
#4. Price and value
As we said previously, the high cost comes with excellent quality. If you are searching for a superb power tool that offers high accuracy and quality, don't hesitate to pick this product.
Well, you may be a professional when you are considering purchasing Makita XSL06PT, as this specialized tool cost more than $650. If you are simply a DIY home worker who just wants to fix little things in-house, don't go for it.
But if you purchased this, don't regret it because its service is perfect. You will have a 3-year warranty for Makita XSL06PT and the batteries accompanied. However, very few cases have happened with the miter saws as Japanese manufacturers can ensure the highest quality of their products.
Makita service centers are also located all around the USA and ready to support you.
2. Weaknesses Makita XSL06PT Sliding Compound Miter Saw.
*** Not portable.
You can't bring it around the job sites comfortably due to its big size. Well, it's easy to understand this, and we get used to it when using Makita XSL06PT. We'd also like to place it in a fixed position to do various projects. It's fine, anyway.
*** Not affordable.
As said, this thing isn't cheap, at all. You should only buy it once you consider carefully, or you are a professional.

3. Wrapping up.
Makita XSL06PT review has just given you the basic things about the most modern miter saw in the market now. It comes with the highest technology, quality, accuracy, and efficiency that most professionals will need it in their collection. If you are that professional worker, don't hesitate to buy it and you will never regret it.