What features does the Makita XSL02Z Miter Saw have? Is the product ideal for your heavy-duty tasks? Let's find answers in our Makita XSL02Z review.
Don't like the hassles of the corded miter saw, so you choose the cordless models. And is your object of investing the machine from Makita – the XSL02Z Compound Miter Saw?
Yes, in our today's article, we provide you with Makita XSL02Z review in great detail so that you can consult and give your selection later.
Don't miss!!!
>>> More: 10 BEST Miter Saws
1. Makita XSL02Z Sliding Compound Saw Specifications.
Makita XSL02Z
Powerful BL Motor delivers 5,700 RPM for fast cutting
Weighs only 28.2 lbs. with battery (battery not included) for easy portability
Large dimensional lumber cutting capacity: 2" x 12" at 90Degree and 2" x 8" at 45Degree
4-Steel Rail Sliding System increases rigidity to produce superior cuts
5,700 RPM for fast cutting, automatic speed change adjusts cutting speed and torque
Type: Sliding single bevel compound.
Dimensions: 25.7 x 17 x 17.5 inches.
Weight: 28.8 pounds.
Power Source: Battery-powered.
Battery Type: 2X 18V LXT® Lithium-Ion.
Blade Diameters: 7-½ inches.
Arbor: ⅝ inches.
Motor: Direct Drive Brushless.
No Load Speed: 5,700 RPM.
Cutting Capacity (90 degrees): 2-1/16″ x 11-3/4″.
Cutting Capacity (45 degrees, L/R): 2-1/16″ x 8-3/8″.
2. Makita XSL02Z Miter Saw Detailed Review
*** Cutting Capacity.
The Makita XSL02Z has designed a 4-Steel Rail Sliding System that provides you with versatile accuracy and spacial efficiency. This sliding compound saw can reach up to the high precision in the compact construction.
What can its 7-1/2″ blade size cut? Well, don't lowly appreciate the ability to cut of this saw blade.
It can cut 2″ x 8″ at 45 degrees and 2″ x 12″ at 90 degrees. There is a support of the Automatic Speed Change technology, which helps to optimize the cut quality. It allows you to adjust torque and cutting speed in maximum cutting capacity.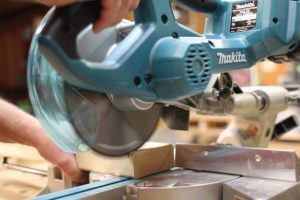 -*** Ease of Use.
The 28-pound weight is light enough for you to utilize. In addition to that, it has a cordless design and runs based on two lithium-ion batteries. You only take several hours to recharge – the fastest charging time because of having Makita's Rapid Optimum Charger.
Makita also enhances battery power by adding the Star Protection Computer Controls. This is a built-in chip for temperature, current, and voltage controlling while charging the battery.
Furthermore, with intuitive design and useful features, soft-grip handle rubberized, for example, it contributes to creating comfort when using.
*** Durability
The Makita XSL02Z has equipped a 5,700RPM BL Brushless Motor having a direct drive gearbox. Although this strong power will provide hyper-accurate cuts to users, it also makes the maintenance more complicated.
But, thanks to having the direct-drive gearbox, not only does it increase cutting effectiveness but this feature also helps to reduce the need for replacement and maintenance. It combines with the Soft Start technology that both allows cutting smoothly and extend the gear lifespan.
*** Other Features.
Sliding rail: This is a plus point of the Makita XSL02Z Saw. In the case of changing the cutting change, you only need to slide that rail in the proper position without fine-tuning.
Dust-bag: In spite of not being the biggest dust collecting on the market, it can collect dust at least and support and make your maintenance less.
*** Warranty.
Makita offers a reliable warranty for their power tools. With the Makita XSL02Z Sliding Compound Saw, the warranty time lasts 3 years since days of purchase. You can feel secure to use!
3. Makita XSL02Z Advantages & Disadvantages
*** Advantages:
Lightweight.
Brushless and dual battery for power and runtime.
Dual sliders.
No belt for extra maintenance.
Compact design.
*** Disadvantages:
Short fence.
Small dustbag.
Expensive a bit.
4. Our Verdict.
Is the Makia XSL02Z Saw your option? It is ideal for cutting standard 2×4 over 400 times on one charge. Though the price seems high, its features are helpful for your heavy-duty cutting jobs.
All in all, we desire to bring useful information in this Makita XSL02Z review so that you have an objective view of this product.