Below I will compare the power, portability, and features of the Milwaukee 6390-20 and 6390-21
Difference between Milwaukee 6390-20 and 6390-21
The technical summary sheet for Milwaukee 6390-20 and 6390-21
Image
Image
Image
Design Comparison
First and foremost, let's mention these circular saws' size and weight. With model 6390-21, the manufacturer Milwaukee builds a dimension of 8.2 x 13.7 x 8.7 inches. In addition, the machine comes with 10.4 pounds in weight.
How about its rival? Milwaukee 6390-20? Model 6390-20 also is 10.4 pounds in net weight and a length of 13.7 inches. One more feature is about their blade size. They both have a 7-1/4 inch blade.
What a close race! They are all rather light and easy to put up and down. So we have to say this battle is a draw.
Power Comparison
Apart from size and dimensions, let's talk about one of the most important specifications for a machine!
Milwaukee 6390-21 is operated with 15 amp current at 5,800 RPM and a 3.25-horsepower motor. It allows the circular saw to show a smooth and easy cut on almost any type of material.
How about Milwaukee 6390-20? This model also features 15 amp running current. Besides, it is powered by a 3.25 peak motor at 5.800RPM. With these features, tough materials such as headers or wet lumber still cause no difficulties at all.
Have you noticed that Milwaukee 6390-21 and Milwaukee 6390-20 share a lot in common? This battle is another draw. They are both powerful and versatile, with the ability to apply on many different kinds of surfaces.
Now, let's jump to their outstanding features part where we mention more about their specific points.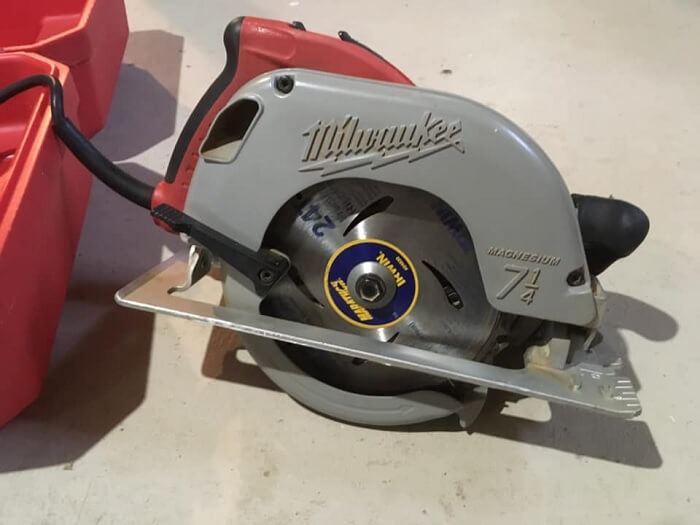 Features Comparison
They all have a blade located on the right side of the handle, which is commonly comfortable for handling and suits most users' demands.
This time, let's talk about model Milwaukee 6390-21 first! Its blade will allow you to adjust the grip within a short amount of time. The circular saw utilizes such a patented adjustable handle model called Tilt-Lok, which permits users to choose the most comfortable position for you to cut things.
One more thing special about the saw 6390-21 is its carrying case. This is convenient and commercial because it helps to free the machine from damage during the delivery and usage.
Sadly, it does not come with a laser guide to help users perform a completely straight line on the cutting surface. It does not feature a brake to stop or slow down the blade during the cutting process.
Now, let's see what Milwaukee 6390-20 offers! First, it has the same Tilt-Lok handle as the former model. Hence, you can work with the most convenient position. Additionally, its blade can bevel to 50 degrees, and it can reach up to 2-7/16 in with 90°.
So, in this battle, we are likely to be more impressed at those features and accessories that Milwaukee 6390-21 offers.
Quick Rundown Of Milwaukee 6390-21
Sale
Milwaukee 6390-21 Circular Saw
Power Tools and Accessories
Country of manufacture: China
Manufacturer: Milwaukee
Tilt-Lok main handle adjusts to the work or most comfortable work position
15 amp, 3.25 peak horsepower motor
---
Quick Rundown Of Milwaukee 6390-20
Milwaukee 6390-20 Circular Saw
Power Tools and Accessories
Country of manufacture: China
Manufacturer: Milwaukee
15-amp, 5,800 rpm, and 3-1/4-horsepower motor with spindle lock and quick-lock cord
Locking, tilting main handle adjusts for comfort
---
Conclusion
We hope that you have in mind the best circular saw for yourself already with our review today. Milwaukee 6390-20 Vs 6390-21 will be a never-end competition if you do not spend time researching their features.
We highly recommend you try model 6390-21 because it is equipped with a carrying case, which helps you a lot in traveling and maintenance.