Further down the page, you'll find some explanations regarding the key similarities and differences between the Nautilus T616 and the Nautilus T618.
But before checking out explanations regarding their specs and features here's a table that summarizes the main technical summary sheet for these 2 treadmills:
Table could not be displayed.
Specs Comparison
Do you think that when we purchase anything, pricing is always the first factor to consider? In terms of price variation, the Nautilus T616 is the champion as it is 200 dollars cheaper than the Nautilus T618 model. In detail, the Nautilus T616 costs around $1700, while its counterpart's price is about 2000 dollars.
Now, let's compare the dimensions of the two models.
Surprisingly, Nautilus T618 and T616 have the same dimensions, which measures 78 inches long, 37.6. inches wide and 62.8 inches high. So, we insist that both treadmills will occupy less area in your room. Coming with small dimensions is lightweight as well. To the model T618, it weighs 241 lbs, while its sibling is 253.5 lbs. Seems similar, right?
Another factor of comparing Nautilus T616 vs T618 is how much weight the machines can handle; let's discover. Honestly, they both have tough and durable frames and decks- holding various kinds of users. However, the T618 is recommended to carry a maximum of 350 lbs while 300 lbs capacity is the maximum figure that T616 can take.
What about the built-in workout programs on each treadmill? Are there any distinctions? Yes, our answer is Yes because while Nautilus T618 has 26 training programs, the Nautilus T616 only offers 26 pre-programmed exercises for its users. Anyway, both are decent treadmills with an acceptable number of workouts.
Both Nautilus T616 vs T618 go with a powerful 3.0 and 3.5 CHP motor, respectively, allowing the two treadmills to speed up from 0.5 to over 12 MPH. Therefore, they are ideal treadmills for entry-level and medium, and pre-professional users
Now, let's talk about the treadmill's incline level. The motorized incline level of Nautilus T618 and T616 is between 0% to 15%. With this incline range, the treadmills can simulate different outdoor terrains. Hence, if you are in favor of advanced challenges, the two products probably fit your demand.
Finally, how distinctive are the running paths of the two treadmills? There are no disjunctions between Nautilus T616 vs T618 as they are both equipped with the so-called "standard" 20-by-60 inch tread belt, which is quite suitable for runners with different heights.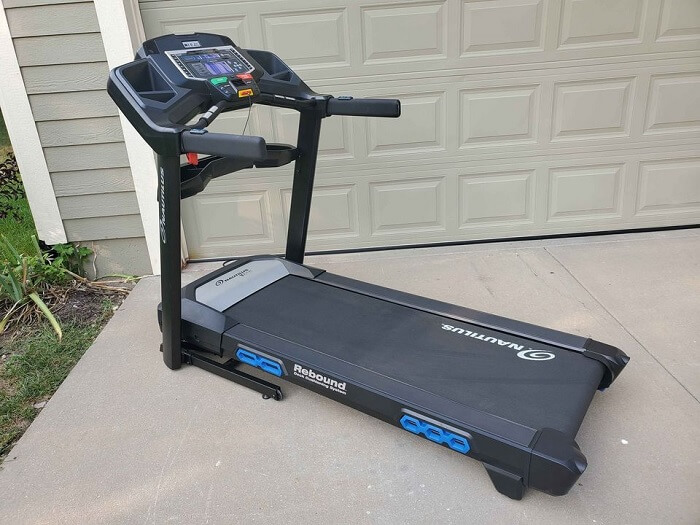 Features Comparison
There are speakers & sound systems to help users listen to their beloved music while training for entertainment. Both models are also compatible with built-in Bluetooth connections to help link several mobile devices, such as tablets, phones, earphones, wireless heart straps, and fitness apps.
In addition, Nautilus T618 and T616 support the free RunSocial mobile app and Explore the world app, which simulates different routes from real locations in the world. Moreover, to the RunSocial App, users can virtually run with other users on the platform from all over the world.
In terms of the display screen, The Nautilus T618 and T616 both consist of 2 screens. One smaller on the top presents the fitness score and distance. In contrast, the bottom screen is bigger with information about the time, distance, heart rate data, current speed, incline level, and current training program.
In the consoles of the two models, there is a cooling system to chill users down while training. Besides, if you are thirsty, there is a water bottle holder available.
Finally, both treadmills are in the package with Heart Rate Monitoring via Handlebar Grips. Users only need to grip the handlebar to start measuring the heart rate. Besides, in the model T618, Heart Rate Measuring via Telemetry is available with the help of chest straps.
Quick Rundown Of Nautilus T616
No products found.
[i2pc show_title="false" title="Pros & Cons" show_button="false" pros_title="Pros" cons_title="Cons" ][i2pros]Wide Incline Level
Affordable
Comfortable Tread Belt[/i2pros][i2cons]Limited Weight Carrying Capacity
Weaker motor (compared to T618)[/i2cons][/i2pc]

---
Quick Rundown Of Nautilus T618
No products found.
[i2pc show_title="false" title="Pros & Cons" show_button="false" pros_title="Pros" cons_title="Cons" ][i2pros]High Weight Carrying Capacity
Wide and Comfortable Tread Belt
Various Built-in Programs[/i2pros][i2cons]Pricey
Failed In Heart Rate Telemetry Sometimes[/i2cons][/i2pc]

---
Product Videos
---
Conclusion
Hopefully, this writing has given you an insightful comparison between Nautilus T616 vs T618. Nautilus T618, with its decent qualities and performance, stands out from its sibling- Nautilus T616.
---