Further down the page, you'll find some explanations regarding the key similarities and differences between the Nautilus T618 and the Sole F85.
But before checking out explanations regarding their specs and features here's a table that summarizes the main technical summary sheet for these 2 treadmills:
Image
The Winner (#1)
The Runner-up (#2)
Heart Rate Monitor
Pulse grip and chest strap heart rate monitoring
Display
9-inch LCD workout display
Dual-Mode Blue Backlit LCD Display
Audio
MP3-compatible sound system
The Winner (#1)
Image
Heart Rate Monitor
Pulse grip and chest strap heart rate monitoring
Display
9-inch LCD workout display
Audio
MP3-compatible sound system
The Runner-up (#2)
Image
Display
Dual-Mode Blue Backlit LCD Display
Specs Comparison
Before we decide to buy something, the price is one of the important factors that help us make up our minds. In this case, the winner is the Nautilus T618 as it is cheaper than the Sole F85. Specifically, the T618 is priced from $1,000 to $2,600, while the price of the F85 is from $2800 and up.
How much weight can these trainers handle? The T618 can carry a maximum of 350 pounds, about 50 pounds less than the F85, which can accommodate a user who weighs up to 400 pounds. In this battle, F85 takes the lead.
Next, let's talk about the number of built-in workout programs in each trainer. The expensive one only has 10 workout programs. Meanwhile, T618 comes with 26 programs for its users. Such a wide gap!
However, the F85 wins when it comes to weight. To specify, while the T618 weighs 285 pounds, the F85's weight is slightly lighter at 265 pounds.
In terms of the running surface measures. There are no more differences between them. While the T618 is 20″ wide x 60 "long, the F85's gym-quality running path is a bit wider: 22″ wide x 60" long.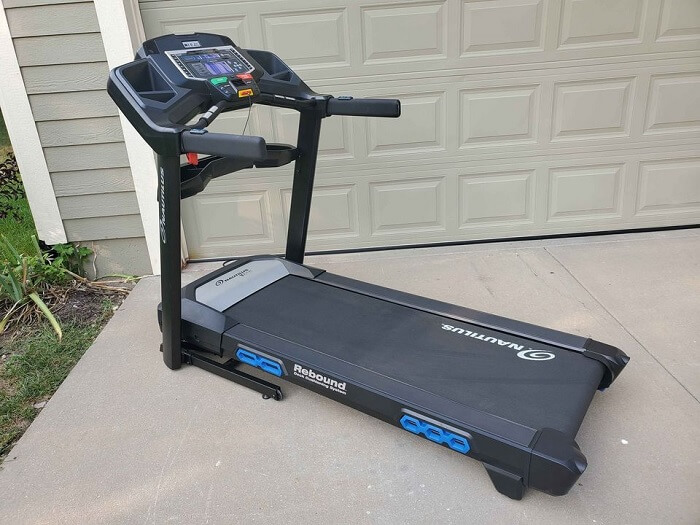 The treadmill's incline range is still not much of a difference. This incline range is 15% limited.
How about power? The Nautilus T618 is equipped with a 3.5 CHP motor. Meanwhile, the Sole F85's engine is stronger, at 4.0 CHP.
About the product's maximum speed. The T618's engine allows users to reach 12 miles per hour, the same as F85's capacity. However, F85 has a good point with a shock absorption Cushion Flex deck that helps to decrease noise.
When the treadmills reach their maximum speed, they release a lot of heat. Luckily, both of them have cooling fans.
They are equipped with a chest strap to contact and telemetry enabled. After that, these treadmills will calculate the heart rate for you.
If you are wondering how to move the machines, the answer is they both have about 6.9-centimeter rollers.
The T618's size is 35.2″ wide, 72.2″ long, and 57.6″ high. Meanwhile, the F85's measures are bulkier with 37″ wide, 85″ long, and 58″ high.
Besides that, they are foldable to reduce the space used. We can fold up the running deck locks into place when not in use.
Features Comparison
The console of Nautilus T618 is simple and easily allows us to change the incline and duration of training.
What about their display system? The T618 and F85 are both equipped with modern LCDs. However, while the T618 has a dual-mode blue backlit LCD, F85 only has sole mode.
About connecting with other devices, they allow Bluetooth connectivity, USB port, and speakers. However, there is no Internet connectivity in both.
If you seek an application capable of the T618, Explore the World App is a choice for you, and the F85 allows you to download Sole Fitness App.
Specifically, the T618 vs. F85 is available on Android and iOS devices.
Regarding the media tray, both machines have a small corner to place the key or phone.
Quick Rundown Of Nautilus T618
Sale
Nautilus T618 Treadmill
With enhanced Bluetooth connectivity, users can set, track and monitor progress with popular app-based tracking tools
Explore destinations around the world and discover 50+ global routes that auto-adjust in real time to your speed (Explore the World subscription required)
15% motorized incline
20" x 60" running path with StrikeZone cushioning system for a smooth run and up to 12 MPH
DualTrack display with 2 high-resolution backlit monitors so you can see your tablet or magazine, while keeping an eye on your time, distance and calories burned

---
Quick Rundown Of Sole F85
Sole F85 Treadmill
Treadmill offers an industry-leading warranty and a proprietary Cushion Flex Whisper Deck, shown in a study to reduce impact on your joints by up to 40% compared to running on asphalt
4.0 CHP, DC Type motor with 0.5-to-12 MPH speed range, 0-to-15% rack-and-pinion gear design incline, two-ply belt, pulse grip and chest strap heart rate monitoring
Six standard programs, two custom programs, and two heart programs; cooling fans and MP3-compatible sound system; nine-inch LCD workout display
Measures 35 by 58 by 80 inches (W x H x D); deck measures 35 by 80 inches (W x D) and running surface measures 22 by 60 inches (W x D); 265-pound weight and 400-pound weight limit; 2.75-inch rollers
Includes the following manufacturer's warranties against defects in materials and workmanship: lifetime on frame, motor, and deck; five years on electronics; and two years on labor

---
Product Videos
---
Conclusion
What to choose between Nautilus T618 vs sole F85? Through this post, we jump to the conclusion that Nautilus T618 is the better one. It stands out in price and features compared to its competitor – Sole F85.
---