Further down the page, you'll find some explanations regarding the key similarities and differences between the Nautilus T618 and the Bowflex BXT116.
But before checking out explanations regarding their specs and features here's a table that summarizes the main technical summary sheet for these 2 treadmills:
Image
The Winner (#1)
The Runner-up (#2)
Heart Rate Monitor
Pulse grip and chest strap heart rate monitoring
Display
Dual-Mode Blue Backlit LCD Display
7.5-inch LCD workout display 7.5" Blue Backlit LCD
Audio
MP3-compatible sound system
The Winner (#1)
Image
Display
Dual-Mode Blue Backlit LCD Display
The Runner-up (#2)
Image
Heart Rate Monitor
Pulse grip and chest strap heart rate monitoring
Display
7.5-inch LCD workout display 7.5" Blue Backlit LCD
Audio
MP3-compatible sound system
Specs Comparison
The product price is a popular factor for customers to be concerned about. The Nautilus T168 is cheaper than the Bowflex Bxt116. In particular, the Nautilus T618 costs $1299.99 while the Bowflex Bxt116's price is from $1133.75 to $ 1499.00.
Let's compare how much weight two machines can hold. The Nautilus T618 can carry about 350 LBS, while the Bowflex Bxt116 can handle a bit more, a maximum of 375 LBS.
How about the number of available programs on each trainer? The Nautilus T618 has 26 training exercises, each program focusing on cardiovascular endurance, weight loss, or interval training while the Bowflex Bxt116 comes with only 10 programs.
Highlights of the Nautilus T618 consist of a 20″ x 60″ walking surface and the thickness of the Bxt116's footprint is 84.6″ x 36.3″.
Regarding power, the T168 comes with 3.75 Hp while the Bxt116 is equipped with a 3.5 CHP motor, which is less powerful than the T168. However, both machines have strong and durable efficiency.
The percentage of T618' motorized incline is up to 15% with robust 6.89 centimeter crowned rollers. The figure for the Bxt116 incline has 2.75″ rollers.
What about the product's maximum speed? The maximum speed for T618's is 12 miles per hour, and the speed rating of Bxt116 is similar.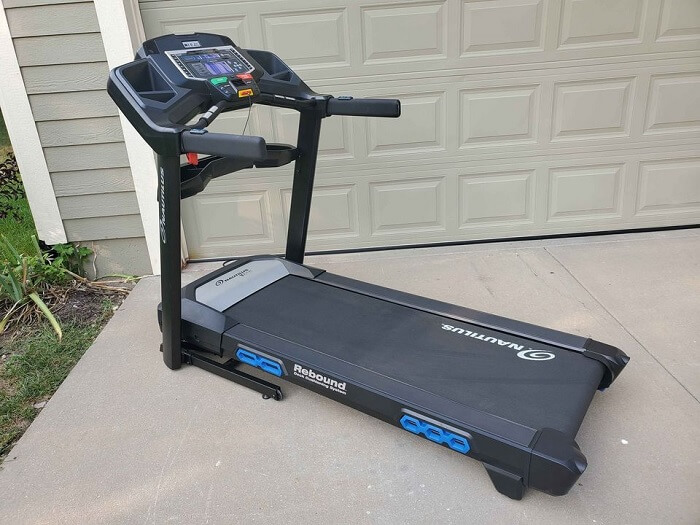 The Bowflex comes packaged with a chest strap for convenient wireless heart rate monitoring. It is equipped with contact heart rate readers but when using the wireless system you can get the added cardiovascular benefits of heart rate controlled workouts. With a thick texture, the Bxt116 training belt is not as easy to tear as a cheap treadmill belt. It's much less prone to stretching, so you won't need to recalibrate your machine. The Nautilus also includes a chest strap heart rate monitor with a contact cadence monitor integrated into the armrest.
Other highlights of the Nautilus T618 are built-in speakers, a three-speed cooling fan, and a lifetime warranty on components.
About the weight, the T618 has a weight of 209 pounds and the BXT116 is measured at 309 pounds.
The difference in size is that T618 has a length x width x height of 72,5″x 35,25″ x 57,75 " while the Bxt116 dimension is 84,6″length x 36,3″ width x55,2″heigh.
The deck width of Bxt116 is larger by 40 inches than T618, which has a size of 20 inches.
To help you save space, the T618 treadmill can be folded up after a workout. Also, the folding frame for Bxt116 is to help make the most of living space, you can fold it between workouts. The deck can easily be pushed upwards. When it is released, it will drop slightly to the floor.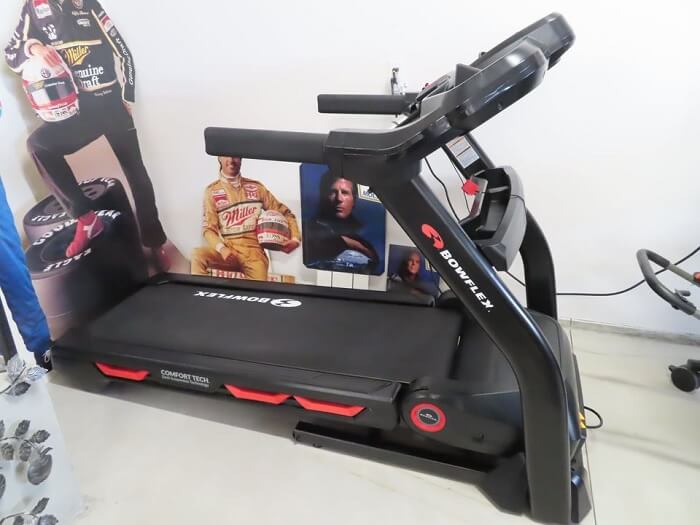 Features Comparison
In terms of the equipment, Nautilus T618 connects to Bluetooth, syncs with Nautilus Trainer 2 App and other apps for fitness tracking. The Bxt116 has Bluetooth connectivity to Bowflex JRNY, personalized coaching technology, and other popular fitness apps.
The T618's media shelf can securely keep your pill laptop jogging apps for entertainment, education steerage, or multitasking at some point during workouts. At the same time, the cell tool can run a monitoring software for workout data. For the device shelf & charger, Bxt116 has a shelf with a USB charging port that is protected for a cellular device.
For exercise programs, to revel in RunSocial workout routines with immersive streaming visuals, you may pair T618 with your phone or pill through Bluetooth. At the stop of every exercise, the gadget gives you a health rating that will help you check progress. The Bxt116 provides an accurate range with workout workouts optimized for calorie burn, distance, coronary heart charge control, language education, and different objectives.
The 3.5 CHP motor of T618 operates quietly and offers enough strength for the everyday runner. (Marathon runners and those with heavier bodies, however, may decide on a good more potent 4.0 CHP motor). Bxt116's horsepower is aiming for best-in-magnificence popularity; the BX T116 powers its exercise belt with a 3.75 CHP motor. This treadmill machine is powerful enough for anyone to run. For comparison, 3.0 to 3.5 CHP is the norm for long-lasting domestic treadmills and 4.0 CHP is the same old for marathon treadmills.
Accessory T618 tray racks for towels and water bottles are located below the console while Bxt116 has a convenient device holder & charger such as a standing USB charging port included for mobile devices.
In terms of parts and service warranty, Nautilus has 5 years of parts/electronics safety and years of labor. That's exquisite for the $1,299 promoting price. The Bowflex Results treadmill guarantee is common with the entirety protected for two years.
Quick Rundown Of Nautilus T618
Sale
Nautilus T618 Treadmill
With enhanced Bluetooth connectivity, users can set, track and monitor progress with popular app-based tracking tools
Explore destinations around the world and discover 50+ global routes that auto-adjust in real time to your speed (Explore the World subscription required)
15% motorized incline
20" x 60" running path with StrikeZone cushioning system for a smooth run and up to 12 MPH
DualTrack display with 2 high-resolution backlit monitors so you can see your tablet or magazine, while keeping an eye on your time, distance and calories burned

---
Quick Rundown Of Bowflex BXT116
Bowflex BXT116 Treadmill
7. 5 inch color backlit LCD screen
Bluetooth connectivity for connecting to Bowflex JRNY the personalized coaching technology and other popular fitness apps
20" x 60" running surface
9 intuitive "push and go" workout programs
One-touch adjustments for speeds up to 12MPH and motorized incline up to 15%

---
Product Videos
---
Conclusion
This article considers the Nautilus T618 Vs Bowflex Bxt116. Overall, it's apparent that T618 is the better choice. From the power, features, and elements, Nautilus T618 is evaluated higher by experts than its competitor, the Bowflex Bxt116.
---