Further down the page, you'll find some explanations regarding the key similarities and differences between the Nautilus T618 and the Bowflex BXT216.
But before checking out explanations regarding their specs and features here's a table that summarizes the main technical summary sheet for these 2 treadmills:
Image
The Winner (#1)
The Runner-up (#2)
Display
Dual-Mode Blue Backlit LCD Display
The Winner (#1)
Image
The Runner-up (#2)
Image
Display
Dual-Mode Blue Backlit LCD Display
Specs Comparison
First of all, let's learn about price – the top essential factor when making a purchase. If you want an affordable treadmill, don't miss the Bowflex BXT216. The price of this product is about 250 dollars cheaper than the Nautilus T618.
We're going to talk about an issue that's also very important when purchasing – the dimension and weight of the trainers. In the matter of size, BXT216 has the advantage with a measurement of 67" L x 38.5" W x 52.5" H. Nautilus T618 has size of 78"L x 37.6" W x 62, 8" H, however its weight is much lighter – only 285 lbs! This is much smaller than the Bowflex BXT216's 341 lbs.
So, is there any difference in the running path size of these two products? In this battle, the T618 is somewhat more compact with a running area of 20" x 60". Bowflex T216 is a bit larger with 22" x 60" running area dimensions.
What about the maximum weight that these two treadmills can handle? In this respect, the T216 series is definitely the winner because of its weight capacity up to 400 lbs. Its rival only can withstand 350 lbs. The difference is huge, isn't it?
You may be wondering about the tilt that the Bowflex BXT216 and Nautilus T618 can reach. They are all capable of tilting from 0% up to 15%, which is quite a pretty ideal incline. Besides, it's so coincident that the two both can reach the top speed of 12 mph.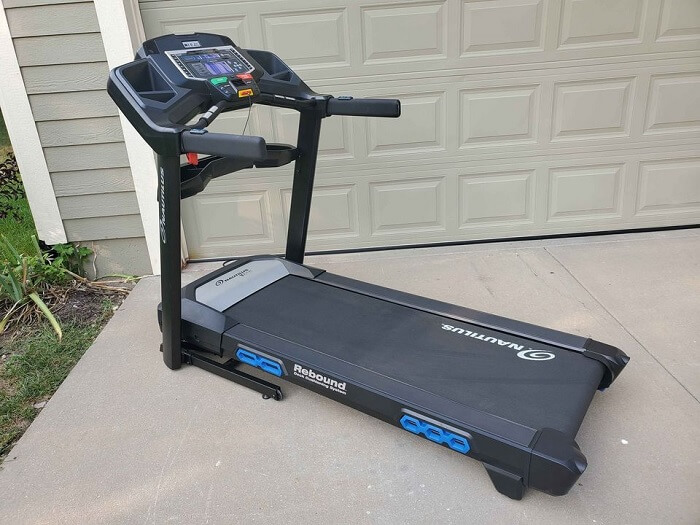 The engine is always a matter of great interest to many people like the stronger it is, the better the experience. In this battle, BXT216 once again defeated Nautilus because it owns a 4.0 CHP motor. Meanwhile, the T618 only has a 3.5 CHP one.
In terms of the number of exercises built into the treadmill, there is a big gap between them. While the Nautilus T618 offers 26 exercises, the Bowflex BXT216 has only 11 intuitive workout programs.
Both product lines above have heart rate programs for users. This makes it easier for you to monitor health as well as exercise selection. In addition, the fan system is also integrated into each machine, making it convenient to cool the engine.
Many people are interested in whether these trainers can be folded to save space. The answer is yes! When folded, the Bowflex BXT216 measures 67" L x 38.5" W x 52.5"H. Compared to the 70" L x 35" W x 27"H dimensions of the Nautilus T618, it's still a bit bulkier.
For the convenience of moving, these treadmills are equipped with a 2.75" roller system. How convenient it is!
Features Comparison
Let's take a closer look at the screens these treadmills are equipped with. Nautilus T618 has a dual-mode LCD blue backlit screen with sizes of 3.75" and 5.5" respectively. However, the Bowflex BXT216 is not inferior since it has a 9" backlit LCD full-color screen. It's hard to find a winner in this battle.
In case you want to change the speed, incline, and drop angle of the treadmill to suit you, use their control panel to operate. Regarding the speaker system, they are all equipped with this feature to support the training process.
When there is a need to connect with other devices, use the Bluetooth connection port. However, only Nautilus T618 is capable of connecting to Wifi and the Internet. Neither of these treadmills has an iFit workout app integrated, instead, the BXT216 has the JRNY app and the T618 comes with Nautilus' workout program installed.
If you have some habits such as drinking water, reading newspapers, watching your phone, or so on, both these treadmills will definitely not let you down! They are all designed with compartments to store these items for users. In addition, there is an advantage that the Bowflex BXT216 has a USB port for charging smart devices, while the Nautilus T618 does not have this feature.
Quick Rundown Of Nautilus T618
Sale
Nautilus T618 Treadmill
With enhanced Bluetooth connectivity, users can set, track and monitor progress with popular app-based tracking tools
Explore destinations around the world and discover 50+ global routes that auto-adjust in real time to your speed (Explore the World subscription required)
15% motorized incline
20" x 60" running path with StrikeZone cushioning system for a smooth run and up to 12 MPH
DualTrack display with 2 high-resolution backlit monitors so you can see your tablet or magazine, while keeping an eye on your time, distance and calories burned

---
Quick Rundown Of Bowflex BXT216
Bowflex BXT216 Treadmill
Introducing Bowflex JRNY, the personalized coaching technology that integrates with your BXT216 to create daily, custom workouts and provide in-workout coaching and personalized feedback that encourages and drives users through their workout.
Stay engaged by exploring dozens of virtual courses and stunning trails that automatically adjust to your running speed with the Explore the World App. Coming soon
Motorized incline up to 15% to vary workout intensity
22" x 60" running path with Comfort Tech Cushioning Technology
9" full color, back-lit LCD screen with 11 simplified "push and go" intuitive workout programs

---
Product Videos
---
Conclusion
If you are interested in these two products, think carefully before making a final decision. After this Nautilus T618 Vs Bowflex BXT216 article, we suggest you give a Bowflex T216 a try because of its powerful engine, JRNY app and other great features. Hope you will make the best decision!
---