Further down the page, you'll find some explanations regarding the key similarities and differences between the Nordictrack C 1650 and the Sole F80.
But before checking out explanations regarding their specs, features, and warranty, here's a table that summarizes the main technical summary sheet for these 2 treadmills:
Image
The Winner (#1)
The Runner-up (#2)
Heart Rate Monitor
Pulse grip and chest strap heart rate monitoring
Display
7.5-inch LCD workout display
Audio
MP3-compatible sound system
The Winner (#1)
Image
Heart Rate Monitor
Pulse grip and chest strap heart rate monitoring
Display
7.5-inch LCD workout display
Audio
MP3-compatible sound system
The Runner-up (#2)
Image
Specs Comparison
Price is the first thing that shoppers are usually concerned about first. Hence, you would likely pick the Nordictrack C 1650 as it has a more affordable price than the Sole F80.
In terms of weight capacity, Nordictrack C 1650 can accommodate a human weight of 300 LBS. Meanwhile, Sole F80 can hold a maximum weight greater than Nordictrack C 1650, about the capacity to tilt the running surface75 LBS.
How about the number of exercises available? Nordictrack C 1650 has 34 built-in exercises, while the Sole F80 has 10 exercise programs covering user-designed routines.
When it comes to motor power, both the Nordictrack C 1650 and the Sole F80 have a 3.5 HP motor ideal for those who prefer to run for a long time.
The movement of both machines is also excellent. To be more specific, Nordictrack C 1650 is designed to operate gently without slipping, even when you frequently change speed. The Nordictrack C 1650's cushioning is powered by FlexSelect, which is an on / off system.
Besides, Sole F80's flagship Flex Whisper Deck Buffer System is designed to relieve the stress on your joints so you can run without pain.
NordicTrack C 1650 has up to 12% tilt power about the capacity to tilt the running surface. What's more? Sole F80 has power inclination with max class 15%, more than Nordictrack C 1650 3%.
The Nordictrack C 1650 and Sole F80 are the same, Full-color 12 MPH (about 0.5 to 11 miles per hour). Also, both treadmills provide fans to keep you comfortable during the workout.
Regarding the heart rate monitoring mechanism, the two products offer different features. Nordictrack C 1650 has two methods of monitoring heart rate: a contact sensor integrated into the handlebar; and the treadmill compatible with Bluetooth wireless heart rate emitters. In comparison, Sole F80 offers a built-in heart rate monitor on the armrest and the wireless chest strap option.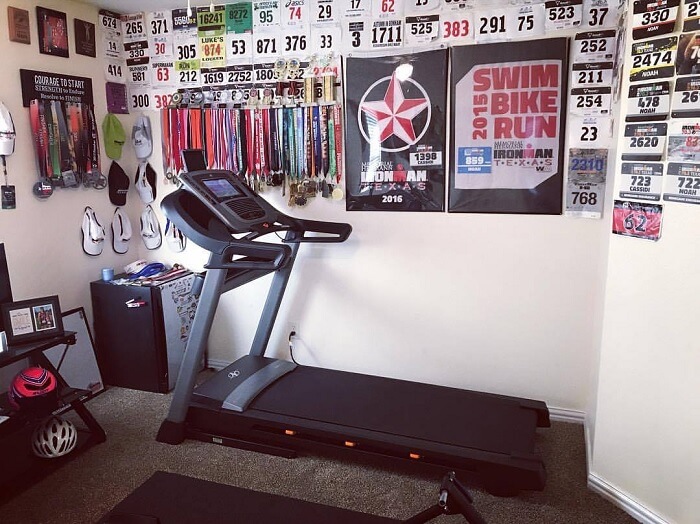 In terms of treadmill weight, Nordictrack C 1650 weighs 222 pounds, which is lighter than Sole F80, weighs 284 pounds.
The dimensions of the two treadmills were not too different. Specifically, Nordictrack C 1650 has dimensions of 79.1 x 35.8 x 60.6 inches. While Sole F80 measures 82 x 36 x 16.5 inches.
Both Nordictrack C 1650 and Sole F80 are foldable. For Nordictrack C 1650, hydraulic makes it easy to fold upright. Meanwhile, the Easy Assist folding feature of the Sole F80 allows you to quickly press the switch and watch the machine fold automatically.
Features Comparison
Nordictrack C 1650 vs Sole F80 have their fitness app. iFit Coach is an application that makes a big contribution to the popularity of NordicTrack. Using your home WiFi connection, iFit Coach gives you access to unlimited personalized exercise downloads, online races, custom recipe recommendations, message boards, and supports other fitness.
In addition, Sole F80 gives you the free Sole app to track your progress or transfer training data with a fitness app of your choice, such as Fitbit, Record, Mapmyrun, or Apple Health.
Nevertheless, you're probably curious about the fan controls. Both products provide built-in cooling fans that can self-adjust to suit the intensity of the user's training.
Besides, the visual display is an indispensable feature. NordicTrack C 1650 has a 10-inch color touch screen. Thanks to the Android browser, it's not merely a data monitor but also a web portal and iFit Coach. Although Sole F80 only has a 7.5-inch LCD screen, you can easily keep track of tabs on your training session.
Let's see how to choose an exercise program! For Nordictrack C 1650, the touchscreen makes it easy to choose exercises with four target categories: intensity, heart rate, inclination, and speed. If you use iFit Coach with Google Maps, the treadmill can automatically adjust the tilt to match the real terrain during a virtual exercise.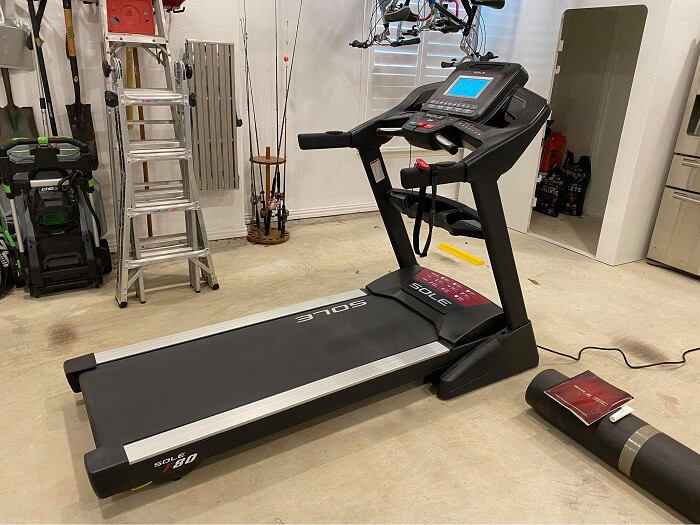 For Sole F80, the integrated exercise program includes: reduce fat, improving heart, increasing strength, improve sports.
To help you keep track of your stats, Sole F80 can store up to two different user profiles in the dashboard so you can easily switch assignments back and forth with your partner.
About utilities, both products have Bluetooth speakers that are compatible with smartphones. They all have USB ports, wifi connectivity, and an accessory tray.
Warranty
For Nordictrack C 1650: 5-year electronic equipment and parts warranty; 2 years labor warranty; and Lifetime warranty for the frame and engine.
For Sole F80: 5-year warranty for electronic equipment and parts; 2-year labor warranty, and a lifetime warranty on frame, engine, and deck.
Quick Rundown Of Nordictrack C 1650
Nordictrack C 1650 Treadmill
Interactive Personal Training at Home powered by iFit; gain access to on demand, interactive trainer led global and studio workout programs; membership required, sold separately
10 inches HD Interactive Touchscreen Display can stream personalized iFit workouts (membership required, sold separately) directly to your treadmill; track your speed, calorie burn, and other important stats
12 percent OneTouch incline control, 12 MPH SMART OneTouch speed control; spacious 20 x 60 inches tread belt
A powerful 3.5 CHP* DurX Smart Response Motor features reduced motor noise and self cooling technology; perfect for running, jogging, and walking in the comfort of your home
Innovative SpaceSaver design with EasyLift Assist means your treadmill can fold up after your run for compact, simple storage
---
Quick Rundown Of Sole F80
Sole F80 Treadmill
Folding treadmill with 3.0-horsepower continuous-duty motor
Vibrant 7.5-inch LCD display with integrated speakers and audio cable
6 standard workouts, 2 custom workouts, and 2 HR-controlled workouts
Easy Assist folding deck design; Cushion Flex shock-absorption system
350-pound capacity; measures 33 x 80 inches (W x D); weighs 250 pounds
---
Product Videos
---
Conclusion
Overall, we decide to pick the Sole F80 as the winner of the war between " Nordictrack C 1650 vs Sole F80."
Sole F80 offers the best combination of price and functionality. It outperforms Nordictrack C 1650 in cushion tilting, running surface width, and exercise comfort. Furthermore, the design is also more user-friendly.
---