Further down the page, you'll find some explanations regarding the key similarities and differences between the Nordictrack T 6.5 S and the Proform 505 CST.
But before checking out explanations regarding their specs and features here's a table that summarizes the main technical summary sheet for these 2 treadmills:
Image
The Winner (#1)
The Runner-up (#2)
The Winner (#1)
Image
The Runner-up (#2)
Image
Specs Comparison
First, let's check the measurements of the two machines to see which one is the more compatible model with you. Primarily, even though coming with nearly the same weight- about 200 lbs, Nordictrack T6.5S's dimensions are smaller than the Proform model.
Particularly, Nordictrack T6.5S measures 73.5 inches long, 36 inches wide, 54 inches high, and 203 lbs heavy, while Proform 505 CST is 73.5 inches long, 36 inches wide, 61 inches high, and 210 lbs heavy. So, you can see that there is not much distinction between the two treadmills regarding weight and size. But you can partly base on these criteria to decide on the suitable treadmill for your home area.
Another difference between the two treadmills is their selling price. Proform introduces the model 505 CST at under 1000 dollars. Nordictrack T6.5S, however, comes with a little bit lower price- about 700 dollars. Hence, if you are a budget customer, you may opt for the Nordictrack model.
Between Proform 505 CST and Nordictrack T6.5S, the maximum carrying weight is distinctive. Even though both treadmills have strong builds that can carry up to 300 lbs, Proform 505 CST can take up to 325 lbs while the counterpart is only for those under 300 lbs. As a result, the Proform 505 CST model is probably matched with weighty users.
Now, let's examine the treadmill's incline level. Overall, the Proform model and Nordictrack model can flexibly adjust the incline level in the range from 0% to 10%. However, according to many users, this incline range is just suitable for casual home users. Therefore, if you wish to challenge yourself with a highly intense level, you should consider other models from the two manufacturers.
When it comes to the built-in programs, both models provide users with an acceptable number of training programs compared to other models on the market. These treadmills go with almost the same quantity of workout programs, with 20 programs on the Nordictrack and 18 workouts on the Proform.
Speaking of power, there is not much discrepancy between the two machines. Having a 2.5 HP motor that is strong enough for the two treadmills to speed up to 10 MPH. Therefore, the machines are suitable for casual home users, such as walkers, joggers, and runners.
Ultimately, both Nordictrack T6.5 S vs Proform 505 CST is in the package with a pretty large 20-by-55 inch running area. With this tread belt size, both machines provide runners with comfort while running.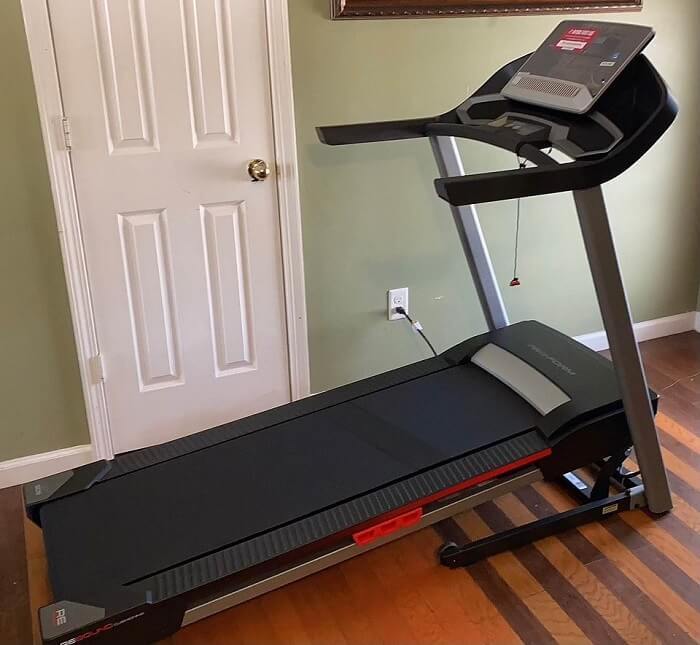 Features Comparison
Firstly, the BlueTooth connection is different between the two models. The Nordictrack model does not support Bluetooth connection in this model, while Proform 505 CST has Bluetooth tech, which helps the treadmill connect to mobile devices and the speakers in the treadmills.
Apart from that, two treadmills also have LCD screens to show training information. Yet, Nordictrack T6.5S comes with a 10-inch HD touchscreen, while Proform 505 CST only has a 5-inch backlit screen. Hence, if you wish to have a big touchscreen, Nordictrack T6.5S is the better option.
In addition, the two treadmills also go with iFit membership. iFit is an all-in-one training app that gives users access to thousands of training programs, iFit Coach, Google Maps Routes worldwide, and other benefits. When customers purchase the Nordictrack model, the deal already includes 1-Year iFit Coach Membership, while iFit is only free for a month with Proform 505 CST.
A workout fan is also attached to the consoles to cool users down on the two models.
Finally, the treadmills support Heart Rate Monitoring technology to help runners track their heart rate by the handlebar grips.
Overall, there is not much difference in the warranty coverage because Proform 505 CST and Nordictrack T6.5S have a pretty good warranty policy. Specifically, the frame of Proform 505 CST is under unlimited warranty coverage, while the motor is under 25-year coverage, other parts and electronics and labor is for a 1-year warranty.
Nordictrack has a better warranty deal in that it covers the motor and frame for whole life and one year for parts and labor.
Quick Rundown Of Nordictrack T 6.5 S
Nordictrack T 6.5 S Treadmill
30-Day iFIT Membership Included; Stream live & on-demand workouts on your equipment with Global Workouts & Studio Classes; Elite trainers adjust your equipment (15 Dollar value)
10% OneTouch incline control; 10 MPH SMART OneTouch speed control; With iFIT, your trainer auto-adjusts your speed and incline through a smart Bluetooth connection
SMART-Response Motor for effective speed, interval, and endurance training; 20" x 55" tread belt offers plenty of leg and elbow space as you run; FlexSelect deck cushioning protects your joints
Innovative SpaceSaver design with EasyLift Assist means your treadmill can fold up after your run for compact, simple storage; Auxiliary music port and dual 2-inch speakers provide entertainment
300-pound user capacity; Protected with a 10-year frame warranty, 2-year parts warranty, and 1-year labor warranty; 54" H x 36" W x 73.5" L

---
Quick Rundown Of Proform 505 CST
Proform 505 CST Treadmill
Discover Trainer-Led Workouts; A 30-day iFit trial membership gives you access to interactive training sessions, on-demand studio & global workouts, and connected fitness tracking in your home
5" Backlit Display; Track speed, distance, and estimated calorie burn; Integrated Tablet Holder; Stream interactive iFit workouts to your own smart device to stay engaged and motivated as you train
Self-Cooling Mach Z Drive System powers sustained speed, interval, and endurance cardio training; Trainer-led 0-10 MPH Digital QuickSpeed Control and 0-10% Digital Quick Incline Control
20" x 55" Tread Belt recommended for users under 6'2"; ProShox Deck Cushioning protects your joints for a more comfortable run and recovery; Dual 2" Speakers and Auxiliary Port for entertainment
325-pound user weight capacity; Protected by a 10-year frame warranty and 1-year parts and labor warranty; 61" H x 36" W x 73.5" L

---
Product Videos
---
Conclusion
Hopefully, this comparison has pointed out the distinctions between Nordictrack T6.5S vs Proform 505 CST. Despite coming with a lower price, Nordictrack T6.5S still shows that it is a treadmill worth investing in as it provides more beneficial features than its counterpart- Proform 505 CST.
---