Further down the page, you'll find some explanations regarding the key similarities and differences between the NordicTrack EXP 7i and the NordicTrack T 6.5 SI.
Specs Comparison
The EXP 7i measures a packaging size of 77.3" L x 35.3" W x 59.6" H inches and its competitor stands at a 67.5" L x 36" W x 73" H-inch footprint. Hence, the T 6.5 SI seems to take up less space than EXP 7i.
Both products feature a 300 lbs user weight limit, which means all users with different weights can run on these treadmills without any trouble.
Besides, T 6.5 SI provides a 10% incline, whereas its opponent will incline up to a 12% grade. With the NordicTrack EXP 7i's plenty steep, users can work uphill and maintain balanced leg conditioning at the same time.
In terms of motor, the T 6.5 SI model again gains ground over its rival (3.0 CHP > 2.6 CHP). They can generate miles of light running and walking. However, the EXP 7i is more likely to handle long-term running use and is more durable.
While the T 6.5 Si gives out a max speed of 10 MPH, the latter at 12 MPH maximum comes with more options.
Only NordicTrack's old models were equipped with built-in programs. Since the EXP 7i is a newer one in the NordicTrack line-up, there aren't any preset workouts on this machine. Meanwhile, as part of NordicTrack T Series – 6.5 SI provides 20 onboard workout programs, including hiking, HIIT, and calorie burn.
When it comes to running areas, they feature similar tread belt dimensions: the T 6.5 SI at 20 x 55 inches and the latter at 20 x 60 inches. The EXP 7i's tread belt fits taller people with a longer running stride better with its 5-inch-more length tread belt.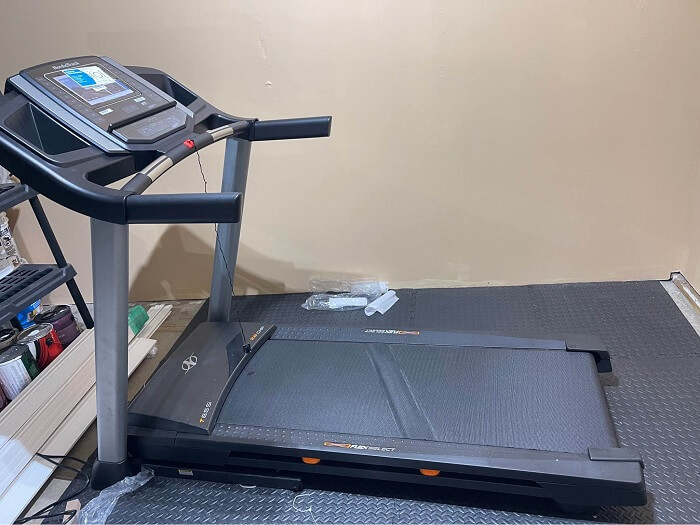 Features Comparison
Either of them is integrated with the FlexSelect Cushioning, reducing overuse or impact injuries on your spine and joints. It is one of the key benefits of this sort of home gym equipment.
The EXP 7i includes a 7-inch touchscreen, giving easy access to the iFit library. However, this size may be quite small for short-sighted people. Meanwhile, the 6.5 SI's 10-inch HD touchscreen makes such a difference, as its generous size and interactivity add convenience during the workouts.
NordicTrack has incorporated the SpaceSaver technology with EasyLift design into its products. Users can fold the treadmills up after use, which is extremely convenient.
Plus, these two machines include Bluetooth headphone connectivity and amplified speakers. You can easily plug your headphone into the auxiliary music port, play some favorite rhymes, and start running with full energy.
Quick Rundown Of NordicTrack EXP 7i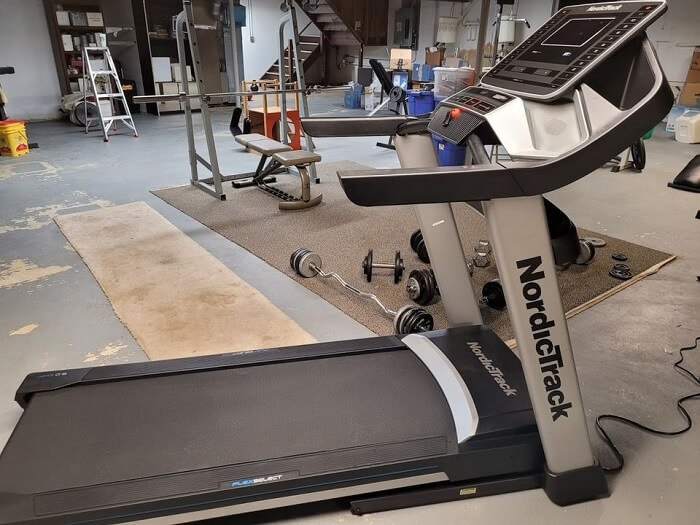 [i2pc show_title="false" title="Pros & Cons" show_button="false" pros_title="Pros" cons_title="Cons" ][i2pros]Wider steep and speed range
Strong motor
Longer deck
Bluetooth speaker and music port
SpaceSaver technology[/i2pros][i2cons]Lack of built-in programs
Small-sized touch screen[/i2cons][/i2pc]

---
Quick Rundown Of NordicTrack T 6.5 SI
NordicTrack T 6.5 SI Treadmill
NordicTrack the #1 Treadmill Brand - Based on US Treadmill Dollar Share, TraQline Data 2018-2023
30-Day iFIT Membership Included; Stream Live & On-Demand Workouts On Your Equipment With Global Workouts & Studio Classes; Elite Trainers Adjust Your Equipment (15 Dollar Value)
Immersive 10-inch interactive HD touchscreen streams on-demand iFIT workouts directly to your equipment and provides easy stats tracking; SMART-Response motor for effective running and cardio training
10 % OneTouch incline control; 10 MPH SMART OneTouch speed control; Your iFIT Trainer auto-adjusts your smart treadmill's speed and incline for a fully optimized workout that meets your goals
Innovative SpaceSaver design with EasyLift Assist means your treadmill can fold up after your run for compact, simple storage; 20" x 50" tread deck; Bluetooth headphone connectivity for in-ear audio
[i2pc show_title="false" title="Pros & Cons" show_button="false" pros_title="Pros" cons_title="Cons" ][i2pros]Built-in programs
Large touchscreen
Bluetooth speaker and music port
SpaceSaver technology[/i2pros][i2cons]Less steep and speed options
Weaker motor
Inadequate deck[/i2cons][/i2pc]

---
Product Videos
---
Conclusion
Overall, NordicTrack EXP 7i vs T 6.5 SI – What decision will you make then? We're leaning towards the newer guy – EXP 7i and considering it a more worth buying product. The treadmill comes with a compact, easy-to-fold-up design yet a huge size motor and deck.
Plus, this model also offers a broader range of speed and incline options for more excellent customization. Any avid runner who is fond of casual cardio all the way and light jogging should appreciate its performance. weightsKeeping all the upsides and downsides in mind, you'll figure out which treadmill is right for you.
---