Below I will compare the power, portability, and features of the Porter-Cable FR350A and FR350B
Difference between Porter-Cable FR350A and FR350B
Image
Dimensions
23.5 x 19.5 x 6.25 inches
Image
Dimensions
23.5 x 19.5 x 6.25 inches
Image
Design Comparison
At first glance, we bet that you hardly notice how different they show in terms of weight.
Porter-Cable FR350A weighs around 8.1 pounds and has dimensions of 23.5 x 19.5 x 6.25 inches. On the other side, the FR350B unit is 0.8 pounds lighter than the previous one, and its sizes are 21 x 5 x 15 inches.
Despite the small gap, Porter-Cable FR350B still brings more comfort for you to transport this device anywhere in the working areas.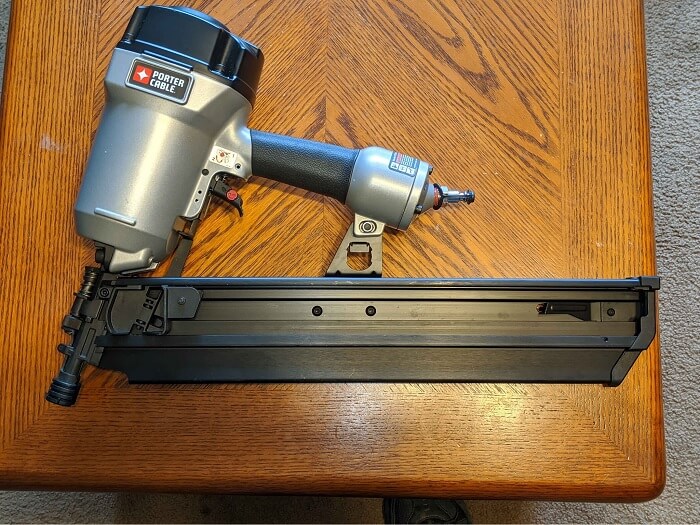 Power Comparison
Unlike the portability factor, both these framing nailers are much identical regarding engine power. Specifically, they can drive nails with an operating pressure ranging from 70 to 120 PSI. Obviously, these motors have delivered enough raw power to help you handle your tough jobs quickly.
Thus, there is no winner here.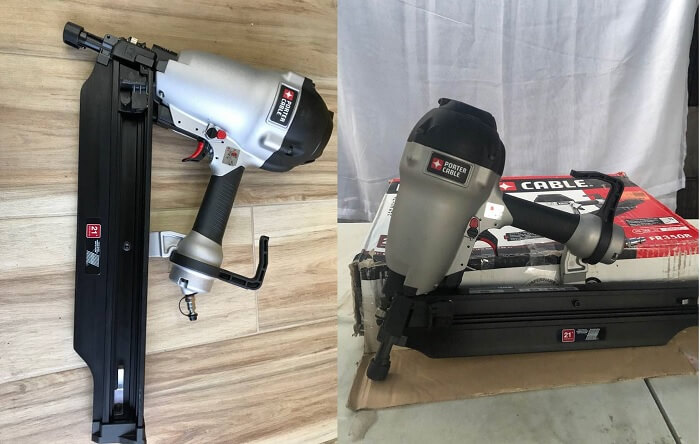 Features Comparison
It must be mentioned that Porter-Cable FR350A vs FR350B share many other stunning features in common.
First of all, they come with a tool-free depth-of-drive adjustment so that you can set up the nail heads properly without much of a hassle. Also, you are supported to determine the depth of your drive in case of handling many different materials.
Furthermore, the manufacturer has added extra versatility and convenience to two models by a selectable trigger. It means that you can freely choose between restrictive and contact actuation modes. As such, everything seems to be simplified.
However, there is one thing that makes the Porter-Cable FR350A outstanding more than its opponent. It is praised for being a great time-saver, which can hold up to 64 nails without reloading. Simultaneously, it is versatile enough to fire both 20 and 22-degree nails, then you can finish any job with ease.
A full box of the FR350A includes a nailer, a carrying case, air fitting, and oil.
Of course, Porter-Cable FR350B is claimed to be a new version of the FR350A one, so it does outstand its rival in some exclusive aspects.
This tool promises to provide you the highest comfort and control during use thanks to a combination of lightweight design and an over-molded grip.
In addition, the reversible rafter hook included enables you to hang the tool on the left or right side freely. You will especially know when to reload the framing saw with the help of a low nail lockout.
Unfortunately, you only get a bare tool while purchasing this FR350B device.
Quick Rundown Of Porter Cable FR350A
Porter-Cable FR350A Framing Nailer
Uses 20 degree to 22 degree nails, 2-inch to 3-1/2-inch by .113-inch to .148-inch plastic collated round-head framing nails
Power to drive nails (up to 3-1/2-inch by .131-inch) into engineered lumber
Compact body design for better balance and style
Consistent power on every shot with internal piston catch mechanism
Selectable trigger - restrictive or contact actuation mode; Tool-free depth-of-drive adjustment with detents for proper setting of nail heads
[i2pc show_title="false" title="Pros & Cons" show_button="false" pros_title="Pros" cons_title="Cons" ][i2pros]Trigger lock for enhanced safety
Can choose between two firing modes
Versatile
A great time saver[/i2pros][i2cons]A little bulky and heavy[/i2cons][/i2pc]

Quick Rundown Of Porter-Cable FR350B
Porter-Cable FR350B Framing Nailer
The framing nailer gun is lightweight at just 7.3 lbs
Power to drive nails up to 3-1/2-inch x .131-inch into engineered lumber
Selectable trigger with trigger lockout for restrictive or contact actuation mode
Tool-free adjustable depth of drive for proper setting of nail heads
Reversible rafter hook for hanging tool on left or right side
[i2pc show_title="false" title="Pros & Cons" show_button="false" pros_title="Pros" cons_title="Cons" ][i2pros]Well-designed and sturdy
Comes with a selectable trigger
Has an over-molded grip for convenience
Helpful hanging hook
Trigger lock for increased safety[/i2pros][i2cons]Air leak after a while
Only needs 22-degree plastic collated nails
Lacks a carrying case[/i2cons][/i2pc]

Conclusion
Porter-Cable FR350A vs FR350B are reliable framing nailers for users to consider. If we intend to buy one, the FR350B unit will be our top pick since it owns both power and great design.
But you can choose differently depending on your preference. Now it's time to go shopping for the most suitable unit.