If you feel hard to give a final choice between Porter-Cable Pin100 vs Pin138, let's check this comparison below to explore which is your beloved pin nailer!
Difference between Porter-Cable Pin100 and Pin138
Image
The Winner (#1)
The Runner-up (#2)
The Winner (#1)
Image
The Runner-up (#2)
Image
Design Comparison
The first pin nailer, Porter Cable Pin100, has a size of 9.06 x 13.19 x 2.95 inches and weighs 4.36 pounds. On the contrary, its counterpart, Pin138, measures 9.5 x 2 x 2.95 inches in dimension and 4.4 pounds in weight.
From the dimension, you can see that Porter-Cable Pin138 is more compact than Pin100. However, Pin100 is a little bit overwhelmed by Pin138 because of its light weight of 4.36 pounds.
Overall, despite a very slight difference in weight, Porter-Cable Pin138 is the winner in this round of convenience.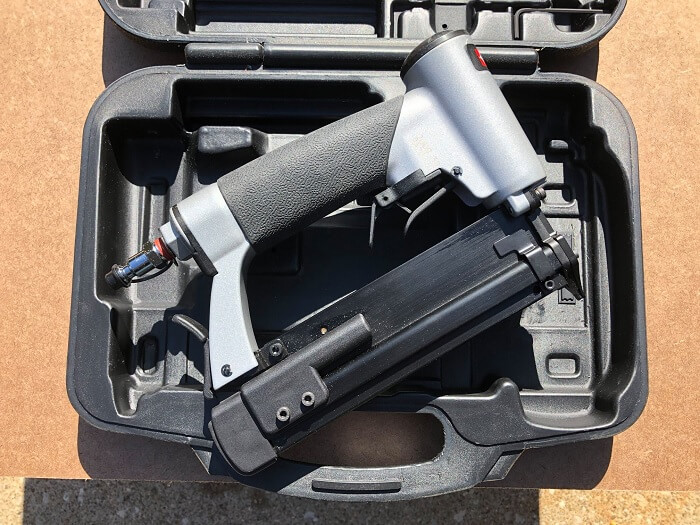 Power Comparison
In terms of the magazine, Pin100 receives pins from 1/2 to 1 inch in length, but Pin138 has up to 5/8 to 1 3/8 inch pin. Also, Pin100's magazine can hold up to 170 pin nails, while Pin138's is 130 pin nails, which is relatively low compared to Pin100.
Both Porter Cable Pin100 and Pin138 have dual-trigger mechanisms, which are placed close together. On the one hand, they will require less finger stretching, and on the other, two models can make it a little tough to distinguish between the safety trigger and the main one.
Besides, both types of pin nailers of the Porter-Cable brand are equipped with jam releases, which are very useful in removing the nosepiece to unjam the tool. However, Pin138 comes with a wrench to help you with it while its brother, while Pin100 does not.
Another essential point is Porter Cable Pin100 is not packed with a depth adjustment mechanism while Cable Pin138 possesses. This model boasts quite convenient depth controls, enabling you to drive nails of varying length into various materials accurately.
To sum up, although Pin100 overcomes Pin138 in the number of pin nails, Porter Cable Pin138 is more impressive than Pin100 with the outstanding features listed above. Hence, the winner in this battle is Pin138.
Features Comparison
With the characteristics mentioned above, you can see the outstanding of Pin100 and Pin138 for sure.
The highlight of Porter-Cable Pin100 lies in the number of pin nails, with up to 170 for more extended usage. However, it also owns a common nail sign to remind you about reloading the magazine.
When purchasing this tool, you will get some attachments such as Nailer includes sample 23-Gauge pin nails, 1/4″ air fitting with dust cover, oil, and a carrying case.
It can be said that Porter Cable Pin138 is the innovation of this brand with premium features. It is designed with a depth adjustment mechanism, which allows you to nail different lengths of nails into complex materials precisely.
When buying this device, you will receive accompaniment like a wrench, 2000 pin nails of 3/4-Inch, nailer, 1/4-Inch plug with cap, and carrying case.
Quick Rundown Of Porter-Cable Pin100
Porter-Cable Pin100 Nailer
The product is Pin Nailer Kit
Easy to use
The product is manufactured in China
Uses 23 ga. micro pin nails from 1/2-inch to 1-inch long similar to Senco models
Tool automatically adjusts for different fastener lengths for esier loading
[i2pc show_title="false" title="Pros & Cons" show_button="false" pros_title="Pros" cons_title="Cons" ][i2pros]Affordable
Easy to apply
Auto-adjusting magazine
170 pin capacity
Stable all supported foot sizes
The dual trigger safety mechanism
Available rubber comfort grip
Low nail reloads indicator[/i2pros][i2cons]No actual rear exhausts
No drives depth adjustment
No no-mar tips[/i2cons][/i2pc]

Quick Rundown Of Porter-Cable Pin138
Porter-Cable Pin138 Nailer
The pin nailer uses 23 GA headless and slight head pin nails from 5/8-inch to 1-3/8-inch length
The 23 gauge pin nailer has a long life maintenance free motor to keep from staining the work surface
Includes: nailer, 1/4-inch air fitting, and carrying case
Consistent power and penetration to sink 1-3/8-inch nail sub-flush into Oak
Rear exhaust to keep contaminates away from work
[i2pc show_title="false" title="Pros & Cons" show_button="false" pros_title="Pros" cons_title="Cons" ][i2pros]Reasonable price
Compact model
High versatility
Automatic adjustability and load indicator magazines
Removable no-mar tip
Dual trigger mechanism
Rear exhaust and depth adjustment
Compact pin nailer[/i2pros][i2cons]Too easy-bent 23 gauge pins
Gauge pins coming out the sides of the hardwood[/i2cons][/i2pc]

Conclusion
After reading Porter Cable Pin100 Vs Pin138 comparison, have you decided to buy which pin nail yet? I'm sure you have found the victor in this competition. However, the final decision still depends on your interest and purposes.
If you are tired of replacing the pin nails, Pin100 is a better choice, with 170 pin nails. If you prefer a premium one, let's pick Pin138.