Generac IQ3500 and Predator 3500: Which portable generator is the better option for you? Still, have no idea? Let's scroll down to find the answer!
Differences Between Generac IQ3500 and Predator 3500
Below is a summary of the specifications:
Image
The Winner (#1)
The Winner (#1)
Image
Power Comparison
Regarding the power, both generators run on gas.
Generac iQ3500 features a 212cc Generac OHV 4-stroke engine with a running wattage of 3000W and a starting wattage of 3500W (as you can tell from the name). On the other hand, Predator 3500 runs on a 212cc OHV 4-stroke engine with the same running wattage and starting wattage as Generac iQ3500.
Moreover, Generac iQ3500 also outweighs Predator 3500 regarding the running time as it features a runtime of 14.1-hour at 25% capacity while Predator 3500 can only run in 11 hours.
At a 50% load, Generac iQ3500 scores again. The product (0.24 GPH) is more energy-efficient than its competitor (0.18H).
Generac iQ3500 seems to prevail in all aspects. More specifically, Generac iQ3500 offers a super silent operation, a lot less noisy than Predator 3500 (57dBA) thanks to its special noise block system.
Both units all have a low THD (<3% for Generac iQ3500 and <5% for Predator 3500), making them suitable for powering sensitive electronic devices in your house such as mobile phone, laptop, plasma TV.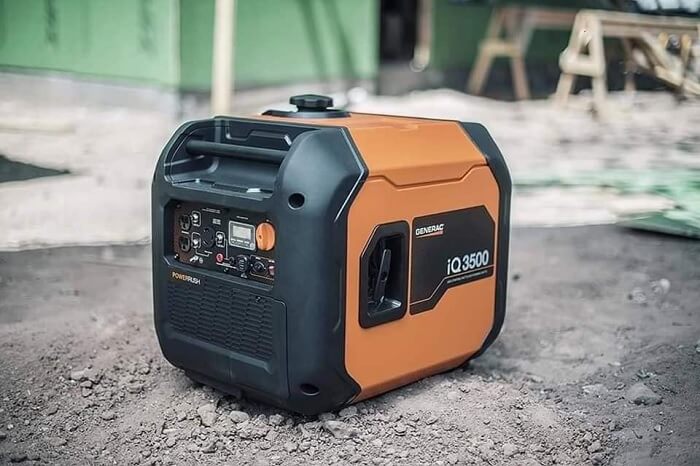 Design Comparison
Generac iQ3500 weighs 109 lbs and measures 23.7 x 18 x 21.7 inches, making it a bit more lightweight than Predator 3500 (110 lbs and 22.75 x 17.3 x 20 inches).
Generac iQ3500 also comes with a handle for easier portability. In contrast, Predator 3500 features four built-in wheels, so it only comes down to a matter of preference to decide which unit do you like better. We would say Generac iQ3500 is on equal terms with Predator 3500 in this section.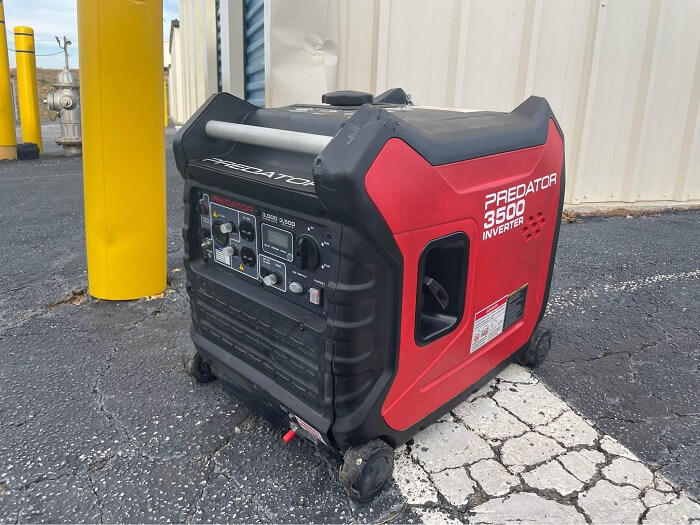 Features Comparison
You can either start Generac iQ3500 with the conventional pull cord or go straight for the electric start. However, Predator 3500 can only be kickstarted with the regular pull cord, which can be somewhat inconvenient after a while as it will require more than one or two pulls for the machine to work.
Both units have 3 AC outputs, but Generac iQ3500 outperforms Predator when it comes with 2 DC outputs, whereas Predator 3500 only has 1. You can keep track of the wattage, the runtime, as well as fuel level you're using on both units, thanks to the smart LCD.
Quick Rundown Of Generac iQ3500
Generac iQ3500 Inverter Generator
ULTRA-QUIET – 40% Quieter than Honda* Advanced inverter technology and enclosure design provide optimal quiet performance (* Over 5 dB(A) quieter than the EU3000is, based on independent third-party testing)
Ideal for work or play - durable steel enclosure, clean inverter power and easy portability make this the ideal generator for jobsites or recreational activities
16% more power than Honda, Featuring power rush advanced technology.Rated AC Frequency:60 Hz
Digital smart lcd - digital wattage meter, run time remaining display, generator status, hour meter and fuel level
USB ports - charge mobile devices including smartphones and tablets

Quick Rundown Of Predator 3500
No products found.

Product Videos
Conclusion
By now, you must have your answer for the winner of the competition between "Generac iQ3500 Vs Predator 3500".
From the comparison above, it is obvious that Generac iQ3500 outweighs Predator 3500 in terms of everything. Nonetheless, it only comes down to a matter of preference for you to choose the better product. Some people go for one instead of another simply because they like the design better. How about you? Which unit are you going to support? Let us know in the comment section down below!