The list of the best generators available in 2020 has shrunk to only two products, Honda EU3000is vs Champion 3400. However, it is still hard to make a final decision.
Depending on the information on the two models, we want to show you the comparison between them and even our recommendation for the last choice. Keep reading!
Differences Between Honda EU3000is vs Champion 3400
Utilities
Even from the names, two generators show a difference when it comes to power. While Champion 100263 3400-Watt can provide the incredible power of 3400 starting watts and 3100 running watts, the respective numbers of Honda EU3000iS are just 3000 and 2800 watts.
Perhaps, due to the stronger power, it can provide, Champion 100263 3400-Watt is noisier when its noise level is 59 dBA at the distance of 23 feet. The noise created by Honda EU3000iS is equal to a normal conversation with 49 dBA.
Besides gasoline, Champion 100263 3400-Watt can operate with propane. If using gasoline at 1/4 load, this machine can run for 7.5 hours because its fuel tank is just 1.6 gallons.
On the contrary, Honda's generator can just use gasoline, and with the fuel tank capacity of 3.4 gallons, it can operate longer for 20 hours at 1/4 load.
You can see the table below for comparison:
Image
The Winner (#1)
The Runner-up (#2)
The Winner (#1)
Image
The Runner-up (#2)
Image
Design
What is your very first impression of these products? Well, the first difference when you look at two of these models is the design.
Champion 100263 3400-Watt has black paint while product B has a combination of red and black. Champion 100263 3400-Watt's design is very compact and portable with a weight of only 95.7 pounds. Besides, it comes with two wheels on the sides, which allow you to move it around without any hassle quickly.
Meanwhile, Honda eu3000is show its disadvantages when it weighs up to 131 pounds which is heavy to carry with you, especially if it is not equipped with any wheel.
Price
It will be one more plus point for products from Champion in terms of price. Currently, Honda eu3000is's price is more than two times that of Champion 100263 3400-Watt.
In fact, the products of Honda are often pricey than other ones, which can cause some buyers to have to consider a lot when choosing.
Quick Rundown Of Champion 100263 3400-Watt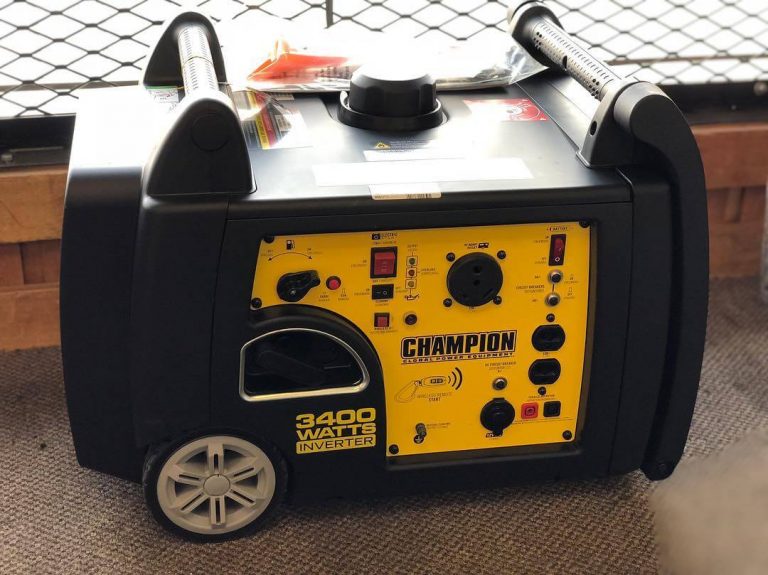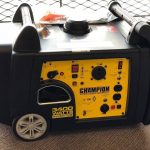 Champion 100263 3400-Watt
Dual Fuel – Operate your 3400-watt portable generator right out of the box on either gasoline or propane, plus the unit holds 0.6-quarts of oil (recommended 10W-30) and has a low oil shut-off sensor
Convenient Electric Start with 3-Position Ignition Switch – Battery included, plus Quick Touch Panel allows you to access all your controls in one spot.Noise Level :59 dBA at 23 feet. Frequency 60 Hz
Ultra-Quiet Operation – 59 dBA is perfect for RVs, tailgating, your next project or backup power for your home, featuring 3400 starting watts and 3100 running watts with up to 7.5 hours run time on gasoline
Clean Power for Sensitive Electronics – RV Ready with a 120V 30A RV, plus two 120V 20A household outlets with clean electricity (less than 3% THD) and 12V DC outlet with dual USB adapter
Champion Support – Includes 3-year limited warranty with FREE lifetime technical support from dedicated experts
Pros:
Lightweight
Two built-in wheels on the sides
Easy to carry
Reasonable price for the massive power
Two choices of fuel
RV-Ready
Parallel capable
Electrical start
Cons:
Wheels sometimes get stuck
Small fuel tank
No remote starter
Not very fuel-efficient

Quick Rundown Of Honda EU3000iS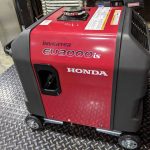 Honda EU3000iS
Popular model can operate a wide variety of appliances, including a furnace, fridge, microwave, TV, blenders, most 13,500 BTU RV AC units and much more
Super quiet: so quiet, your neighbors will thank you; the EU3000is operates at 49 to 58 dB (A), which is less noise than a normal conversation; this makes it ideal for camping, RV power and any other activity that requires quiet operation
Fuel efficient runs up to 20 hours on 3.4 Gal. of fuel: thanks to our exclusive eco-throttle, the EU3000 is offers great fuel efficiency, it runs 7.2 to 20 hours on a single tank, depending on the load, this makes it great for overnight power
Advanced inverter technology - reliable power for computers and other sensitive equipment: Honda's inverter technology means stable, clean power in a smaller, lighter package; the precision of Honda's inverter technology ensures our inverter generators pr
Protected by oil alert: this protects the generator by shutting the engine off when low oil is detected
Pros:
Reliable brand
Electrical start
Long run time
Fuel efficient
Quiet operation
Parallel capable
Cons:
Heavyweight
No wheel
Limited power
Pricey
Just can run by gasoline

Conclusion
Honda EU3000is vs Champion 3400, which one would you choose now? Well, although it's difficult for selecting just one name, we would vote for Champion 100263 3400-Watt because of its affordable price, portability, and power. You can consider our recommendation to make the final decision which is better to invest your money in?
Popular Alternatives Worth Considering: