Further down the page, you'll find some explanations regarding the key similarities and differences between the ProForm 1800i and the ProForm Pro 2000.
But before checking out explanations regarding their specs and features here's a table that summarizes the main technical summary sheet for these 2 treadmills:
Image
The Winner (#1)
The Runner-up (#2)
Heart Rate Monitor
EKG grip pulse Sensor and wireless chest strap
EKG Grip Pulse & Wireless Chest Strap
Display
7″ full color capacitive touch display
Audio
Audio Auxiliary Port and Bluetooth Speakers
The Winner (#1)
Image
Heart Rate Monitor
EKG grip pulse Sensor and wireless chest strap
Display
7″ full color capacitive touch display
Audio
Audio Auxiliary Port and Bluetooth Speakers
The Runner-up (#2)
Image
Heart Rate Monitor
EKG Grip Pulse & Wireless Chest Strap
Specs Comparison
We can not deny that the cost is the vital element before making a purchase. The ProForm Pro 2000 costs more than ProForm 1800i at around $520. Hence, the ProForm 1800i temporarily takes the lead at this point.
Next, how much weight can these treadmills carry? Like other trainers, they can handle up to 300 pounds.
There is a big difference between the two on equipped workout programs. While the ProForm Pro 2000 has 32 workout programs, the ProForm 1800i has 32 fewer programs.
Regarding power, both treadmills are capable of providing 3.5 CHP, making all your workout effective in increasing cardio endurance.
A bonus point is that users don't need to worry about noise complaints. According to customer feedback, both trainers aren't overly noisy.
Both models have an incline range of -3% decline to 15%, allowing for optimum calorie burn. Basically, this will make you feel like you are running on a real hillside.
The maximum running speed of both models is 12 MPH, similar to most home treadmills. Plus, they come with QuickSpeed® buttons for you to adjust your intensity.
Concerning the fan system, the ProForm 1800i comprises dual workout fans on each side of the console, providing significant cooling power. Meanwhile, the Pro 2000 has directing fans for cooling.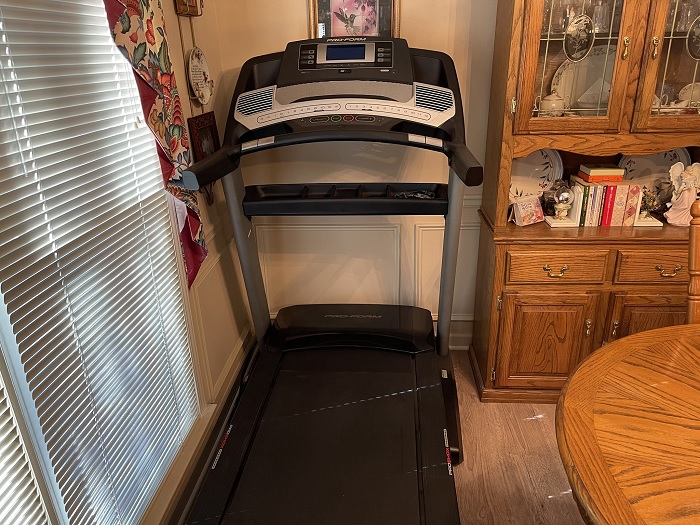 With the heart rate monitoring system, both the ProForm 1800i and 2000 are equipped with EKG handlebar grips and a wireless chest strap to monitor heart rates.
Nevertheless, the ProForm 1800i has a wireless HR chest strap with the help of Bluetooth. However, this is an extra accessory and does not come with the purchase of the treadmill.
Let's compare the weights of the two treadmills: the ProForm 1800i weighs 295 pounds, while the Pro 2000 is 210 pounds. This is a disadvantage for ProForm 1800i as it is more difficult to move without assistance.
Both have 2.5-inch balanced rollers with smooth movement without too much tension.
There is a big gap between their sizes; The ProForm Pro 2000 is 84″ L x 25″ W x 38″ H, while the PRO-9000 is slightly smaller at 82.56″ L x 35.55″ W x 16.67″ H.
Both provide a huge running area of 22″ x60″, making it easy for very long strides and a comfortable running experience.
Needless to say, foldability is essential for such giant treadmills. Both ProForm 1800i and 2000 are foldable thanks to EasyLift™ Assist.
The dimension of the Pro 2000 after folding is 79" L x 39.15" W x 71.4" H while the ProForm 1800i is 80" L x 40" W with a manageable footprint.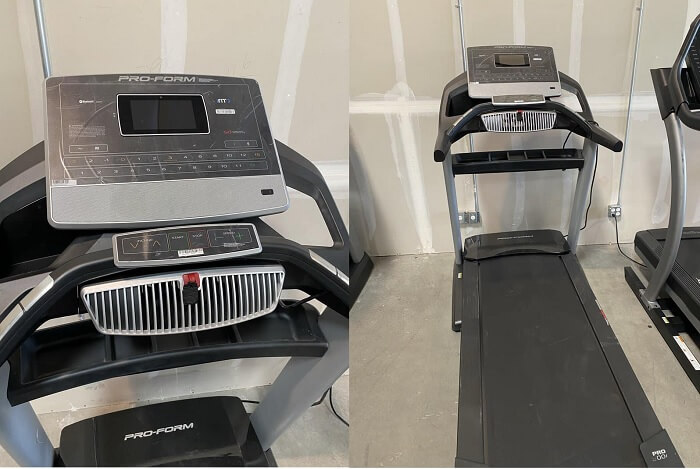 Features Comparison
When it comes to speed and handlebar, the ProForm 1800i and 2000 both allow you to adjust their speeds. They can also adjust the tilt angle of their handlebars, providing users with a more realistic experience.
If you want to control the fan functions, these two treadmills have two speeds to choose between which can be controlled using the console. Hence, you can actively control the cooling systems.
To select your favorite program and workout, simply tap the cross-training option on the screen, and your workout is ready to go.
The display is an important consideration when selecting treadmills. Both trainers have a 7 inches backlit display that offers excellent readability because of its large and bright display.
Additionally, both treadmills support phone pairing. The ProForm 1800i actually comes with two sets of speakers and AUX cable compatible with most MP3 players, smartphones, and tablets. Thus, you can listen to music through these speakers to get a better sound quality than what your phone or tablet speakers provide.
Furthermore, the Pro 2000 does not only let you play music through the 3-inch speakers via Bluetooth but also lets you access premium strength training via WiFi via the iFit application.
Both treadmills can link to your smartphone, computers, and tablets.
Their display system is clear and straightforward to use. It will contain information about your fitness data as well as other workout data.
Furthermore, both machines have built-in fitness applications compatible with each model. They also include the iFit app, which gives you access to interactive personal training wherever you are.
Aside from that, all of them have a water bottle holder on both sides of the console. The ProForm 1800i also has tablet holders for placing your tablets, whereas its competitor does not.
Both machines have a lifetime warranty on the frame and motor, a five-year warranty on the electronics parts and components, and a two-year labor warranty after the warranty extensions are completed.
Quick Rundown Of ProForm 1800i
ProForm 1800i Treadmill
iFit coach ready. Access iFit account from computer, tablet, or Smartphone. Requires membership, sold separately
7 inch backlit display, 32 on-board workouts, EKG grip Pulse heart RATE sensor with included wireless chest strap, audio auxiliary port, 300 lb. Weight capacity
3.5 CHP Mach Z commercial plus motor, 22" x 60" tread belt, 0 - 12 MPH digital QuickSpeed control, 15% digital quick incline, -3% digital quick decline control
2.5 inch balanced rollers, SpaceSaver design with easylift assist, dual coolaire workout fans, integrated tablet holder, accessory Tray, proshox cushioning
The performance 1800I is protected with a Lifetime frame & motor Warranty, 5-Year parts Warranty, and 2-year Labor Warranty

---
Quick Rundown Of ProForm Pro 2000
ProForm Pro 2000 Treadmill
Footprint: 39.15" W x 79" D x 71.4" H | Tread Belt: 22" x 60"
Weight Capacity: 300 lb
7 inches backlit over sized LCD with racetrack display, iFit compatible. Integrated device shelf
3.5 CHP Mach Z commercial Pro, 0 to 12 MPH Quick Speed
-3 – 15% Digital Quick Decline & Incline Control

---
Product Videos
---
Conclusion
From our perspective, the ProForm Pro 2000 is the better option thanks to its effective calorie burning, and space-saving design. Though you may find it more pricey than its competitor, it offers an outstanding value for the price. Thank you for taking the time to read this in-depth comparison, "ProForm 1800i vs 2000"!
---