Further down the page, you'll find some explanations regarding the key similarities and differences between the ProForm 505 CST and the Horizon 7.0 AT.
But before checking out explanations regarding their specs and features here's a table that summarizes the main technical summary sheet for these 2 treadmills:
Image
The Winner (#1)
The Runner-up (#2)
Heart Rate Monitor
Contact Hand Grips, Bluetooth 4.0 Compatible Receiver (chest strap included)
Display
16 Digit Alphanumeric LED and 8.25-inch LCD Screen
The Winner (#1)
Image
Heart Rate Monitor
Contact Hand Grips, Bluetooth 4.0 Compatible Receiver (chest strap included)
Display
16 Digit Alphanumeric LED and 8.25-inch LCD Screen
The Runner-up (#2)
Image
Specs Comparison
When it comes to purchasing, we all know that pricing is the most vital issue. The ProForm 505 takes the lead in this competition since it is more affordable than the Horizon 7.0 AT.
So, let's test how much weight these trainers can withstand. The ProForm 505 CST can carry a maximum of 325 pounds. Meanwhile, the Horizon 7.0 is slightly better, with a high weight capacity of 350 pounds.
What about each trainer's quantity of built-in workout programs? There is a significant difference between them in this aspect. While Horizon 7.0 only has 10 pre-set programs iFit Coach-enabled programs, the ProForm 505 offers 18 exercises available.
The running area of these two treadmills is rated as suitable for most users. The 505 CST has a competitive advantage with the size of 73.5" in length and 36" in width. In comparison, the Horizon 7.0 has a total running area of 60" in length x 22" in width.
How about their power? The Horizon 7.0 is equipped with a strong 3.5 HP motor. Meanwhile, the 505 CST's engine produces just 2.5 HP, much less than the Horizon 7.0, about 1 HP.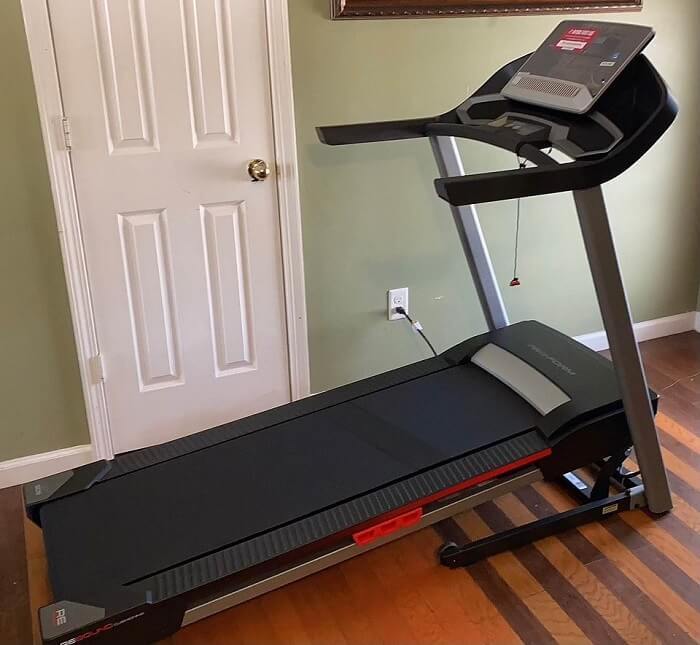 Let's talk about the inclination range of the treadmill. The incline and decline gap is always astonishingly broad in most of ProForm 505's products. The inclination range of the ProForm is around 0% to 10%. For Horizon 7.0, the percentage is a little higher: 0-15% percent.
What about the maximum speed of the product? The ProForm has a top speed of 0-10 MPH, while the Horizon has a top speed of 12 MPH.
All you need to do to calculate your heart monitoring with the ProForm 505 is wear an EKG Grip Pulse. Meanwhile, the two handlebar sensors on the Horizon 7.0 AT assess your heart rate during your workout. For more advanced training, you may use the Bluetooth 4.0 heart rate to monitor it.
This Horizon 7.0 measures 76.5 inches long, 36 inches broad, and 59 inches tall, so it takes up quite a bit of room. Although it is foldable, the machine will take shape in a V form, making it impossible to store in compact spaces.
How about the ProForm 505? It has a dimension of 61 height x 36" wide x 73.5" large in inches. Thanks to the EasyLift folding technology, the product makes folding and storing it more convenient. The deck is also lightweight and compact, making it ideal for small space storage.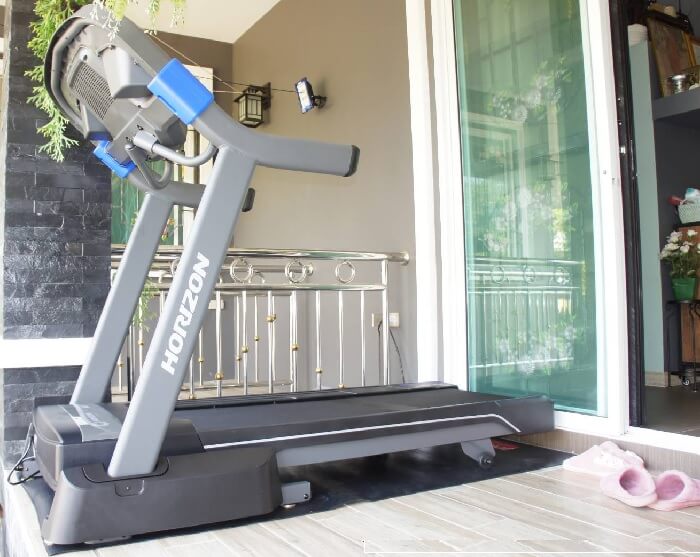 Features Comparison
First of all, your exercise data will be displayed on a 5''backlit LCD of ProForm 505. This data includes Mileage, speed, calorie burn, pulse, and time. Also, this machine's handlebars have touch sensors that monitor pulse. The Horizon 7.0, on the other hand, offers you a larger screen at 7-inch.
The 505 CST Treadmill's 10 percent inclination is a standout feature that helps you burn more calories. Specifically, this programmed ramp promotes increased calorie expenditure and muscle toning in certain areas.
A licensed personal trainer created 18 training plans for the ProForm Performance 505 CST in terms of training programs. It lacks certain pre-programmed routines about the Horizon 7.0, but it links to Zwift, a running software with over 200 virtual races available every day.
The ProForm 505 can connect to a better sound system. You may listen to the entertainment at a louder level, thanks to the integrated audio auxiliary connection. With twin 2" speakers, you'll likely hear your music or films more clearly. Experts have discovered that we actually change our speed to fit the tempo of our music.
In terms of Audio, the Horizon 7.0 is equipped with integrated speakers, which can connect your devices via Bluetooth or plug-in.
Moreover, both products have Bluetooth speakers, an In/Out Jack, an energy-saving mode, a fan, a tablet rack, and a water bottle holder.
After purchasing Horizon 7.0, you will get a lifetime warranty on the motor and frame, three years for parts, one year for labor.
With ProForm 505, you will get a ten-year warranty on frames, one year for parts and labor.
Quick Rundown Of ProForm 505 CST
ProForm 505 CST Treadmill
Discover Trainer-Led Workouts; A 30-day iFit trial membership gives you access to interactive training sessions, on-demand studio & global workouts, and connected fitness tracking in your home
5" Backlit Display; Track speed, distance, and estimated calorie burn; Integrated Tablet Holder; Stream interactive iFit workouts to your own smart device to stay engaged and motivated as you train
Self-Cooling Mach Z Drive System powers sustained speed, interval, and endurance cardio training; Trainer-led 0-10 MPH Digital QuickSpeed Control and 0-10% Digital Quick Incline Control
20" x 55" Tread Belt recommended for users under 6'2"; ProShox Deck Cushioning protects your joints for a more comfortable run and recovery; Dual 2" Speakers and Auxiliary Port for entertainment
325-pound user weight capacity; Protected by a 10-year frame warranty and 1-year parts and labor warranty; 61" H x 36" W x 73.5" L
.[i2pc show_title="false" title="Pros & Cons" show_button="false" pros_title="Pros" cons_title="Cons" ][i2pros]Foldable and compact
Affordable
30-day money-back guarantee.
Larger running area[/i2pros][i2cons]Lower weight capacity
Fewer preset-programs
Lower top speed[/i2cons][/i2pc]

---
Quick Rundown Of Horizon 7.0 AT
Horizon 7.0 AT Treadmill
Advanced Bluetooth connects to multiple devices to stream media through integrated speakers
Includes free app to control your workout and push data to favorite fitness Apps, plus device holder and rapid-charge USB port
Powerful, 3. 0 chap motor
60" 3-Zone cushioned deck for comfortable footfalls
Lifetime frame and motor; Power: 120v - 60Hz
[i2pc show_title="false" title="Pros & Cons" show_button="false" pros_title="Pros" cons_title="Cons" ][i2pros]Higher weight capacity
Stronger motor
Higher maximum speed[/i2pros][i2cons]Expensive
Bulkier[/i2cons][/i2pc]

---
Product Videos
---
Conclusion
Throughout this comparison between ProForm 505 CST vs Horizon 7.0, it's clear that Horizon 7.0 is the better option. As mentioned above, the machine outperforms its rival in terms of stronger motor, more weight capacity, and higher maximum speed. However, the ProForm 505 is still a better choice with its low price.
---