Further down the page, you'll find some explanations regarding the key similarities and differences between the ProForm Carbon T7 and the Horizon Fitness T202.
But before checking out explanations regarding their specs and features here's a table that summarizes the main technical summary sheet for these 2 treadmills:
Image
The Winner (#1)
The Runner-up (#2)
Display
3" LED, backlit LCD screen
The Winner (#1)
Image
Display
3" LED, backlit LCD screen
The Runner-up (#2)
Image
Specs Comparison
First of all, the price war between ProForm Carbon T7 and Horizon T202 will surprise you. Both prove affordability with just under $1,000. In this battle, Horizon T202 prevails, being$200 cheaper than ProForm Carbon T7. But Proform choice is also worth considering because included in the payment is a one-year family iFit membership, which is almost $500 in value.
Now, does the price difference make much of a difference when it comes to machine operation?
ProForm Carbon T7 Weight can accommodate up to 300 pounds of user weight, which is suitable for most customers. Horizon T202 ensures user safety with weight accommodation of up to 325 pounds.
You will be wowed by the 30 preset workout apps integrated into Proform Carbon T7, allowing you to customize your workouts. Meanwhile, Horizon only offers 5 exercise programs.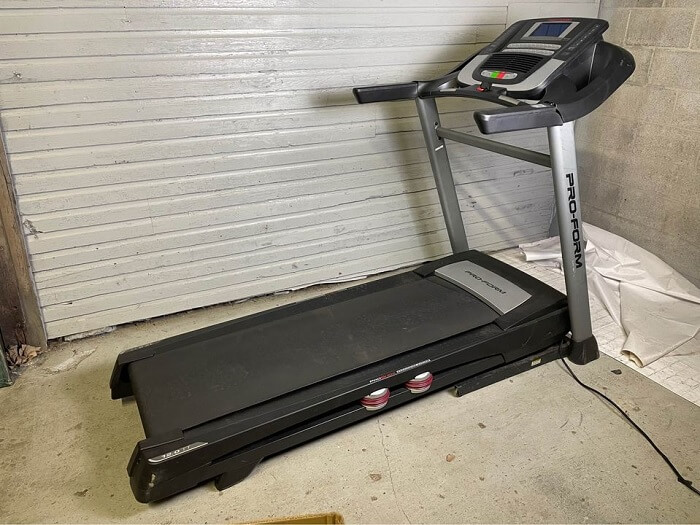 T7 Carbon with its 2.75 CHP engine is ideal for light walking and jogging. Horizon T202 is equipped with an exceedingly powerful 2.75 HP engine for flexible and successful exercises.
Proform Incline-matching technology supports up to 10% incline with auto-matching. Aiming for more effective training, the running track of the T202 is also sloped up to 12% with 0.5% increments.
What about the product's maximum speed? Most users find the Carbon T7 supporting speed of up to 10 MPH to be sufficient for their needs. While the capacity of the Horizon T202 is slightly higher at 12 MPH, with the engine simply switching between different speeds.
Do not forget about treadmill sizing before you decide to bring it home. Carbon T7 takes up to 77 x 32 x 12 inches (length x width x height) of space. It is obvious that Horizon T202's size is more cumbersome at 76 x 32 x 58 inches.
Features Comparison
Connection
Like many other modern treadmills on the market nowadays, the T7 and T202 both have a Bluetooth option and an auxiliary port that connects audio to MP3, tablet, and smartphone. With this handy trait, you can enjoy listening to your favorite music or stream programs on speakers of the treadmill, help relax your mind and increase your motivation to exercise.
Heart rate monitor:
When you use the T7, you can monitor your heart rate using the EKG grip heart rate sensor. With the Horizon T202, you can also easily monitor your circuit with the dual handle monitoring system. It helps you exercise within your target heart rate zone to get the most out of each exercise.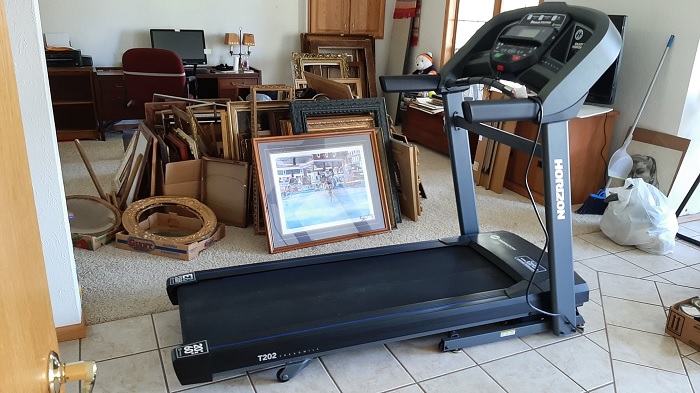 Response cushioning:
The ProShox cushioning of the Carbon T7 is originated to reduce impact so you can run longer and train harder. Meanwhile, Horizon T202 features PerfectFLEX™ Plus cushioning with Variable Response Cushioning technology that damps, bounces, and supports every step.
Fold:
The desire to save more space in your home is the reason Proform designed the Carbon T7 with SpaceSaver® and EasyLift™ Assist functionality. Horizon T202 also does not let you down by the FeatherLight Folding technology that allows you to move and store the device quickly.
Highlight features:
Besides the similar features, each model has its special ones. Exercise will make you sweat. But you will not feel any discomfort thanks to the built-in CoolAire™ Fan with three wind levels. This is a plus Carbon brings while Horizon does not.
The Horizon Fitness T202 Advanced invents a Built-in Device Holder for your tablet or phone in optimal sight. You can run while watching guided exercise classes or for entertainment without worrying about the safety of the equipment. Another great feature is the fast-charging USB port that keeps your device fully powered for a long time to get you ready for every workout.
Warranty
The Carbon T7 Treadmill comes with 1-year warranty services included with the iFit family membership. It is in your interest to connect directly to ICON's online classes and personal training options. Especially, thanks to Proform's sponsorship, customers can get a free treadmill when purchasing a 3-year iFit membership package. Besides, there is a 10-year warranty on the T7's frame.
Meanwhile, when choosing the Horizon T202, you get a lifetime warranty on the engine and the frame, while parts, cushioning and labor are covered for one year. With the price paid for T202, this warranty offer is completely appropriate.
Quick Rundown Of ProForm Carbon T7
ProForm Carbon T7 Treadmill
Balanced Nonflex Rollers
Incline-matching Technology
EKG Grip Pulse Tracks Your Heart Rate
30 Preset Workout Apps Allow You To Customize Your Workout

---
Quick Rundown Of Horizon Fitness T202
Horizon Fitness T202 Treadmill
Includes free app to control your workout and push data to favorite fitness Apps, plus device holder and rapid-charge USB port
Assembled Dimensions: 75" L x 34" W x 58" H | Folded Dimensions: 47" L x 34" W x 65" H | Running Area: 20" x 60" | Weight: 187 lbs
Max User Weight: 325 lbs
Quickly shift speed and incline with one-touch keys, quick-rotating Dial and handle bar controls
Powerful, 2. 75 chap motor

---
Product Videos
---
Conclusion
The Proform Carbon T7 vs Horizon Fitness T202 battle comes to an end. The selected winner is the Horizon T202. I am sure that many people love Horizon more because of its overall superiority to its competitor in terms of price, power, specs, and features.
Now it is your turn to add to the cart the treadmill you like best.
---