Further down the page, you'll find some explanations regarding the key similarities and differences between the ProForm 505 CST and the Horizon Fitness T101.
But before checking out explanations regarding their specs and features here's a table that summarizes the main technical summary sheet for these 2 treadmills:
Image
The Winner (#1)
The Runner-up (#2)
The Winner (#1)
Image
The Runner-up (#2)
Image
Specs Comparison
Price is always the top concern for anyone when making a purchasing decision. In this battle, the ProForm 505 CST is slightly more expensive than the Horizon Fitness T101. This might not be a huge deal for anyone willing to pay the price.
The T101 and 505 CST are very similar in terms of design. Both are designed with the ability to fold for facile storage and transport. However, the 505 CST comes with more space at 73.5" L x 36.5" W x 61" H, which is a little taller and longer than its rival at 70" L x 34" W x 55" H.
Besides, both treadmills run on a 2.5 CHP motor suitable for walking, jogging, and anyone with light exercising desire.
As for running space, you'll also get 20 x 55 inches on the Horizon T101 and ProForm 505 CST. The two brands design such roomy decks so you won't feel confined as you walk, jog, and run. The size is not too spacious, but it has enough space for your feet to move, and comfort for your elbows.
They both have a top speed of 10 mph and a 10% incline potential with such comfortable space. This combination provides a safe and medium experience for users.
Let's see how much weight these trainers can handle. The T101 supplies a maximum user weight of 300 lb on a 165 lb machine, while the 505 CST can carry 325 lb weight on its 203 lb body. Able to hold just slightly lighter weight with such a light body is quite supporting the T101 since a lighter machine is always more favorable.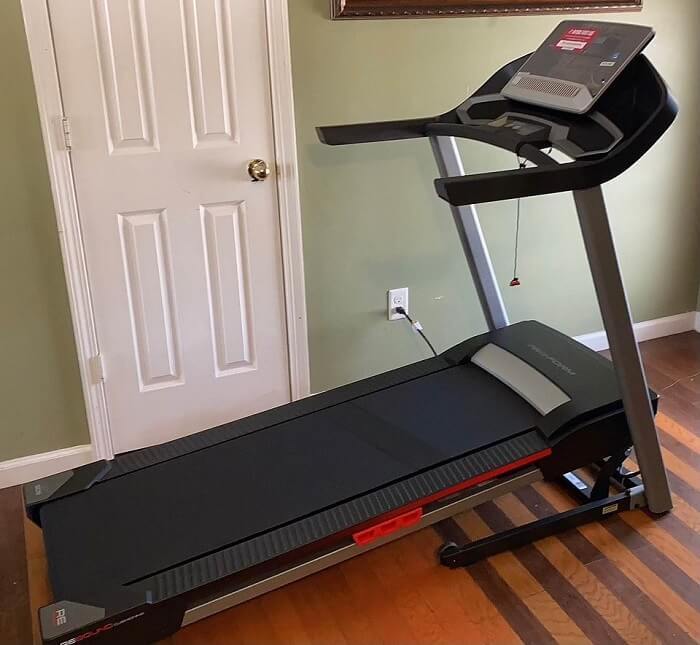 What about the number of workout programs on each trainer? T101 comes with 30 preset programs, including Calorie, Distance, Manual, Time, and Weight Loss. In contrast, the 505 CST has iFit Coach Ready with 18 workouts on board. This feature points out the huge difference between the two models.
It's common knowledge that when the treadmill reaches top speed, it can release extreme heat. Don't worry because both treadmills have cooling fans that provide a steady speed.
Then you might wonder how to move the machine that has such a large weight and size? Both models come with rollers to prevent the struggle from delivery. The T101 can move around by a 1.4mm silicone belt, and 46mm/42mm sized roller. Whereas the 505 CST moves on a 1.9" roller.
The T101 has a heart rate contact handle for customers interested in cardiovascular testing, and the 505 CST offers an equivalent EKG Grip Pulse heart rate sensor on the handlebar. These models are wise investments if you are concerned about weight loss or rehabilitation after any heart-related incident.
Features Comparison
Like any standard treadmill on the market, the console of these models allows you to change the speed, the incline, and the decline angle for more comfortable training.
ProForm 505 CST contains a 5″ touchscreen, totally different from the 3 LED screens of the Horizon Fitness T101. Display functions on both models include distance, heart rate, calories, speed, time, and incline to help you easily control the adjustment of the training mode.
Aside from the display, these models have on-device speakers for entertainment. The difference is that the T101 comes with an updated Bluetooth speaker if you prefer wireless, while the 505 CST still needs an auxiliary to play audio.
T101 supplies a built-in tablet holder, Bluetooth speaker, and a USB port to ensure your comfortability using the entertainment utilities above. On the other hand, The 505 CST has a built-in tablet holder, auxiliary audio port, and dual 2" speakers.
Not only provide users that many utilities, but these treadmills also allow us to connect with other devices. The Horizon Fitness T101 contains a built-in Bluetooth connecting gate and USB port, ready to connect to any device. On the other hand, though the ProForm 505 CST possesses iFit Coach Ready, it still requires users to connect other devices through Bluetooth to watch the workouts. In return, the treadmill frees you from trouble with holding the device with the tablet holder on it.
Water is always a crucial need of runners. Many users don't favor those treadmills without a water holder. In the fairly basic Dashboard Area and audio functions, a tablet compartment, both the Horizon and ProForm have a water bottle holder.
Our two companies here offer quite nice warranty offers. The Horizon T101 offers a lifetime warranty on the frame and motor, as well as a one-year plan for parts and labor. Meanwhile, the ProForm 505 CST will have a set of a 10-year warranty on the frame and a one-year warranty on parts and labor, less appealing compared to Horizon's warranty.
Quick Rundown Of ProForm 505 CST
ProForm 505 CST Treadmill
Discover Trainer-Led Workouts; A 30-day iFit trial membership gives you access to interactive training sessions, on-demand studio & global workouts, and connected fitness tracking in your home
5" Backlit Display; Track speed, distance, and estimated calorie burn; Integrated Tablet Holder; Stream interactive iFit workouts to your own smart device to stay engaged and motivated as you train
Self-Cooling Mach Z Drive System powers sustained speed, interval, and endurance cardio training; Trainer-led 0-10 MPH Digital QuickSpeed Control and 0-10% Digital Quick Incline Control
20" x 55" Tread Belt recommended for users under 6'2"; ProShox Deck Cushioning protects your joints for a more comfortable run and recovery; Dual 2" Speakers and Auxiliary Port for entertainment
325-pound user weight capacity; Protected by a 10-year frame warranty and 1-year parts and labor warranty; 61" H x 36" W x 73.5" L

---
Quick Rundown Of Horizon Fitness T101
Horizon Fitness T101 Treadmill
BEST-SELLING & MOST-RELIABLE: Horizon's most-awarded treadmill with simple, reliable controls and durable components. Get started with an exercise routine or train for your next event in the comfort of your home. Easy set-up in 30 minutes.
COMPACT, FOLDABLE TREADMILL: Effortlessly store this folding treadmill between workouts with a one-step hydraulic folding system. Assembled dimensions are 70" x 34" x 55".
BLUETOOTH CONNECTION: Sync your phone or device to integrated speakers to stream media with crisp stereo sound. A built-in device holder keeps your screen in view for entertainment or classes. Includes rapid-charge USB port to keep you powered.
RESPONSIVE: A 20 x 55-inch deck with responsive, 3-zone cushioned deck so you can work out longer, with less fatigue and more comfort. Horizon treadmills provide responsive cushioning, for ideal flex and support for runners, joggers, and walkers.
POWERFUL MOTOR: Features a quiet and powerful 2.5 continuous-duty horsepower motor. The Johnson Drive System helps you stay in perfect rhythm with a durable, innovative system that recalibrates with each footfall so you never feel lags or surges.

---
Product Videos
---
Conclusion
Our ProForm 505 CST Vs Horizon T101 article above listed all the features of the two models. They are quite affordable for anyone willing to spend around $1000 on their daily exercise. Also, these treadmills have standard capabilities with different amazing features at such prices.
With the given comparisons, we're giving our nod to the 505 CST as it stands out over its competitor – Horizon Fitness T101. With a reliable shock-absorption system, a space-saving folding design, and a unique preset workout program variety, the ProForm 505 CST is an ideal option for in-home use.
---