Further down the page, you'll find some explanations regarding the key similarities and differences between the ProForm 600i and the ProForm 705 CST.
But before checking out explanations regarding their specs and features here's a table that summarizes the main technical summary sheet for these 2 treadmills:
Image
The Winner (#1)
The Runner-up (#2)
Heart Rate Monitor
Pulse Grips and Chest Strap
Display
10″ full color capacitive touch display
The Winner (#1)
Image
Display
10″ full color capacitive touch display
The Runner-up (#2)
Image
Heart Rate Monitor
Pulse Grips and Chest Strap
Specs Comparison
Price is always one of the leading criteria while comparing products. And in this comparison, the ProForm 600i seems to lose a bit with the price that is twice as expensive as its competitor – ProForm 705 CST.
Though it's the costly one here, the 600i model shares the same maximum weight as the 705 CST model of 325 pounds.
Therefore, to prove its real potential, the ProForm 600i turns the table with almost 50 exercises, nearly ten times more than its rival.
The ProForm 705 CST offers a 3.5 CHP engine to somehow close the gap, which is just slightly stronger than the 600i with a 3 CHP engine. This advantage might not be able to save 705 CST from the game.
What about the treadmill's incline range? Both machines have an impressive tilt range. Accordingly, the percentage range for the ProForm 705 CST is around 0% to 10%, and the 600i has a slightly higher percentage: 0%-12%. For any users who prefer intensive exercise, that 2% more on the 600i must be so ideal.
One more feature of the 600i that encourages runners is its superior speed limit. With 12 miles per hour, the treadmill offers a more incentive run than the ProForm 705 CST with only 10 MPH.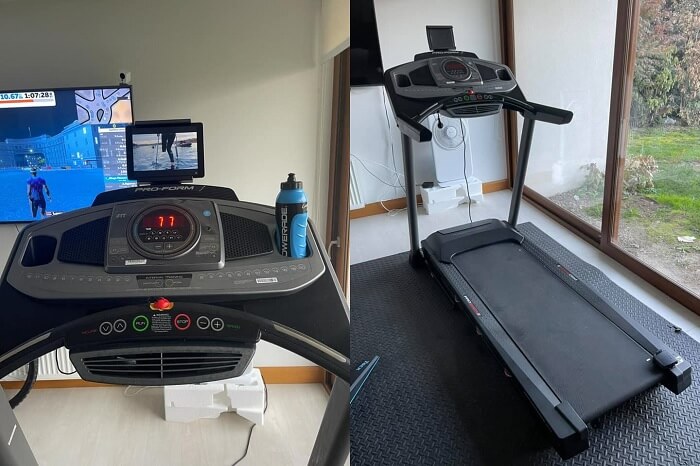 Another common aspect of any treadmill is that it generates a lot of heat after operating for some time. For this situation, the brand equips the 600i with a CoolAire fan to help reduce the temperature for a safe experience. Unfortunately, they seem to forget to consider this feature for their 705 CST child.
To further secure the safety of users, both models possess identical heart monitoring functions – EKG Grip Pulse. This feature will help users track their heart rate while on the run, better get them aware of their health and safety. It also makes the exercise trend no longer far-fetched to customers with heart-related issues.
Though sharing many similarities in terms of safety and incline range, the ProForm 600i Vs 705 CST also differs in size. The 705 CST has a dimension of 78.75 x 36.5 x 61 inches. In contrast, the 600i is less bulky at 82.5 x 30 x 13.5 inches. These dimensions might stress you out, but there's no need to be worried. Both treadmills offer folded options to store or save room when not in use!
Such dimensions come with relatively large training belts. In this respect, both machines have 20×60 inches of surface area, ensuring a comfortable experience whether for running or jogging!
It's also super convenient with the "Power" and "Tilt" buttons on the control panel to change and customize speed and tilt range. This way, in case of an emergency, you can easily slow the treadmill down in time.
Features Comparison
As mentioned above, for a more comfortable workout, the machine's control panel allows you to adjust the speed, tilt, and drop angle flexibly. Along with that control panel are 10'' color touch screens on both models.
Then what about their sound system? Like other wireless devices, the ProForm 705 CST and 600i come with a 2-inch optical amplifier speaker.
In addition, both machines can connect to Bluetooth ports and other devices. However, both do not have any USB port or Internet connection, which is surely a disadvantage for the two models.
In turn, the brand offers a premium iFit account on the treadmill purchase pack to make up for that disadvantage! Not every treadmill comes with such nice utility. This account helps you track your training with these treadmills.
One more thing about their operating systems is that you can control them with Android and iOS smartphones. What a relief!
During exercises, water supply is so essential to any runner. Both treadmills contain a small built-in angle for you to put your stuff there, whether it's your water or your phone. Nevertheless, the system stand is only available on the ProForm 600i.
In this section, the ProForm 705 CST comes with a 10-year warranty on the frame, a two-year parts warranty, and a one-year labor warranty.
In contrast, ProForm 600i users will receive a Lifetime Engine and Frame Warranty, a 2-Year Parts Warranty, and a 1-Year Labor Warranty. It's so clear who is the winner in this section.
Quick Rundown Of ProForm 600i
ProForm 600i Treadmill
60-inch length gives your legs plenty of room to stretch out your stride
20 x 60 tread belt, proshox cushioning, space saver with easy lift assist, IPod Compatible audio
CoolAire workout Fan, EKG grip Pulse, 325 lb Weight capacity
This Treadmill is protected with a Lifetime frame and motor Warranty, 2-year parts Warranty and 1-Year Labor Warranty
If it Compatible- requires if it Wireless module; sold separately; buy an if it Wireless module and receive a free one-year if it subscription

---
Quick Rundown Of ProForm 705 CST
ProForm 705 CST Treadmill
Discover Trainer-Led Workouts;  A 30-day iFit trial membership gives you access to interactive training sessions, on-demand studio & global workouts, and connected fitness tracking in your home
5" Backlit Display; Track distance, speed, estimated calorie burn, and more; Stream iFit workouts to own your tablet or phone; On-board sound system and audio auxiliary port
0-12 MPH Digital QuickSpeed controls; 0-12% Quick Incline controls; With iFit, your trainer automatically adjusts your treadmill's speed and incline for an optimized cardio workout
Folding SpaceSaver design for compact storage; 20" x 60" treadmill belt for tall runners; Self-cooling drive system for extended use; ProShox cushioning and 1.9" balanced non-flex rollers
325-pound user capacity; Protected with a 10-year frame warranty, 2-year parts warranty, and 1-year labor warranty; 61" H x 35.5" W x 78.75" L

---
Product Videos
---
Conclusion
A good treadmill is not the one with a stronger engine or a cheaper price. It's the one that best fits your needs and wants. Above, we have presented the confrontation between ProForm 600i Vs 705 CST. Overall, the ProForm 600i is the better choice considering power, size, features, and other factors. However, with the offer of a powerful engine and large tilt at a good price for you, the 705 CST is favorable to some customers with small budgets.
---