Further down the page, you'll find some explanations regarding the key similarities and differences between the ProForm 600i and the ProForm Pro 2000.
But before checking out explanations regarding their specs and features here's a table that summarizes the main technical summary sheet for these 2 treadmills:
Image
The Winner (#1)
The Runner-up (#2)
Heart Rate Monitor
EKG grip pulse Sensor and wireless chest strap
Display
10″ full color capacitive touch display
7″ full color capacitive touch display
Audio
Audio Auxiliary Port and Bluetooth Speakers
The Winner (#1)
Image
Display
10″ full color capacitive touch display
The Runner-up (#2)
Image
Heart Rate Monitor
EKG grip pulse Sensor and wireless chest strap
Display
7″ full color capacitive touch display
Audio
Audio Auxiliary Port and Bluetooth Speakers
Specs Comparison
Price is the first factor that makes us consider before we jump to buy something. When comparing two different treadmills from the ProForm brand, the ProForm 600i leads the point since it costs a bit cheaper than the ProForm Pro 2000.
Following this, the weight capacity that these treadmills can handle is also a vital aspect. The maximum capacity of ProForm 600i is 325 pounds. Unfortunately, the expensive one is a bit weaker, which can only carry about 300 pounds.
How many built-in workout programs are in each machine? ProForm 600i has 22 onboard workouts; ProForm Pro 2000 workouts are more than its rival of 32 programs.
Next, we are going to discuss their weight. The ProForm 600i weighs 224 pounds, while its competitor weighs a bit lighter at 210 pounds. We consider that there is a small difference in this round.
How about the running surface of these treadmills? It is hard to realize the differences between them as the ProForm is 20″ wide x 60 "long, and the ProForm Pro 2000 is a little wider: 22″ wide x 60" long.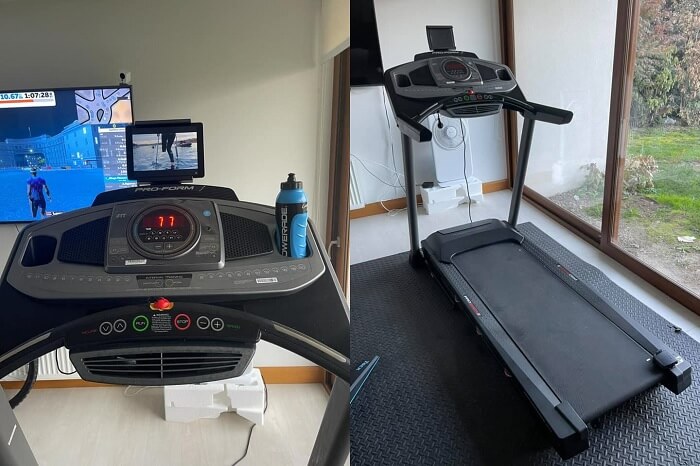 There is also a distinction between these treadmills regarding incline range. To be specific, ProForm 600i's digital quick incline is 10% limited. While the incline range of ProForm 2000 is from -3% to 15%.
When we mention their engine power, the ProForm 600i motor is a 2.75 CHP. Meanwhile, the ProForm Pro 2000 is equipped with a stronger engine: a 3.5CHP motor.
Maximum speed is also an important factor in comparing two products. Both the Pro 2000 and the ProForm 600i treadmill can all easily reach 12 miles per hour. Moreover, the two machines have Proshox cushioning to decrease noise and protect users' feet.
Indeed, these treadmills will release a lot of heat from the motor while you are doing the workout for a long time. Fortunately, both of the trainers have CoolAire™ Fan for heat release.
If you are caring about heart rate function, do not worry, as both have EKG Grip Pulse Sensor. However, the ProForm Pro 2000 scores more points due to its chest strap.
Have you ever wondered how to move these treadmills? If your answer is yes, we will provide you with the good news that they both have about 1.9″ precision-balanced rollers.
How about the size? The ProForm's measure is 30″ wide, 82.5″ long (inches), and 13.5″ high. Meanwhile, the ProForm Pro 2000's size is designed a bit bulkier with 25″ wide, 84″ long, and 38″ high (inches).
Suppose you are confused about how to save the house space after we finish the workout. Don't worry anymore because they support folding up and an easy lock.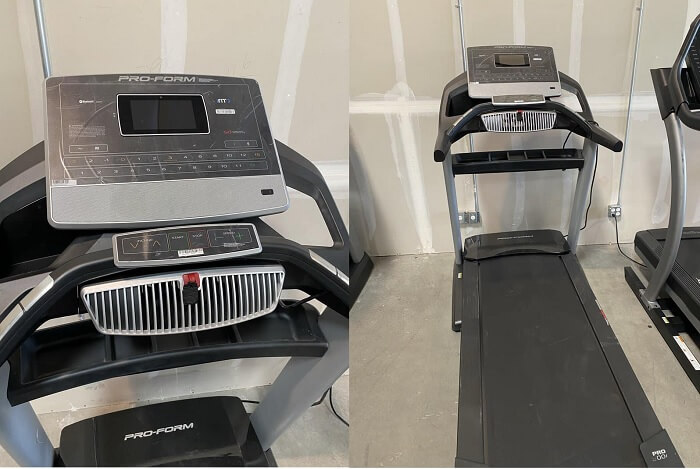 Features Comparison
Both consoles of ProForm 600i and 2000 allow you to control any particular functions just by easily pressing one button set on the display screen.
More about the display screen aspect of the two products, the ProForm 600i obtains a modern Round Watts LED, while ProForm Pro 2000 is equipped with a Smart HD Touchscreen full color. Both are modern displays, which can indicate time, workout speed, and so on.
They also support connecting other devices, such as Bluetooth, Audio Auxiliary Port, and dual speakers. Unfortunately, they all lack a USB port.
There is another exciting feature of two treadmills we will share with you that is the iFit Coach. This feature allows you to have personal trainers to guide exercise programs without caring where you are. Additionally, an Internet connection and iFit app are required.
The ProForm 600i vs 2000 is compatible with Android and iOS devices. Hence, you do not need to be concerned about whether your smartphone can connect with the machine or not.
Both are designed with media trays to put some small things like a water bottle or phone in, quite convenient, isn't it?
Based on the ProForm 600i's warranty policy, you will get a lifetime warranty for frame and motor, 2-year parts, and a 1-year labor warranty.
At the same time, the warranty policy of ProForm Pro 2000 provides a set of a 10-year frame, 2-year parts, and 1-year labor warranty.
Quick Rundown Of ProForm 600i
ProForm 600i Treadmill
60-inch length gives your legs plenty of room to stretch out your stride
20 x 60 tread belt, proshox cushioning, space saver with easy lift assist, IPod Compatible audio
CoolAire workout Fan, EKG grip Pulse, 325 lb Weight capacity
This Treadmill is protected with a Lifetime frame and motor Warranty, 2-year parts Warranty and 1-Year Labor Warranty
If it Compatible- requires if it Wireless module; sold separately; buy an if it Wireless module and receive a free one-year if it subscription

---
Quick Rundown Of ProForm Pro 2000
ProForm Pro 2000 Treadmill
Footprint: 39.15" W x 79" D x 71.4" H | Tread Belt: 22" x 60"
Weight Capacity: 300 lb
7 inches backlit over sized LCD with racetrack display, iFit compatible. Integrated device shelf
3.5 CHP Mach Z commercial Pro, 0 to 12 MPH Quick Speed
-3 – 15% Digital Quick Decline & Incline Control

---
Product Videos
---
Conclusion
Which will you choose between Proform 600i vs 2000? Through this post, our answer for the winner is ProForm 600i. Of course, the conclusion is based on its lower price, weight capacity, and compactness.
Do you agree with our opinion? We are here to wait for your comments.
---