Further down the page, you'll find some explanations regarding the key similarities and differences between the ProForm Carbon T7 and the ProForm Pro 2000.
But before checking out explanations regarding their specs and features here's a table that summarizes the main technical summary sheet for these 2 treadmills:
Image
The Winner (#1)
The Runner-up (#2)
Heart Rate Monitor
EKG grip pulse Sensor and wireless chest strap
Display
7″ full color capacitive touch display
Audio
Audio Auxiliary Port and Bluetooth Speakers
The Winner (#1)
Image
Heart Rate Monitor
EKG grip pulse Sensor and wireless chest strap
Display
7″ full color capacitive touch display
Audio
Audio Auxiliary Port and Bluetooth Speakers
The Runner-up (#2)
Image
Specs Comparison
Price is the first thing to get started with the comparison. ProForm Carbon T7 comes as a low-end pricing treadmill, while ProForm 2000 belongs to the mid-range.
With ProForm Carbon T7, the weight capacity reaches up to 300 lbs. You can also find this level with the model 2000 from the same brand.
There are 30 pre-set workout programs available with the ProForm Carbon T7 treadmill in the offline training mode. In comparison with the counterpart, ProForm 2000 offers two more inbuilt programs.
ProForm Carbon T7 runs on a 2.75 CHP2 Mach Z™ motor which is slightly weaker than the 3.5 CHP2 Mach Z™ motor of ProForm 2000. Despite that fact, both motors can stay cool even when you try the toughest training and give a quiet in-home experience.
The incline adjustment of ProForm Carbon T7 ranges from 0 to 12%. As for ProForm 2000, it is -3 to 15%. The wider this range can reach, the more challenges you can enjoy.
In terms of speed, ProForm 2000 is superior to ProForm Carbon T7. The former allows you to choose 12 different speeds while the latter has only 10.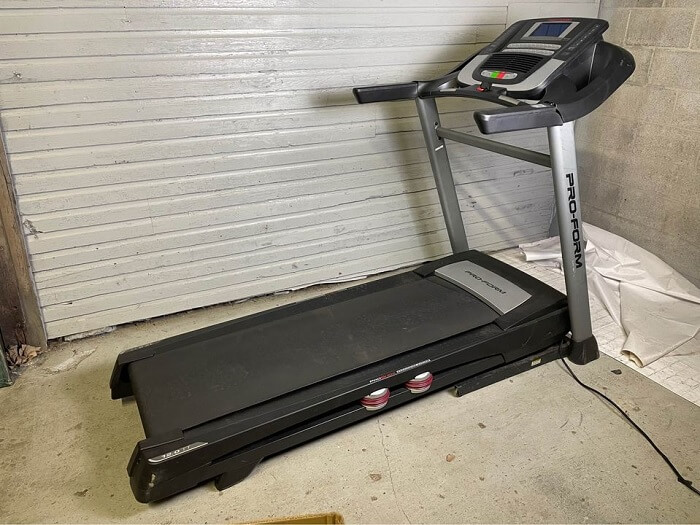 Like many other ProForm treadmills, ProForm Carbon T7 and ProForm 2000 use the CoolAire™ fan. With two speed settings, the fan indeed keeps your training comfortable all the time, no matter how the weather outdoors is.
When it comes to the heart rate monitor, the EKG grip pulse heart rate sensor is a point of similarity between ProForm 2000 and Carbon T7. The manufacturer places these sensors into the handlebars.
ProForm Carbon T7 weighs 223 lbs. On the other hand, ProForm 2000 is heavier with a weight of 262 lbs.
For convenient portability, both of these ProForm treadmills come with a couple of wheels under the frame. Hence, after folding the machines, you can easily move them from one place to another on the wheels.
As for dimension, ProForm Carbon T7 has a more compact form due to being 35.2" W x 73.5" L x 57.5" H. By contrast, ProForm 2000 takes more space with its dimension of 35.3" W x 77.3" L x 59.6" H.
The tread belt of ProForm Carbon T7 is 22" in width and 55" in length. ProForm 2000 gives a better comfortable running room with a 22" x 60" tread belt.
SpaceSaver Design with EasyLift™ Assist is another excellent feature found with both ProForm 2000 and Carbon T7. The design helps users easily fold the machine vertically and experience an easy push with the deck.
Under the tread belt, it is the ISO Flex™ Cushioning for ProForm Carbon T7 and ReBound Pro™ Cushioning for ProForm 2000. Both of them are high-quality cushioning systems that can help to reduce much shock for the legs.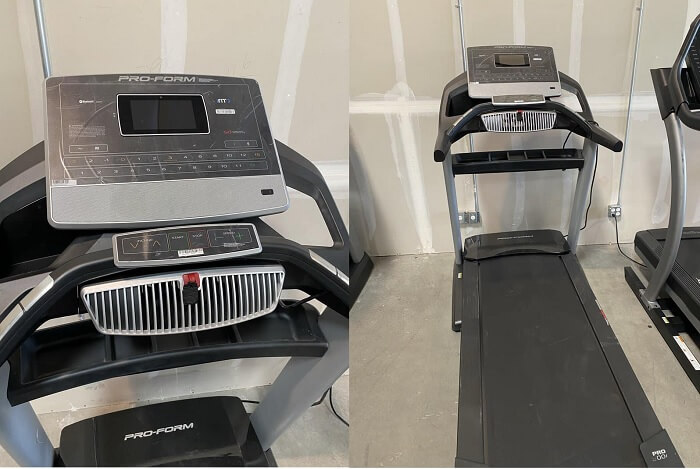 Features Comparison
The console is the part where you can do adjustments regarding training programs. It enables you to choose speeds, incline/decline levels, fan modes as well as workout programs.
In addition to the similarity of function adjustments, ProForm Carbon T7 is different from ProForm 2000 in the display. The model T7 features a 7" smart HD touchscreen while the model 2000 owns a wider one which is 3" wider.
One more difference is the audio system. With ProForm Carbon T7, you can find audio auxiliary ports for dual 2" speakers. For more convenience, ProForm 2000 allows users to connect to the dual 2" speaker via Bluetooth.
Besides pre-set workouts, both ProForm 2000 and Carbon T7 can run with the iFit training app. Therefore, your training will be much more exciting and challenging thanks to online interactive programs.
Plus, there are trays on two sides of each treadmill. So, you can put things such as bottles of water, keys, and phones there while you are running on the treadmill.
ProForm Carbon T7 is under a 10-year warranty for the frame and a 1-year warranty for parts & labor.
Unlike the counterpart, ProForm 2000 has a frame warranty lasting up to 20 years. Besides, the brand gives a 2-year warranty for parts and a 1-year labor warranty.
Quick Rundown Of ProForm Carbon T7
ProForm Carbon T7 Treadmill
Balanced Nonflex Rollers
Incline-matching Technology
EKG Grip Pulse Tracks Your Heart Rate
30 Preset Workout Apps Allow You To Customize Your Workout

---
Quick Rundown Of ProForm Pro 2000
ProForm Pro 2000 Treadmill
Footprint: 39.15" W x 79" D x 71.4" H | Tread Belt: 22" x 60"
Weight Capacity: 300 lb
7 inches backlit over sized LCD with racetrack display, iFit compatible. Integrated device shelf
3.5 CHP Mach Z commercial Pro, 0 to 12 MPH Quick Speed
-3 – 15% Digital Quick Decline & Incline Control

---
Product Videos
---
Conclusion
The comparison of ProForm Carbon T7 vs ProForm 2000 points out that the latter is undoubtedly the better option.
Despite the higher price, the treadmill is more impressive than its rival by lots of features. The model 2000 offers a higher weight capacity, more powerful motor, a roomy running space, and convenient Bluetooth connection for speakers.
But if you only expect a treadmill for light jogging or walking, ProForm Carbon T7 is also not a bad idea.
---