Further down the page, you'll find some explanations regarding the key similarities and differences between the ProForm Carbon T7 and the NordicTrack EXP 7i.
Specs Comparison
When it comes to pricing, a prior factor over others that affects anyone's buying decisions, both come under $1,500. To be specific, the T7 costs under $1000 while the 7i' price is a bit higher than its competitor (more than $1000). Impressively, that total pricing of two treadmills included a one-year family iFit membership.
What about the weight capacity element? There is no difference between ProForm and NordicTrack in their maximum user weight. Two trainers both handle an object weighing up to 300 lbs.
Let's see how many included workout programs are available for each trainer? Surprisingly, the T7 and 7i trainers do not come with any built-in programs. However, a free one-year iFit membership will offer an array of interactive classes to help users build muscles, lose weight, or achieve any fitness goals during the very first year of ownership.
Regarding power, the 7i runs on a powerful 3.0 CHP motor. On the contrary, the T7's s engine only runs at 2.75 CHP, weaker than the 7i. As a result, the motor of ProForm Carbon T7 won't be powerful enough for advanced runners.
A wide incline and decline gap will give your legs a real challenge regarding the treadmills' incline range. With a range from zero to 12 percent, the T7 treadmill offers enough of an incline for most workouts. Similarly, the 7i trainer also possesses an impressive gap whose incline range goes up to 12%.
Let's discuss the products' maximum speed. Well, both machines reach the same speed capacity, which is 12 mph.
As the treadmill reaches a maximum speed of 12 mph along with its maximum incline of 12%, the trainer's engine may release so much heat. Then the AutoBreeze will help cool down the 7i. Meanwhile, there is no cooling function offered by the T7 treadmill.
Sizing is another essential element to consider before purchasing. The 7i takes up space up to 35.5" wide x 77.3" long x 59.6" high and weighs 222 pounds. In contrast, the T7 looks less bulky with 35.24" wide x 74.62" long x 64.39" high and a weight of 212 pounds.
Besides, these two trainers are foldable when not in use. To be specific, the NordicTrack Exp 7i trainer provides EasyLift Assist, enabling users to easily fold and move the treadmill if necessary. Meanwhile, the ProForm Carbon 7i users can fold the machine thanks to the trainer's SpaceSaver design.
What about the trainer's belt size? Well, the NordicTrack Exp 7i still outweighs the T7 when it comes to the running surface (20″ X 60″). Meanwhile, the T7 trainer only offers a 20″ X 55″ belt. Therefore, the 7i seems to be more suitable for taller users.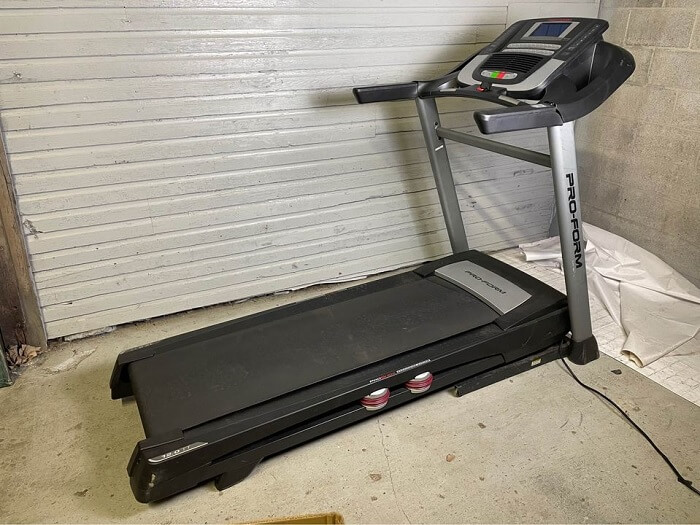 Features Comparison
Two trainers also provide an accessory tray in which users can put their tablet or phone without disrupting the display screen.
Buyers also can use a set of 2-inch speakers and Bluetooth audio capabilities offered by the T7 and 7i. An auxiliary port helps users connect with their smartphones and enjoy their favorite songs while they exercise.
Both models possess a display screen with three small LED windows and a backlit LCD screen. So, if you do not prefer to look at different display screens, our models are not for you.
Both treadmills allow users to track their heart rate via Heart Rate Monitoring technology integrated into the handlebar grips. Just by a quick grip, you can read your heart rate data on the screen; sounds convenient, right?
And last but not least, two treadmills both require an Internet or Wifi connection, especially if you tend to use the iFit app.
If you buy a NordicTrack T7 treadmill, you will receive a lifetime on frame and motor, 2-year parts, and one year of labor warranty.
Similarly, the 7i also offers a set of lifetime frames, 2-year parts, and 1-year of labor warranty.
Quick Rundown Of ProForm Carbon T7
ProForm Carbon T7 Treadmill
Balanced Nonflex Rollers
Incline-matching Technology
EKG Grip Pulse Tracks Your Heart Rate
30 Preset Workout Apps Allow You To Customize Your Workout

---
Quick Rundown Of NordicTrack EXP 7i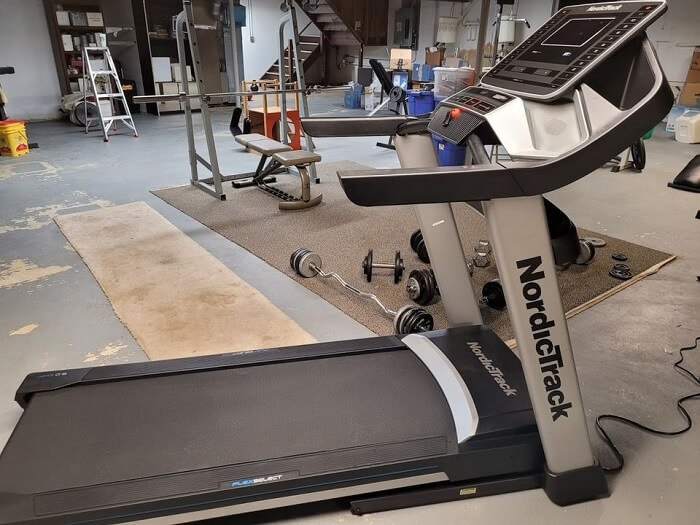 ---
Product Videos
---
Conclusion
Hopefully, you can decide after reading our article contrasting ProForm Carbon T7 vs NordicTrack exp 7i. Overall, we think you should choose NordicTrack Exp 7i though the treadmill is a bit more high-cost. The machine offers almost similar features to its competitor. However, it has a more powerful motor that may accompany your fitness journey in the longer term when compared to the T7.
---