Further down the page, you'll find some explanations regarding the key similarities and differences between the ProForm Carbon T7 and the Nordictrack T 6.5 S.
But before checking out explanations regarding their specs and features here's a table that summarizes the main technical summary sheet for these 2 treadmills:
Image
The Winner (#1)
The Runner-up (#2)
The Winner (#1)
Image
The Runner-up (#2)
Image
Specs Comparison
Looking for a compact foldable home-gym treadmill, you can't skip two sturdy machines Proform Carbon T7 and Nordictrack T6.5s. They also come with a healthy dose of features and the most affordable price, which everybody loves to have. In terms of price comparison, the solid Proform Carbon T7 is US$ 300 higher than Nordictrack T6.5s.
Well, we shall go into details of other specifications to see why there is a difference in price.
First, look at the weight capacity. Both treadmills are sturdy enough to handle the max weight of 300 lbs, which is similar to almost all home-gym treadmills.
Besides weight capacity, you certainly would care about the number of onboard workout programs. The pre-installation of well-study lessons saves your time and assists you in achieving fitness goals effectively. The ready-to-go 30 lessons of Proform Carbon T7 would get a higher score than the Nordictrack T6.5s with only 20 programs.
Looking for a durable treadmill, we can't also miss checking the roller size. Both the Proform Carbon T7 and Nordictrack T6.5s use a 1.9 inches roller.
Additionally, the motor size is also as important as the roller size. There is no doubt that a powerful motor offers you a wide range of workouts like walking, jogging, and running. As for both machines, they use a decent 2.6 CHP motor for its friendly-budget price. So, you would enjoy walking, jogging rather than seriously running on these treadmills.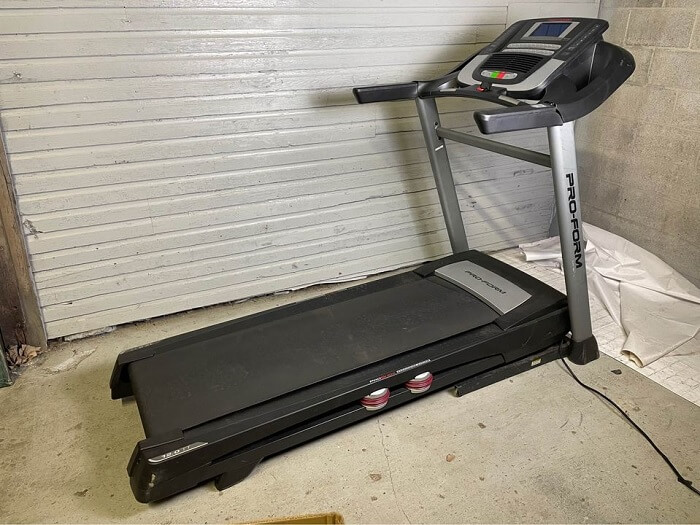 Next, let's talk about the incline range. There is not much difference between the two of them. Nordictrack T6.5s offers a max incline of up to 10%, while you can get a 12% incline from Proform Carbon T7. Obviously, the 12% incline of the Proform Carbon T7 offers a wide range of training, especially for running and interval training.
How about the built-in fan? Although it is not so essential as we practice in the air-conditioned room, the built-in fans are still favored. The Proform Carbon T7 gets a higher score with its two-speed setting on the built-in fan. Unfortunately, it is unavailable for Nordictrack T6.5s.
Regarding heart rate monitoring, both models utilize EKG Grip Pulse Sensor that you only need to grip the handlebar to read heart rate.
Next, we shall discuss design further about design. With the compact design, the Proform Carbon T7 and Nordictrack T6.5s are considered lightweight trainers. Specifically, the Proform Carbon T7 weighs 212 pounds, while Nordictrack T6.5s is a bit lighter with 203 pounds.
Similarly, their package dimension is not much different. While Nordictrack T6.5s measures 73.5 x 36 x 54 inches (LxWxH), the Proform Carbon's dimension is 77 x 32 x 12.
In terms of running area, the belt size 20″ X 55″ is used for the two models. If you are a tall runner, you would need a longer belt to get a full stride.
As for the folding option, luckily, you are going to grab two foldable treadmills featuring an easy-assist shock that can help you lift the deck with just a push.
Features Comparison
Proform Carbon T7 and Nordictrack T6.5s keep everything simple and easy for users. You can adjust speed and incline by only pushing the quick control buttons.
Similarly, selecting programs on Proform Carbon T7 and Nordictrack T6.5s won't make you confused. Large, bright buttons underneath Nordictrack T6.5s make it easy for you to control every program. Selecting and changing workout programs Proform Carbon T7 is even easier with the advanced 7" full-color HD touchscreen.
Next, let's talk about the visual display. Nordictrack T6.5s comes with 5″ LCD Monocolor, which is not fancy enough. However, its simple console still gives you all stats: Distance, duration, calories, incline, and speed.
Although Nordictrack T6.5s is compatible with iFit training, you still need a tablet to watch its program. In contrast, Proform Carbon T7 would keep you more motivated and engaged by featuring a seven-inch high-definition touchscreen, which you can check all stats and watch the instructor-led classes.
Next, we will analyze some other conveniences of the two products. In detail, the Nordictrack T6.5 features dual built-in speakers to listen to music through a treadmill. You can use a plug-in port for your mp3 player or phone. When it comes to ProForm Carbon T7, the built-in speakers compatible with Bluetooth are certainly more favored.
Once more, except for the built-in speakers and auxiliary audio port, no USB charging port is available for two machines.
Unfortunately, the lack of Bluetooth connectivity from Nordictrack T6.5s keeps it very simple. In comparison, Proform Carbon T7 is much more impressive in this competition.
Another essential feature to help track your stats is the compatibility of fitness apps. The Proform Carbon T7 and Nordictrack T6.5s are only compatible with iFit Trainer.
Last but not least, Nordictrack T6.5s provides storage pockets on either side of the console to hold water bottles. On the other hand, Proform Carbon T7 gives users a nook to keep cups, water bottles. It also has spots to hold tablets or phones located just above the bottom controls.
Two models offer a short time warranty policy. With the two of them, you would get 10-year coverage on frame, 2-year guaranteed on parts including motor, and only one year for labor warranty.
Quick Rundown Of ProForm Carbon T7
ProForm Carbon T7 Treadmill
Balanced Nonflex Rollers
Incline-matching Technology
EKG Grip Pulse Tracks Your Heart Rate
30 Preset Workout Apps Allow You To Customize Your Workout

---
Quick Rundown Of Nordictrack T 6.5 S
Nordictrack T 6.5 S Treadmill
30-Day iFIT Membership Included; Stream live & on-demand workouts on your equipment with Global Workouts & Studio Classes; Elite trainers adjust your equipment (15 Dollar value)
10% OneTouch incline control; 10 MPH SMART OneTouch speed control; With iFIT, your trainer auto-adjusts your speed and incline through a smart Bluetooth connection
SMART-Response Motor for effective speed, interval, and endurance training; 20" x 55" tread belt offers plenty of leg and elbow space as you run; FlexSelect deck cushioning protects your joints
Innovative SpaceSaver design with EasyLift Assist means your treadmill can fold up after your run for compact, simple storage; Auxiliary music port and dual 2-inch speakers provide entertainment
300-pound user capacity; Protected with a 10-year frame warranty, 2-year parts warranty, and 1-year labor warranty; 54" H x 36" W x 73.5" L

---
Product Videos
---
Conclusion
Through the concise comparison between Proform Carbon T7 and Nordictrack T6.5s, there is no doubt that Proform Carbon T7 is the winner! It gains a higher score on the most important features like touchscreen, Bluetooth connectivity, onboard programs. Such important features are well-convinced for your buying decision.
---