Below I will compare the power, portability, and features of Pulsar G10KBN and PG10000B16
Difference between Pulsar G10KBN and PG10000B16
Image
Image
Design Comparison
Lightweight, compact design is the first factor you should consider when choosing a generator. Guess who will win your heart? G10KBN or PG10000B16?
Well, Pulsar G10KBN weighs about 197 pounds, and its dimensions are 28.5 x 26 x 25.5 inches. Meanwhile, the other one comes with 209 pounds and dimensions of 28.5 x 22.2 x 21.8 inches.
Hence, you can easily conclude that the G10KBN generator brings more convenience for you when transported to anywhere needed with little effort.
Power Comparison
It is not an exaggeration to say that both Pulsar G10KBN vs PG10000B16 deliver the same impressive and versatile engine power.
In more detail, they offer a 420cc single-cylinder, 4-stroke, OHV motor. Most notably, this workhorse's ability to produce up to 10000 peak watts and 8000 rated watts on gasoline, or 9000 peak watts and 7000 rated watts on liquid propane will surely impress you.
What is more, two models in today's review can keep running for up to 12 hours at 50% load on a 6.6-gallon fuel tank, regardless of using gasoline or propane.
With such a high-powered engine, you can make the most of them for every project, including camping events, garage workshops, or small and medium job sites.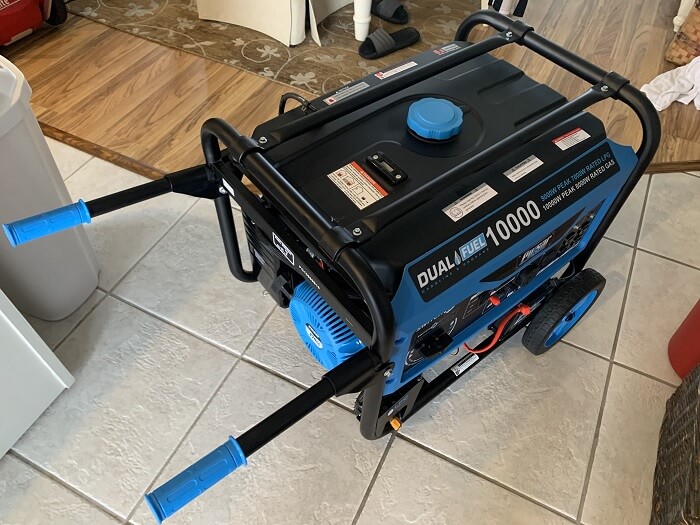 Features Comparison
Apart from power, two Pulsar generators also share some stunning features in common. For instance, they are designed with an electric push-button start, making it much effortless to turn on for first-time users.
Besides, it is a piece of cake to maneuver and store these machines thanks to the never-flat wheels and comfortable drop-down handles. Rough terrains and slopes will never be an issue with the G10KBN and PG10000B16 units.
And it must be mentioned that both products are CARB compliant, which allows them to be available on the market in all 50 states, including California.
However, the Pulsar PG10000B16 generator is packed with some attractive features, making it outshine over the other candidate.
First, Pulsar has added Switch & Go technology to the PG10000B16 model, so you can change between fuel sources during usage without hindering your process.
You might be glad that it is RV ready. Also, this tool is extremely versatile with six outlets so that you can power many devices at once. How convenient it is!
And a package of Pulsar G10KBN or PG10000B16 will consist of multiple outlets, no-flat wheels, comfortable handles, a low-oil sensor, a propane hose, a 3-in-1 digital meter, and an electric start.
Quick Rundown Of Pulsar G10KBN
Pulsar G10KBN Portable Dual Fuel Generator
10, 000 Peak Watts/ 8, 000 Rated Watts (GASOLINE) & 9, 000 Peak Watts/ 7, 000 Rated Watts (LPG)
Dual Fuel Capability allows you to choose between Gasoline & LPG fuel sources
The Single Cylinder, 4-Stroke, Air Cooled, OHV Engine with Electric Start is protected by a durable powder coated frame
A 6. 6 Gallon Fuel Tank gives you up to 12 hours of continuous operation at half load when running on gasoline
(1) 12V DC Outlet, (4) 120V 20A Outlets, (1) 120V/240V 30A TWISTLOCK Outlet, and (1) 120V/240V 50A Outlet provide ample space for powering appliances, tools, and other devices
[i2pc show_title="false" title="Pros & Cons" show_button="false" pros_title="Pros" cons_title="Cons" ][i2pros]Dual-fuel capability
Long runtime
Lightweight enough for more effortless mobility
Operation ease[/i2pros][i2cons]Only five outlets
Needs to shut down to switch between fuel sources[/i2cons][/i2pc]
---
Quick Rundown Of Pulsar PG10000B16
No products found.
[i2pc show_title="false" title="Pros & Cons" show_button="false" pros_title="Pros" cons_title="Cons" ][i2pros]Multiple outlets
Switch & Go technology
Long runtime
Electric start
RV ready[/i2pros][i2cons]No covered outlets
Quite heavy[/i2cons][/i2pc]
---
The Bottom Line
Offering lots of excellent features, Pulsar G10KBN vs PG10000B16 promise to satisfy your need for power in most circumstances. But we still prefer the Pulsar PG10000B16 because of its versatility and comfort.
What will you opt for? Let's think carefully before making your buying decision.
---