Westinghouse WGEN9500DF and Duromax XP12000EH: Which portable generator is the better option for you? Still, have no idea? Let's scroll down to find the answer!
Image
The Winner (#1)
The Runner-up (#2)
The Winner (#1)
Image
The Runner-up (#2)
Image
Differences Between Westinghouse WGEN9500DF and Duromax XP12000EH
Power Comparison
Both generators use dual-fuel technology, allowing the use of gasoline or Propane gas for the convenience of using fuel.
The second feature that shall be considered seriously is how much power each type of generator produces in case of a power outage.
Westinghouse WGEN9500DF model is powered by a heavy-duty 457cc Westinghouse 4-Stroke OHV Engine.
The power while running and at the peak take turns to be 9,500 watts and 12,500 watts. Moreover, its electric start button and remote start key fob offer convenience starting from 260 ft away. Hence, this model is more powerful and capable of supplying more appliances than below.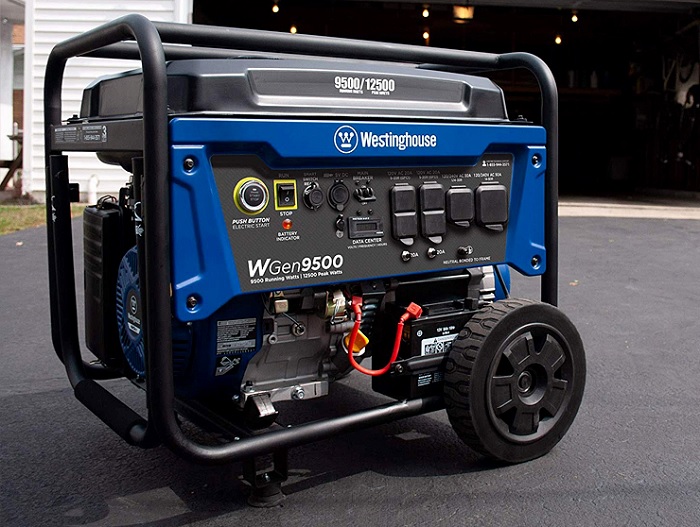 Duromax XP12000EH has been equipped with a 457cc OHV Engine. So there is a wide range of appliances it can support, from lights or small devices to the larger ones, when an outage shows up. The running power can reach up to 9,500 watts, and the capacity of surging is about 12,000 watts.
Westinghouse WGEN9500DF offers higher runtime compared to Duromax XP12000EH, it provides 12 hours of operation while Duromax XP12000EH is only 9 hours.
At 50% load: Duromax XP12000EH (0..92GPH) is less fuel efficient than Westinghouse WGEN9500DF (0..55 GPH)
The noise of Duromax XP12000EH (72 dBA), emitted lower than Duromax XP12000EH (73 dBA)
Design Comparison
The Westinghouse WGEN9500DF weighs 220 pounds and dimension 27.2 x 26.1 x 26.5 inches slightly lighter than the Duromax XP12000EH (weighs 224 pounds and dimension 30 x 29 x 26 inches).
Both generators have handles and wheels that make it convenient to move them around.
Feature Comparison
With a smart switch, the Westinghouse Wgen9500df generator can immediately start working and supporting connected appliances. When purchasing the package, you will get the primary device, accompanied by a 12V battery charger, a remote start key fob, oil, a tool kit, and an oil funnel.
On the other hand, with its famous MX2 technology, the Duromax Xp12000eh can reach the maximum power from each of the 120V receptacles. Then you can choose either run the generator at both 120V – 204V simultaneously or at 120V with full power. Moreover, when purchasing the Duromax package, users will get an oil funnel, a spark plug wrench, a toolset, DC cables, and a wheel kit.
With 6 AC outlets, Westinghouse WGEN9500DF offers more outlets than Duromax XP12000EH (5 outlets).
Westinghouse WGen9500DF được cung cấp tiện ích khởi động từ xa.
Both are equipped with data centers that allow you to keep track of your power generation capacity. Besides, they are also fitted with a fuel gauge
Quick Rundown Of Westinghouse WGEN9500DF
Sale
Westinghouse WGEN9500DF Portable Generator
9500 Running Watts and 12500 Peak Watts (Gasoline); 8500 Running Watts, 11200 Peak Watts (Propane); Remote Start With Included Key Fob, Electric and Recoil Start; Up to 12 Hours of Run Time on a 6. 6 Gallon Fuel Tank With Fuel Gauge
Features Two GFCI 120V 5–20R Standard Household Receptacle, One Transfer Switch Ready 120V L14-30R, and One RV Ready 120/240V 14–50R; All Outlets Have Rubber Covers for Added Safety
Powered by a Heavy Duty 457cc Westinghouse 4-Stroke OHV Engine Featuring a Long-Lasting Cast Iron Sleeve With Automatic Low Oil Shutdown and Digital Hour Meter. VFT display gives you real time updates with the voltage output, frequency, and lifetime hours
Plug-and-Play: Comes With a Remote Start Key Fob, 12V Battery Charger, Oil, an Oil Funnel, a Tool Kit, and a User's Manual to Get You Started Right Out of the Box (Minimal Assembly Required)
All Westinghouse Portable Generators are Functionally Tested in the Factory and May Contain Minimum Residual Oil and/or Fuel Odor; EPA and CARB Compliant; Backed by 3-Year Limited Service, Labor, and Parts Coverage with Nationwide Customer Service Network
[i2pc show_title="false" title="Pros & Cons" show_button="false" pros_title="Pros" cons_title="Cons" ][i2pros]Remote start
High running time
Lightweight
Multiple AC outlets.
Lower fuel consumption[/i2pros][i2cons]Noise is higher[/i2cons][/i2pc]
Quick Rundown Of Duromax XP12000EH
Duromax XP12000EH Portable Generator
Powerful DuroMax Engine: the XP12000EH is powered by a DuroMax, 457cc OHV engine.With Gasoline : Peak Wattage - 12,000., Running Wattage - 9,500., Running Amperage at 120V - 79.17., Running Amperage at 240V - 39.58., Runtime at 25% Load - 19., Runtime at 50% Load - 8With Propane : Peak Wattage - 11,400., Running Wattage - 9,025., Running Amperage at 120V - 75.21., Running Amperage at 240V - 37.6., Runtime at 25% Load - 14., Runtime at 50% Load - 7Please read the detailed safety instructions in the manual before operating.Fuel Delivery System : Carburetor.Engine Speed : 3600 RPM, Volt Meter : Analog, Cast Iron Sleeve : Yes, Engine Cooling Type : Forced Air.
Dual fuel technology: the ability to run on propane or gasoline allows the freedom and flexibility of fuel choice. Protects your investment by automatically shutting the generator off when it senses that the oil is low
Plenty of power: with 12,000 starting watts and 9, 500 running watts, This unit can handle heavy loads from lights and a refrigerator to a home air conditioner and high amperage power tools.
Maximum power: with DuroMax MX2 technology, get the maximum power from each of the 120 volt receptacle. Choose between operating the generator at both 120 V and 240 V Simultaneously, or at 120 only with full power.
Powering everyone anywhere: like all DuroMax generators, the XP12000EH is EPA and CARB approved For use in all 50 States.
[i2pc show_title="false" title="Pros & Cons" show_button="false" pros_title="Pros" cons_title="Cons" ][i2pros]Lower noise[/i2pros][i2cons]Low running time.
less AC outlet[/i2cons][/i2pc]
---
Product Videos
---