Below I will compare the power, portability, and features of the Generac IQ3500 and Honda EU3000IS
Differences Between Generac IQ3500 vs Honda EU3000IS
Below is a summary of the specifications of the 2 generators
Image
The Winner (#1)
The Runner-up (#2)
Size
25.9 x 17.6 x 22.0 inches
The Winner (#1)
Image
The Runner-up (#2)
Image
Size
25.9 x 17.6 x 22.0 inches
Power Comparison
In terms of wattage, the candidate from the Honda may lose one point to its peer. While Honda EU3000iS runs at 2800 watts, the Generac iQ3500 is more powerful with 3000 running watts.
Generac iQ3500 can also reach up to 3500 watts, compared to 3000 watts at the peak of Honda EU3000iS. As a result, the Generac iQ3500 model will be more flexible and versatile in powering appliances or engines that need an external boost to start.
Besides, you must consider each model's runtime. With the same 25% of the maximum capacity, the Honda EU3000iS can provide up to 20 hours of working non-stop, while the Generac iQ3500 only operates up to 14,1 hours. Therefore, in general, the Westinghouse model gives you longer runtime.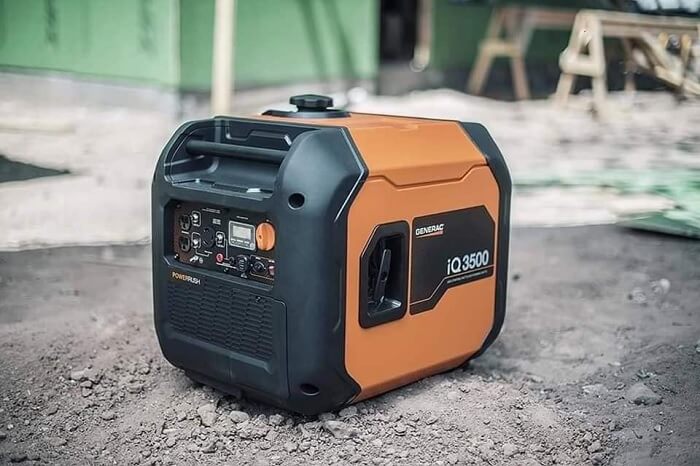 How about their fuel efficiency? This sub-criteria is essential because it decides whether you can save a big deal of money for running the machine with gasoline.
Honestly, these inverter generators are both fuel-efficient. But in particular, with 25% of the maximum capacity, the Honda EU3000iS consumes 0.17 gallons per hour, whereas the Generac iQ3500 figure is 0.18 gallons per hour.
Honda EU3000iS and Generac iQ3500 both have low THD, suitable for powering sensitive electronic equipment. (Westinghouse iGen4500 <3% THD and Predator 3500 <3% THD)
Generac iQ3500 over 5 dBA quieter than the EU3000is
Portability Comparison
However, Generac iQ3500 ( 109,1 lbs ) surpasses its rival (144 lbs). As a result, the former is less heavy than the latter.
This battle must be a draw game. Both of these models possess their advantages. Both offer a double handle, which improves your grip when you wish to move them around.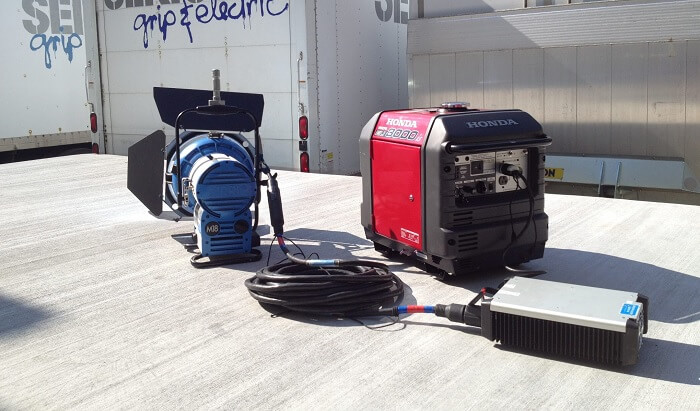 Features Comparison
First of all, let's talk about their starting system. You can start the Generac iQ3500 and the Honda EU3000iS with their pull-start mechanism or electric starter.
The second feature that should be taken into account is the outlet. Both of them provide 3 AC outlets and a DC output.
How about their fuel gauche and data center? because it is equipped with a data center, the Generac iQ3500 is doing a more fantastic job.
On the other hand, the two models have a fuel gauge for users to observe several aspects of the electricity output.
Quick Rundown of Generac IQ3500
Generac iQ3500 Inverter Generator
Portable Power Solution: Designed for easy portability, the iQ3500 is both durable and lightweight, making it the ideal power source for your outdoor adventures. From your tailgating parties to camping trips, the jobsite and beyond, it has you covered
Easy Start-Up: The generator features Electric Start with a battery included and an intuitive PowerDial that integrates start, run, and stop functions into one simple-to-use dial, making startup quick and hassle-free
PowerRush Advance Technology: This portable inverter generator offers over 50 percent more starting capacity, making it perfect for powering tools and motor-driven equipment, allowing you to accomplish more with ease
Quieter Operation: The iQ3500 inverter generator offers a 40% reduction in noise compared to other generators, thanks to advanced inverter technology and enclosure design, while also delivering 16% more power, allowing you to accomplish more with less
Smart and Reliable: Enjoy the convenience of USB ports for charging mobile devices, an Economy Mode for reduced noise and fuel consumption, low-oil level shutdown for engine protection, and parallel-ready capability for doubling your power output
[i2pc show_title="false" title="Pros & Cons" show_button="false" pros_title="Pros" cons_title="Cons" ][i2pros]Hassle-free electric starting mechanism
Produces clean power (THD >3%)
Convenient wheels for added portability
Very quiet
Fuel efficient[/i2pros][i2cons]It contains lots of plastic
Quite heavy[/i2cons][/i2pc]
Quick Rundown of Honda EU3000IS
Very quiet operation.
Powerful enough for almost all devices and Air conditioning 13000 BTU.
Parallel power supply with another Honda Eu3000Is.
Fuel efficiency[/i2pros][i2cons]Less portability.
Extra fee spent on buying wheel kits. [/i2cons][/i2pc]
---
Product Videos
---