The battle between the two should-have band saws Powermatic PM1500 Vs Laguna14bx must have interested many saw-lovers. Both units deliver exceptional features and benefits. Hence this seems to be an inconclusive fight. If you still don't know where to start, this post would be a savior to you as all criteria are explicitly noted.
Differences between Powermatic PM1500 and Laguna 14BX
Image
The Winner (#1)
The Runner-up (#2)
Size
29.75 x 27.5 x 83.5 inches
22.5 x 17.5 x 70.25 inches
The Winner (#1)
Image
Size
29.75 x 27.5 x 83.5 inches
The Runner-up (#2)
Image
Size
22.5 x 17.5 x 70.25 inches
Performance
The chief differences between these two saws are the motor, the blade size, and the table tilt degree.
Regarding the first area, the PM1500 1791500 is equipped with a 3 HP motor, which is one of the most potent engines available in the saw market. Compared to the 1.75 Hp motor of the Laguna MBAND14bx110-175, the Powermatic can manage more lumbers at the same time and also run for a more extended period.
The next criteria, the blade dimensions, also witness the victory of the Powermatic PM1500 1791500. This machine possesses a 1/8 – 1-inch blade width and a length of 153 inches. This much wider blade delivers a stable and accurate cut through any hardwood.
However, this doesn't mean that the Laguna MBAND14bx110-175 with a 115-inch blade can't handle the rough wood. It is just a matter of the effort needed to cut, which will require more in the case of the Laguna MBAND14bx110-175.
The last feature that needs examining is the table tilt degree. In this area, the Laguna MBAND14bx110-175 soon gains back its reputation when providing a more extensive range of tilting from 7° to 45°. This degree offers more flexibility and comfort than the 10° to 45° tilt of the Powermatic.
Portability
The Laguna MBAND14bx110-175 again seizes the point when delivering great ease of transportation. Specifically, it is lighter than its rival up to 242 pounds, a significant number. What is more, this tool is also facilitated with a set of cast iron wheels, which improve the maneuverability considerably.
Quick Rundown Of Powermatic PM1500
Powermatic PM1500 Band Saw
SMOOTH OPERATION: Heavy-duty upper wheel support and tracking mechanism.
TOOLLESS ADJUSTMENTS: High end blade guides with tool less adjustment provide stability and increased cut accuracy.
VERSATILE FENCE: Oversized side plate can be used in the horizontal or vertical position.
SOLID MOMENTUM: Solid cast iron upper and lower wheels create the momentum needed for heavy resaw.
ADDED SAFETY: Blade tension release with electrical interlock prevents the bandsaw from starting when the blade is de-tensioned or released.
Pros:
Robust motor for heavy-duty cutting work
Large and durable blade
Think and safe cast iron fence
Stable steel frame with a sturdy base
Cons:
Hard to transfer due to heaviness

Quick Rundown Of Laguna MBAND14bx110-175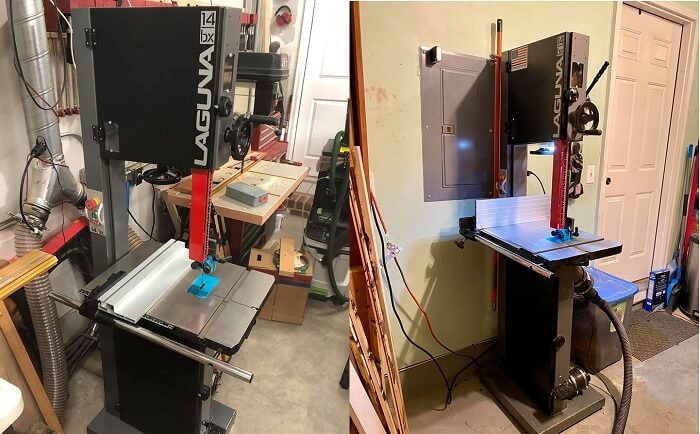 Laguna MBAND14bx110-175 Band Saw
12" Resaw | height: 70 1/4" 21 1/2" X 16" | table height: 38"
7Degree table tilt left | 2 x 4" Dust ports | blade length: 115" | cast iron wheels
Magnetic starter | dual light mount | 45Degree table tilt right max. | blade width: 3/4" | pyramid-shaped spine
Min. Blade width: 1/8" | Footprint: 17 1/2" X 22 1/2" | Quick release tension | magnetic blade guard
Laguna Ceramic Guides | Hi/Low aluminum Fence | Worm Gear Rack & Pinion | Massive Cast Trunnion 8"X13"
Pros:
Flexible table tilt
Broad cutting surface
Lighter than most of the other available saws
Comes with four enduring wheels
Substantial brake system
Cons:

Conclusion
Nothing is perfect, yet I can assure you that the Powermatic PM1500 and Laguna14bx are the almost ideal ban saws because of their accuracy and comfort in the working process.
However, one thing that stands the PM1500 out is its power and exactness in every work, whether simple or complicated.
I sincerely hope that this Powermatic PM1500 Vs Laguna14bx Review would be a great help for you in figuring out your most trustworthy partner.
Popular Alternatives Worth Considering:
Related posts:
>>> The 10 Best Cordless Band Saw For The Money
>>> The 10 Best 14 Inch Band Saw