Below I will compare the power, portability, and features of the Rikon 80-805 and 80-808
Difference between Rikon 80-805 and 80-808
Image
The Winner (#1)
The Runner-up (#2)
The Winner (#1)
Image
The Runner-up (#2)
Image
Design Comparison
Rikon 80-805 measures 16.38 x 10.75 x 11.25 inches and weighs 36.6 pounds. Meanwhile, Rikon 80-808 has a dimension of 10.25 x 19 x 12.13 inches in size and 54 pounds in weight.
Also, there is a difference in base size. 80-805's base height is 6-3/4 x 9-1/2 inches, but 80-808 owns a 7-5/8 x 5-1/2 inch base.
From the product dimension and weight, Rikon 80-805 should be the winner because it is much more compact and lightweight than its brother, 80-808.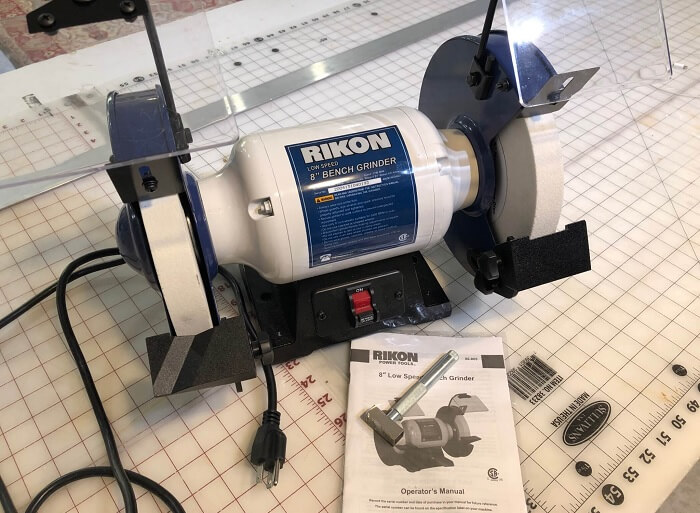 Power Comparison
First of all, Rikon 80-805 owns a 1/2 HP motor horsepower with three motor amps, while 80-808 provides a 1HP with seven motor amps, which helps it create more power when grinding.
Besides, they share the motor volts in common, with 120V, 60 Hz, and motor speed. Specifically, 80-805 and 80-808 can run at 1,750 RPM to provide more power for modest shops as well as for beginners.
Also, both 80-805 and 80-808 are thoroughly equipped with dual 8 x 1-inch wheels, stone grits of 60 grit and 120 grit, made up of grit aluminum oxide to decrease heat build-up. With the coupled tool rests, these grinders are more flexible.
Lastly, there are dual dust ports on the rear of the wheel spoiler in two tools that help keep all dust away from the work sites.
In general, the winner in this battle is Rikon 80-808. The reason is that it possesses a more powerful motor with seven amps, which provides higher efficiency for carpenters.
Features Comparison
Rikon 80-805's outstanding feature is its adjustable safety eye shield and spark resistors, which enable users to feel safe while using a slow-speed grinder like it. Also, this bench grinder combines a groove in its design for the sharpening of drill bits.
Meanwhile, Rikon 80-808 scores with the users because of its LED work light. For some workers, who often have to work in dark areas, this machine is so convenient and useful for woodworkers to create higher efficiency.
If you buy the two kinds of Rikon bench grinders, you will get some similar attachments such as Tool Rests, 8 x 1 HP Low-Speed Grinder, Mounting Hardware, Manual, Eye Shields, 60 Grit Replacement Wheel, and 120 Grit Replacement Wheel.
Quick Rundown Of Rikon 80-805
Rikon 80-805 Bench Grinder
HIGH QUALITY - This durable bench grinder includes 1" x8" 60 grit and 120 grit white aluminum oxide wheels.
POWERFUL - With powerful ½ HP Motor with 1750 RPM this slow speed grinder has more than enough power for small workshops and for carpenters, turners, carvers, and other crafts people working with hand tools.
STURDY AND SAFE - This grinders base is made of Cast Iron and features anti-vibration rubber feet. No mistakes will be made because of vibrations.
ADJUSTABLE - The adjustable safety eye shield and spark resistors allow you to feel safe while using the slowspeed grinder. Also, this bench grinder includes a groove in its design for the sharpening of drill bits.
KEEP IT COOL - This grinder is fully equipped with a diamond wheel sharpener and is ideal for sharpening operations since it reduces heat build-up.

Quick Rundown Of Rikon 80-808
Rikon 80-808 Bench Grinder
Cast iron base with rubber feet reduces vibration
Metal wheel guards for added protection also include 31mm (1-1/4") rear dust ports for hooking up dust collectors
Adjustable cast metal tool rests give solid tool support
Includes a set of plain and a set of 2.5x Magnifying Eye Shields
LED Work Light

Conclusion
A bench grinder is a fundamental device for any job site. For anyone seeking the best choice when it comes to the best bench grinders, Rikon 80-805 vs 80-808 are worth a try.
For a small workshop, you can use Rikon 80-805 to save space and quickly move if you need it.
When it comes to complicated tasks that need a more powerful grinder, it's time for you to utilize Rikon 80-808.