Below I will compare the power, portability, and features of the Snow Joe iON18SB and iON21SB-Pro
Difference between Snow Joe iON18SB and iON21SB-Pro
Image
The Winner (#1)
The Runner-up (#2)
The Winner (#1)
Image
The Runner-up (#2)
Image
Design Comparison
The first model of Snow Joe, Ion18SB, measures 50 x 20.5 x 28 inches in size and only 32 pounds in weight, while its counterpart, Ion21SB-Pro has a dimension of 43.3 x 22 x 39.4 inches and weighs 36.8 pounds.
You can see that Snow Joe Ion18SB is more impressively lightweight and small than its counterpart, Ion21SB-Pro, to unblock footpaths, roads, and decks quickly. Therefore, when it comes to convenience, Snow Joe Ion18SB wins in this battle.
Power Comparison
First of all, there is a diversity in the motor power of the two devices. Snow Joe Ion18SB is equipped with 900 W Brushless motor while Ion21SB-Pro is much more outstanding with motor power of 1000W Brushless.
As a result, this leads to a distinction in no-load speed. Specifically, Ion18SB has 2500RPM, while the no-load rate of Ion21SB-Pro is 1850 ± 10%RPM.
Moreover, both Ion18SB and Ion21SB-Pro come with the same heavy-duty steel auger with dual rubber blades but different plowing capacity.
For instance, Ion18SB can move 495 pounds of snow per minute, removing a path 18-inch width by 8-inches depth in one pass. Meanwhile, Ion21SB-Pro boasts 660lbs/min of plowing capacity, which helps it cut a pathway 21 inches in width and 8 inches in depth without damaging the cover.
Besides, Snow Joe Ion18SB possesses an iONMAX 40V 4.0 Ah rechargeable lithium-ion battery, which can provide 50-minute whisper-quiet runtime.
On the contrary, with an EcoSharp PRO 40 V 5.0 Ah rechargeable lithium-ion battery, Snow Joe Ion21SB-Pro can perform up to 65-minute whisper-quiet working conditions. Also, this kind of battery is suitable for iON tools for convenience.
Lastly, both of Snow Joe Ion18SB Vs Ion21SB-Pro come with 180° auto-rotate chutes that turn spontaneously with the push of a switch, and they hold a throwing distance of launching snow up to 20ft in the direction you require it to work.
In short, thanks to exceptional innovations like powerful plowing capacity and enduring batteries, Snow Joe Ion21SB-Pro overwhelms its equivalent tool.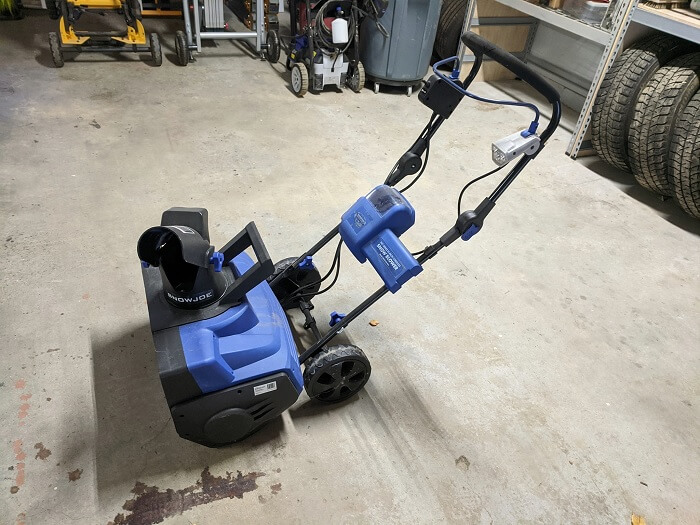 Features Comparison
The highlight of Snow Joe Ion18SB is the rubber scraper bar at the base of the unit. With this bar, you can clear right to the ground without harming your floor or sidewalk.
The Ion21SB-Pro is powered with a promoted interchangeable and rechargeable 40 V iONMAX 5. 0 Ah lithium-ion battery. Also, iON PRO utters up to 65 minutes of whisper-quiet runtime on every charge, so you can make larger snow jobs completed without waking the neighbors or contaminating the air with poisonous effusions.
Some frequently purchased accessories include iBAT40XRP, iCHRG40-DPC, and SJCVR-21 when customers buy these two blowers.
Quick Rundown Of Snow Joe iON18SB
Snow Joe iON18SB Snow Blower
Lightweight: lightweight design (Only 32 lbs) to easily clear sidewalks, driveways and decks
Cordless: 40V 4. 0 Ah iONMAX rechargeable Lithium-Ion Battery provides up to 50 minutes of whisper-quiet runtime
Auto-rotate Chute: 180° auto-rotate directional Chute throws snow up to 20 feet
Clearing path: cuts up to 18 in. (45. 7 cm) wide and 8 in. (20. 3 cm) deep in one pass.Body Material:Plastic

Quick Rundown Of Snow Joe iON21SB-PRO
Snow Joe iON21SB-PRO Snow Blower
Lightweight design (only 36 lbs) to easily clear large driveways and walkways
40 V 5.0 Ah EcoSharp PRO rechargeable lithium-ion battery provides up to 65 minutes of whisper-quiet run time and is compatible with all iON tools
No pull cords, gas, oil, tune-ups, carbon emissions or tangled extension cords
Steel auger with 2 rubber blades moves up to 660 lbs of snow per minute; cuts a path 21 in. wide by 8 in. deep without damaging surface
ETL approved; Full 2-year warranty; Includes battery and charger (Energy Star certified)

Conclusion
Which is more beneficial for you, Snow Joe Ion18SB Vs Ion21SB-Pro? After reading this comparison, you have got the answer.
Snow Joe Ion18SB is more suitable for individual tasks because it is lightweight and easy to use. When it comes to complicated works, you should use Snow Joe Ion21SB-Pro for effectiveness and productivity.
We hope you will discover the most suitable blower to sweep all the snow into your pathways when winter comes.