Below I will compare the power, portability, and features of the Snow Joe SJ625E and SJ627E
Difference between Snow Joe SJ625E and SJ627E
Image
The Winner (#1)
The Runner-up (#2)
The Winner (#1)
Image
The Runner-up (#2)
Image
Design Comparison
Snow Joe SJ625E owns the product dimension of 40.6 x 23 x 42.5 inches and weighs 35.7 pounds. Meanwhile, its counterpart, Snow Joe SJ627E, measures 23.4 x 22 x 26 inches in size and 34.8 pounds in weight.
As you can see from the above comparison, although there is a slight difference in the two tools' heaviness, their dimension is a big issue. It is evident that Snow Joe SJ627E is a significant innovation in design for compactness and convenience than the previous model, SJ625E.
Therefore, in this course, Snow Joe SJ627E should be the winner due to its lightweight and compact feature.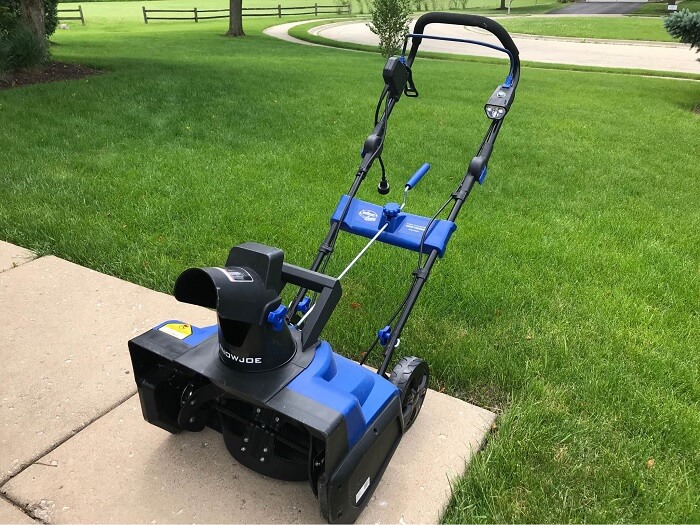 Power Comparison
When it comes to engine power, some specs should be taken into consideration.
First of all, Snow Joe SJ625E VS SJ627E is equipped with a powerful 15-amp motor. However, their plowing capacity is different. Specifically, Snow Joe SJ625E comes with a plowing capability of 800 lbs/min while SJ627E can move up to 840 lbs/min of snow per minute for more productivity and effectiveness.
Moreover, in terms of snow cut depth, SJ625E only possesses a steel auger with two rubber blades with a snow cutting capacity of 21 inches in width and 12 inches in depth in one pass.
Meanwhile, SJ627E is packed with up to a steel auger and four heavy-duty rubber-tipped blades while cleaning a path up to 22-inches wide by 13-inches deep in a single pass.
Besides, SJ625E and SJ627E have similar adjustable chutes that can rotate 180 degrees to direct the snow stream but different throwing distances. Specifically, SJ625E can throw snow 20 feet while its brother, SJ627E, can throw up to 25 feet away.
In conclusion, through specific parameters, the engine battle winner is Snow Joe SJ627E with more impressive specs than its prior model.
Features Comparison
The prominent feature of Snow Joe SJ625E is triple LED headlamps compared to SJ627E. This helps it provide more light for workers who often work in dim or dark working areas.
It combines with the notable features listed above, making Joe SJ627E hold throwing larger snow capacity. The engineers have maxed out this model with the most powerful and far-flung clearing width. So, Snow Joe's SJ627E snow thrower mixes the power of gas with the performance of an electric for extensive snow-shredding potential.
Quick Rundown Of Snow Joe SJ625E
Sale
Snow Joe SJ625E Snow Thrower
[LED LIGHT:] 3 W LED light for safe nighttime clearing
[VERSATILE]: Ideal for quick snow pickups on mid-sized driveways and walkways
[POWERFUL]: 15-amp motor moves up to 800 lbs. Of snow per minute
[MAINTENANCE-FREE]: No gas, oil or tune-ups make it effortless to start and maintain

Quick Rundown Of Snow Joe SJ627E
Sale
Snow Joe SJ627E Snow Thrower
[VERSATILE]: Ideal for quick snow pickups on mid-sized driveways and walkways
[POWERFUL]: 15-amp electric motor moves up to 25 tons/hr. Of snow and clears a 22-in x 13-in path in a single pass
[LED LIGHTS]: 2 x 1.5 W LED lights facilitate night-time snow removal
[STEEL AUGER]: All-steel auger cuts 22 in. Wide by 13 in. Deep path with each pass
[RECOMMEND]: We do recommend customers use a certain gauge and length extension cord. Do not use extension cord over 100 ft (30 m)

Conclusion
Snow Joe SJ625E VS SJ627E is friendly environment snow throwers because they do not use fossil fuels such as coats or gas. Also, they are useful in cleaning snow in your pathway.
Which one is better? It should be your decision.