Below I will compare the power, portability, and features of the Snow Joe SJ624E and SJ625E
Difference between Snow Joe SJ624E and SJ625E
Image
The Winner (#1)
The Runner-up (#2)
The Winner (#1)
Image
The Runner-up (#2)
Image
Design Comparison
Snow JoeSJ624E measures with a dimension of 41.3 x 22.6 x 47.2 inches and weighs 34.6 pounds. On the contrary, SJ625E is designed with 40.6 x 23 x 42.5 inches in size and 35.7 pounds in weight.
From the product dimension and weight, you can see that Snow Joe SJ625E is slightly more lightweight and compact than its equivalent model, JoeSJ624E.
In short, the winner in the convenience round is Snow Joe SJ625E because of its improvement in item size and heaviness.
Power Comparison
It is worth taking into account some features of the two throwers in this battle.
First and foremost, the power of the two machines of Snow Joe's brand should be listed and compared. While SJ624E possesses a powerful 14-amp motor, SJ625E's engine is even more powerful with 15 amp.
As a result, the variation in motor power leads to plowing capacity difference. Specifically, the SJ624E snow-throwing dynamo can plow 730 pounds of snow per minute while SJ625E is boasting with 800 lbs/min plowing capacity.
Both hold durable steel augers with dual rubber blades, which cut a swath 21-inches wide by 12-inches deep in one pass. With these features, two models can clean up large areas faster than other thrower types.
Moreover, SJ624E vs SJ625E is equipped with 180º adjustable chutes, making them throw snow up to 20 feet away in the direction you prefer them to perform.
Plus, the easy-glide wheels make SJ624E VS SJ625E extremely easy to use and move.
In conclusion, in this round, with the improvement and innovation in engine power, Snow Joe SJ625E is the champion.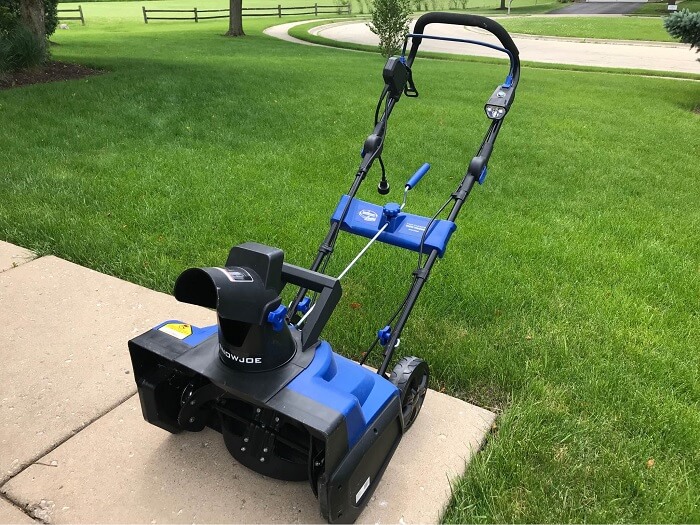 Features Comparison
It is easy to mention the excellent feature of SJ625E because it is a significant upgrade of Snow Joe compared to the previous model, SJ624E. It highlights with its 3 LED work light system. With this innovation, users can easily clean the path even in the dark or dim condition but still bring high productivity.
When it comes to SJ624E's prominent feature, it should be the scraper blade at the base of the unit, which efficiently scrapes the snow clear to the ground without damaging your deck or pavement.
Quick Rundown Of Snow Joe SJ624E
Sale
Snow Joe SJ624E Snow Thrower
Deluxe size model is ideal for clearing snow off large driveways and walkways
No gas, oil or tune-ups make it effortless to start and maintain
Powerful 14-amp motor moves up to 730 lbs of snow per minute
Cuts a path 21 in. wide by 11.8 in. deep with each pass
180° adjustable chute throws snow up to 20 ft away
[i2pc show_title="false" title="Pros & Cons" show_button="false" pros_title="Pros" cons_title="Cons" ][i2pros]Ideal deluxe size model for large areas
No gas, oil, or tune-ups
Effortless to start and maintain
The powerful 14-amp motor
180° adjustable chute
Compact wheels for easy maneuverability[/i2pros][i2cons]Cannot run over the extension cord
May get sucked in fast
Not work so good for an immense amount of snow[/i2cons][/i2pc]

Quick Rundown Of Snow Joe SJ625E
Sale
Snow Joe SJ625E Snow Thrower
[LED LIGHT]: 3 W LED light for safe nighttime clearing
[VERSATILE]: Ideal for quick snow pickups on mid-sized driveways and walkways
[POWERFUL]: 15-amp motor moves up to 800 lbs. Of snow per minute
[MAINTENANCE-FREE]: No gas, oil or tune-ups make it effortless to start and maintain
[i2pc show_title="false" title="Pros & Cons" show_button="false" pros_title="Pros" cons_title="Cons" ][i2pros]Capable of transferring up to 800 pounds in a minute
Durable and sturdy steel auger
Quiet lightweight to move around
Relatively quiet operation
[/i2pros][i2cons]Can be clogged when dealing with wet snow
Not useful if snow height is over one feet
Only proper for smaller ranges[/i2cons][/i2pc]

Conclusion
Now you find a snow solution in this winter between Snow Joe SJ624E VS SJ625E for sure. Both of them are worth trying to clean pathways.
For professional cleaning snow workers, it is worth purchasing Snow Joe SJ625E to remove snow more effectively and quickly. However, an easy-to-use snow thrower as Snow Joe SJ624 is the right choice in case of personal purposes.
We hope you find your favorite electric single-stage snow thrower!