Below I will compare the power, portability, and features of the Snow Joe SJ625E and Toro 38381
Difference between Snow Joe SJ625E and Toro 38381
Design Comparison
When it comes to the convenience of a product, we should pay attention to the product dimension and weight.
The first model, Snow Joe Ultra SJ625E, has a dimension of 40.6 x 23 x 42.5 inches and weighs 35.7 pounds. Meanwhile, Toro 38381 comes with 36.2 x 18 x 47 inches in size and 24 pounds in weight.
As you can see, the Toro brand is more innovative than Snow Joe in terms of item size and weight. The 38381 model is more obviously lightweight and compact than SJ625E. Therefore, Toro 38381 is undoubtedly the winner in this round.
Power Comparison
Snow Joe Ultra SJ625E Vs Toro 38381 come from two different brands, so they must hold various features, telling them apart from each other.
First, it is worth mentioning the motor power. Both Snow Joe Ultra SJ625E and Toro 38381 boast a powerful 15-amp motor but distinguish in plowing capacity. Specifically, 38381 possesses a 700 lbs./min plowing capacity while its counterpart, SJ625E, is packed with up to 800 lbs of snow per minute for more efficient snow removal.
Moreover, there is a significant contrast in cut capacity. SJ625E comes with a steel auger with dual rubber blades, which provides a cutting capability of 21 inches wide and 12 inches deep in one pass for faster clearing.
On the contrary, Toro 38381 is equipped with a plastic auger with 18-inch clearing width and 12-inch intake height.
Also, Snow Joe Ultra SJ625E has a throwing distance of 20 ft. while Toro 38381 can throw snow up to 30 feet for larger spaces.
As a result, Snow Joe Ultra SJ625E is more potent in snow removal in this round, so it becomes the victor.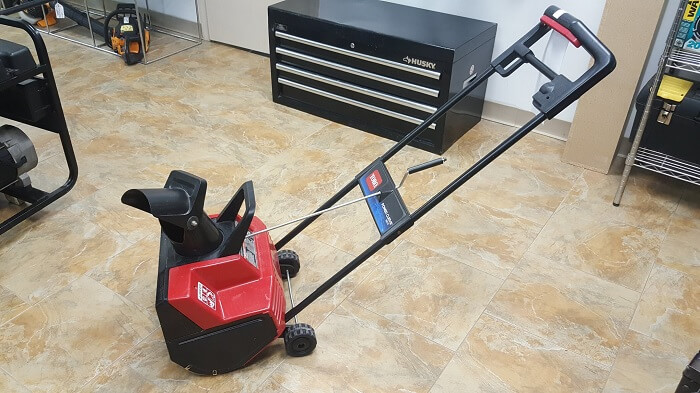 Features Comparison
The exceptional characteristic of Snow Joe Ultra SJ625E is 3 LED work light systems for safe nighttime clearing. The engineers of Joe know that there are still snow cleaners working in the night time, so they make it easier for them to complete their jobs in better condition.
In the meantime, Toro 38381 scores with patented Power Curve technology. Due to this technology, this kind of blower can easily move more snow in less time and erase all the way down to the sidewalk. In one pass, it can remove a path 18 inches wide and 12 inches deep. So productive!
Quick Rundown Of Snow Joe SJ625E
Sale
Snow Joe SJ625E Snow Blower
[LED LIGHT:] 3 W LED light for safe nighttime clearing
[VERSATILE]: Ideal for quick snow pickups on mid-sized driveways and walkways
[POWERFUL]: 15-amp motor moves up to 800 lbs. Of snow per minute
[MAINTENANCE-FREE]: No gas, oil or tune-ups make it effortless to start and maintain

Quick Rundown Of Toro 38381

Conclusion
While Toro 38381 is outstanding due to its compactness and lightweight, Snow Joe Ultra SJ625E has favored thanks to the impressive features mentioned above.
If you need a lightweight and compact for family usage, you should buy Toro 38381. In case you are a snow cleaner, it is better to pay for a blower like Snow Joe Ultra SJ625E.
Which one is better for you between Snow Joe Ultra SJ625E Vs Toro 38381? Consider your needs, budget, and working requirements to pick out your suitable sidekick!