Further down the page, you'll find some explanations regarding the key similarities and differences between the Sole TT8 and the Life Fitness T5.
But before checking out explanations regarding their specs and features here's a table that summarizes the main technical summary sheet for these 2 treadmills:
Image
The Winner (#1)
The Winner (#1)
Image
Specs Comparison
Price should be one of the most important considerations when you make any purchase. In this aspect, the Sole TT8 takes the lead as it is 800$ cheaper than the counterpart – Life Fitness T5.
Let's learn about the weight limits of the two products a bit. Like most professional trainers, these two are capable of supporting up to 400 pounds.
What about the number of built-in workout programs of each trainer? According to the manufacturers, Sole TT8 offers users 10 workouts in total, while T5 can provide up to 16 training programs (three classic, three goal-oriented, two advanced, and five HeartSync).
Regarding the product's power, the Sole TT8 comes with a 4.0 CHP engine, more powerful than the Life Fitness running on a 3 CHP motor.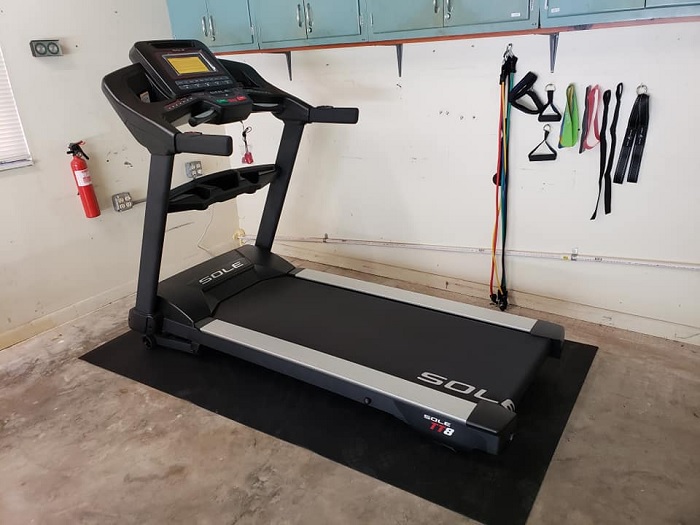 In terms of incline range, two treadmills own a similar 15% maximum. The Sole TT8 has a wide range of inclines from -6% to 15%, while the T5 incline range is about 0-15%.
Noticeably, Life Fitness T5 also includes contact and wireless heart monitors, helping calculate your heart rate during your workouts. In comparison, Sole TT8 does this function thanks to its heart rate chest straps.
Size is another key aspect before making a purchase. Regarding this term, there is a slight difference between the two trainers. In particular, the T5 measures 80 x 32 x 60 inches, and Sole TT8 measures 81 x 35 x 17 inches. Unfortunately, both trainers are incapable of folding for easy storage.
What about trainer belt sizes? Well, both the Sole TT8 and the Life Fitness T5 are guaranteed to provide users with a spacious 22 x 60″ running surface, enough for a tall person to comfortably exercise.
Features Comparison
According to the manufacturer, you can easily adjust the speed and incline on both Life Fitness T5 and Sole TT8. As for T5, the Adjustable FlexDeck Select enables its users to choose the best-suited level of firmness on the deck. In comparison, the built-in armrest speed and incline control of Sole TT8 will help you do this function.
Besides, Sole TT8's users can enjoy their favorite music thanks to its built-in speakers. Also, the trainer offers Bluetooth audio speakers, an integrated tablet holder, and a USB charging port.
Additionally, both Sole TT8 and Life Fitness T5 are capable with Android and iOS devices. Thanks to this functionality, users can easily access their personalized workouts, workout tracking, and other fitness apps.
How about the warranty policies of these two trainers?
When buying a TT8, you will get a lifetime warranty on the frame, 3 years for motor, deck, wear items, and 1 year for labor.
On the other hand, Life Fitness T5 will offer you a lifetime warranty on the frame and cushioning system, a 7-year warranty on the mechanical and electrical parts, a year of labor, and a 10-year warranty on the motor.
Quick Rundown Of Sole TT8
No products found.
[i2pc show_title="false" title="Pros & Cons" show_button="false" pros_title="Pros" cons_title="Cons" ][i2pros]Large HD touch screen
Powerful engine
High max user capacity
USB charging port[/i2pros][i2cons]Short warranty[/i2cons][/i2pc]

---
Quick Rundown Of Life Fitness T5
Life Fitness T5 Treadmill
PREMIUM DESIGN CREATED FOR THE HOME The T5 Treadmill has adjustable running terrains and personalized workout programs that allow you to train your way
ROOM TO RUN Spacious 60" x 22" running surface accommodates long strides and gives you ultimate freedom of movement
ENERGY CONSCIOUS Efficient Energy Saver technology reduces energy use up to 90% so your T5 is only running when you are
QUICK START Remembers your preferred walk, jog and run speeds, as well as three different incline positions
FLEXDECK SELECT SHOCK ABSORPTION SYSTEM Our patented FlexDeck Select Shock Absorption System lets you adjust deck firmness settings to mimic running on grass, track or pavement
[i2pc show_title="false" title="Pros & Cons" show_button="false" pros_title="Pros" cons_title="Cons" ][i2pros]High max user capacity
Powerful engine
Long warranty
More built-in workout programs[/i2pros][i2cons]A little pricey[/i2cons][/i2pc]

---
Product Videos
---
Conclusion
Through this article, we have given you a detailed comparison of Sole TT8 vs Life Fitness T5. In our opinion, the Life Fitness T5 would be a perfect choice as this trainer offers more built-in workout exercises and a long warranty!
---