We understand that it is daunting to choose a generator to meet your needs and budget as there are so many models available on the market with all kinds of prices.
Even though your options have shrunken down to 2 machines – Wen 56200i Vs Predator 2000, which generator is the one?
Image
The Winner (#1)
The Winner (#1)
Image
Differences Between Wen 56200i Vs Predator 2000
Before we get to the differences, here are a few things these units share in common:
A parallel connection for dual power; yet, you can only take advantage of this feature when you have two same generators
2 120V AC outlets, 1 12V DC outlet
2000 start-up watts, 1600 running watts
And here's a quick glimpse of Wen 56200i 2000-Watt and the Predator 2000.
At first glance, both products seem quite compact and well-designed as they have quite similar dimensions. The Wen 56200i 2000-Watt is measured by 22.6 x 12.61 x 18.5 inches, and the Predator 2000 is relatively smaller at 18 x 11 x 18 inches.
The Wen 56200i 2000-Watt has a color scheme of bright orange; meanwhile, the striking red color will be what catches your eyes when you first look at the Predator 2000.
So, let's dig down further to see the differences between the two, shall we?
Price
The price for Wen 56200i 2000-Watt and Predator 2000 is very affordable, being around $450 on discounts. Yet, you'll be surprised at the handy features they're packed within such a compact design.
Utilities
Even though both units are very compact, the Predator 2000 weighs somewhat 7 lbs less than its opponent at 47 lbs. While some people don't find this to be a deal-breaker, 7 lbs can make a big difference when it comes to carrying the unit around on your own.
With strong arms, you can lift Predator 2000 at ease; as for the Wen 56200i 2000-Watt, it requires up to 2 people to lift the unit up and move it from one place to another.
For that reason, Predator 2000 wins in terms of weight.
Speaking of the noise level, the Wen 56200i 2000-Watt wins this time with 51 dBA, which is even quieter than when you carry a normal conversation.
The Predator 2000, on the other hand, is rather louder at 66 dBA. This is a significant downside to the Predator as it will make potential customers think twice before purchasing the unit, provided that they're fond of quiet generators.
Predator 2000 provides you with a 6 and a half hours run time of 50% load, which is almost the same as Wen 56200i 2000-Watt. This unit is said to run over 6 hours of half-load runtime, thanks to the ultra gas-efficient feature.
So, the score draws in regards to the noise level.
Another interesting feature that can only be found in the Wen 56200i 2000-Watt but not the Predator 2000 is the USB port. It can be used to charge your phone or any other devices that are compatible with the port.
Maintenance
Wen 56200i 2000-Watt is backed with a warranty of 2 years, which is a plus compared with the 90-day warranty of the Predator 2000.
Quick Rundown Of Wen 56200i 2000-Watt
Wen 56200i 2000-Watt
Dimensions: 18" x 11" x 18" | Weight: 48 lbs
Noise Level: 53 dB operation
EPA III and CARB Compliant 79.7 cc 4-stroke OHV engine produces 2000 surge watts and 1600 rated watts
Great for campgrounds, construction sites, tailgates and power outages
Produces clean power to safely operate and prevent damage to sensitive electronics such as phones, tablets, televisions and computers
Pros:
Extremely quiet operation at 51 dBA
Eco-friendly as it only produces clean power
Saving you some extra with the fuel-efficient feature which smartly adjusts the gas consumption to match with the speed
The decent running time of 9.4 hours at 25% load
Cons:
Oil leaking can happen easily when you fill the oil in
Need oil change after every 25 hours

Quick Rundown Of Predator 2000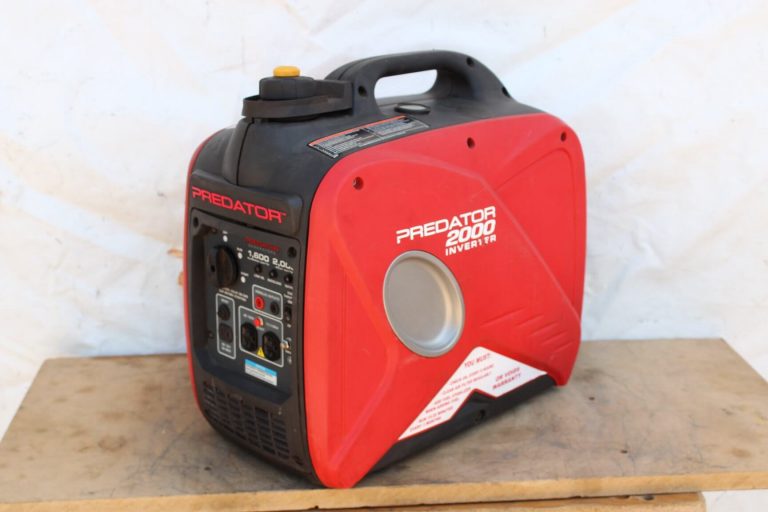 No products found.
Pros:
Easy to fill oil into the unit
Quick one-pull start
Parallel capacity
Hassle-free to maintain
Lightweight design to add more portability
Cons:
The design for the on/off switch is not smart because when you move the knob to the stop position, it also stops the ignition, resulting in fuel shut off
Short time warranty

Conclusion
To be honest, no matter what you choose, you can't go wrong either way. Both of these units are decent generators that offer you enough power to kick in the engine of a 1500W heater or even a 5000 BTC AC.
However, if we have to pick one machine between Wen 56200i Vs Predator 2000, we would go for the Wen 56200i 2000-Watt – simply because it is slightly better.
Popular Alternatives Worth Considering: