WEN GN400i and WEN 56380i: Which portable generator is the better option for you? Still, have no idea? Let's scroll down to find the answer!
Differences Between WEN GN400i and WEN 56380i
Below is a summary of the specifications:
Image
The Winner (#1)
The Runner-up (#2)
Size
19,8 x W13,8 x H18,9 inches
The Winner (#1)
Image
The Runner-up (#2)
Image
Size
19,8 x W13,8 x H18,9 inches
Power Comparison
Both WEN GN400i Vs WEN 56380i utilizes the 212cc WEN OHV 4-stroke inner motor to do their job. Despite the same inner-workings, the WEN GN400i can provide a normal wattage of 3500W and a maximum wattage of 4000W, while its companion can only send out 3400W and at best 3800W, respectively.
The two generators are both gas-powered, but WEN 56380i's gas tank (at 2.2 gallons) is 0.35 gallons larger than the other generator in Wen's line. They both have the same fuel-to-energy efficiency, with their GPH at 0,26.
Thanks to its lower wattage, WEN 56380i can run for 8,5 hours even with its fuel tank at the halfway point. WEN GN400i cannot do the same task, only being able to go for 7 hours while in the same condition. No matter the runtime, you'll be glad to know that these generator models are very tender and more than capable of powering sensitive appliances, with THD at less than 1,2%.
Despite how tempting it might be, we would advise against pulling the recoil start on the models. Regardless of their 10dBA difference (WEN 56380i: 67dBA, WEN GN400i: 57dBA), you should check if your neighbor is napping or resting before you test these bad boys out.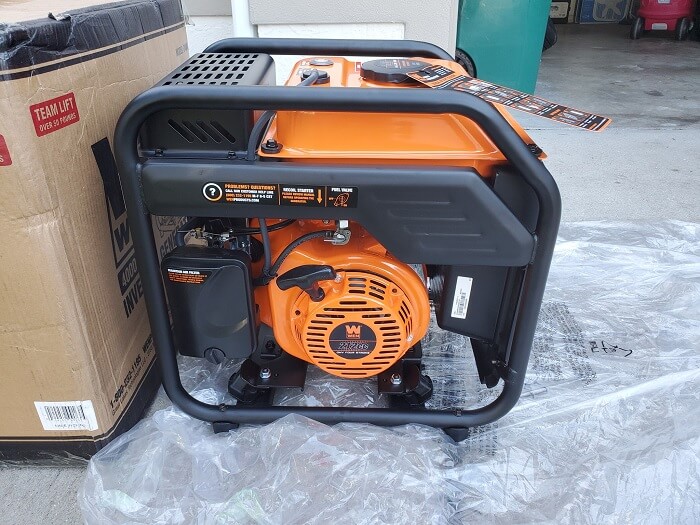 Design Comparison
Regarding sizes, you'll be glad to find that WEN 56380i is pretty compact: its length, width, and height at 19,8 x W13,8 x H18,9 inches. You can push the generator into its station and forget about it. And you'll be sure to do it so conveniently, thanks to its 66,1 lbs weight and handy handles!
Compared to its label mate, WEN GN400i is slightly bulkier, with dimensions at 23,2 x 18 x 20,1 inches. It only has one handle on its side, so it's not as easy to carry.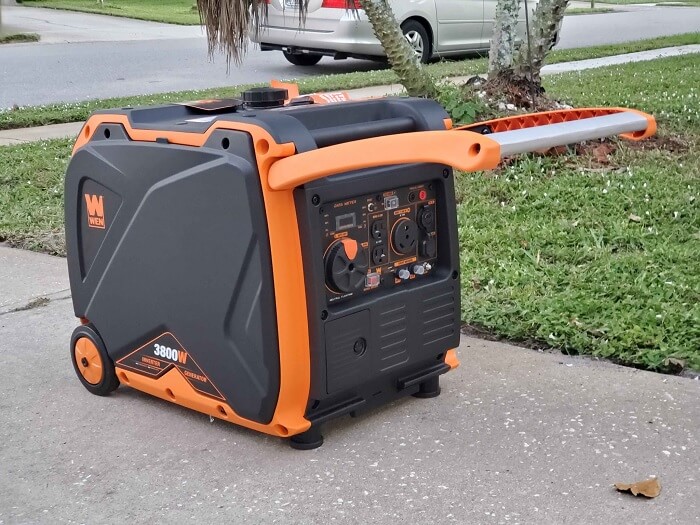 Features Comparison
You can rev up these generators with ease using the recoil starter. This means you have to pull a string to start the combustion process inside the motor for the generators to work.
You can find all the information about these generators on the side of their bodies, but that's a prerequisite for modern power suppliers anyway.
Aside from the 3 AC outlets that WEN GN400i has, WEN 56380i also has two additional direct current outlets – also known as DC outlets.
This additional feature isn't completely positive, however. Appliances typically work better when plugged into a DC power source, but they will also take way more electricity to start. DC electricity is also a lot more dangerous to use if the maximum circuit ratings and wire sizes are not suitable.
Quick Rundown Of WEN GN400i
WEN GN400i Inverter Generator
Dimensions: 19.8" L x 13.8" W x 18.9" H | Weight: 66.1 lb
Generate clean power to safely operate sensitive electronics such as phones, tablets, televisions and computers
Parallel-ready panel allows you to connect any two WEN inverter generators for increased wattage output
212cc 4-stroke CARB-compliant OHV engine produces 4000 surge watts and 3500 rated watts
Includes two 120V NEMA 5-20R receptacles, two 5V USB ports, one 120V RV-ready TT-30R receptacle

---
Quick Rundown Of WEN 56380i
WEN 56380i Inverter Generator
Dimensions: 23.2" L x 18" W x 20.1" H | Weight: 99.2 lb
EPA III and CARB Compliant
212cc 4-stroke OHV engine produces 3800 surge watts and 3400 rated watts with a half-load runtime of up to 8.5 hours
Fuel shutoff maximizes the generator's lifespan by using up the remaining fuel in the carburetor before shutting down
Produces clean power to prevent damage to sensitive electronics such as smart phones, tablets and laptops

---
Product Videos
---
Conclusion
Outro: And that's how WEN GN400i Vs WEN 56380i compares! Overall, WEN 56380i was better than its competition in efficiency and runtime, but WEN GN400i also has its perks. Keep this article in your tabs, and re-read it when you're making your purchases, and you're already one foot ahead of everyone else in the store!