Generac iQ3500 and Wen 56380i: Which portable generator is the better option for you? Still, have no idea? Let's scroll down to find the answer!
Differences Between Generac iQ3500 and Wen 56380i
Below is a summary of the specifications
Image
The Winner (#1)
The Runner-up (#2)
The Winner (#1)
Image
The Runner-up (#2)
Image
Power Comparison
Both Generac iQ3500 and Wen 56380i are run by petrol, with 212 cc OHV 4-stroke engine. To specify, Generac iQ3500 is equipped with a tank of 2,6 gallon that can handle the issue of electricity for about 14 hours if it is full of petrol. In the meantime, the capacity of Wen 56390i is 2,2 gallon, and 50% of the tank can be consumed for about 8,5 hours.
The wattage of Generac iQ3500 is 3000W and reaches the highest at 3500W. In case of a blackout, you can comfortably use the refrigerator/freezers, lamps, TV, and cable box without issue. You can also run two hairdryers on full heat at once and even other equipment simultaneously.
This is not an exaggeration but due to the practical experience. The sound from Generac iQ3500 is amazing that produces seemingly silence. You and your friends can talk with each other next to this generator without any effort of raising your voices.
On the other hand, the wattage of Wen 56390i is 3400W and optimized 3800W, overweighting that of Generac iQ3500. However, Wen 56390i is louder than Generac iQ3500 with a noise level of 57 dBA.
In addition, the energy consumption level of Generac iQ3500 is 0,18 GPH, less than that of Wen 56380i, which is 0,26 GPH. Both these products are not suitable for sensitive electronic equipment. Nevertheless, Generac iQ3500, with less than 3% of THD, can deal with this problem better than Wen 56380i with less than 1,2 % of THD.
Another noticeable difference is that to start Generac iQ3500, you can use both traditional and remote ways. However, Wen 56380i can only be started by traditionally pulling.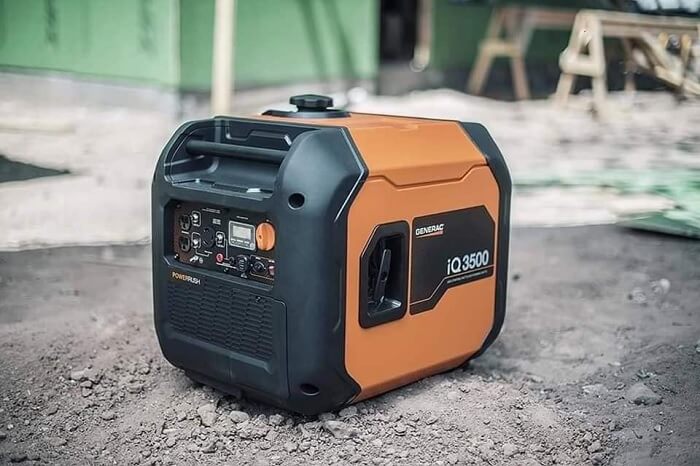 Design Comparison
These two products are colored orange and black, making them usually compared with each other.
The dimensions of Generac iQ3500 is 23,7 x 18 x 21,7 inches and it is 109,1 lbs weight, 10 lbs heavier than Wen 56380i, whose dimensions are 23,2 x 18 x 20,1 inches. In terms of design, Wen 56380i is smarter with a handle helping the users easily move it among spots.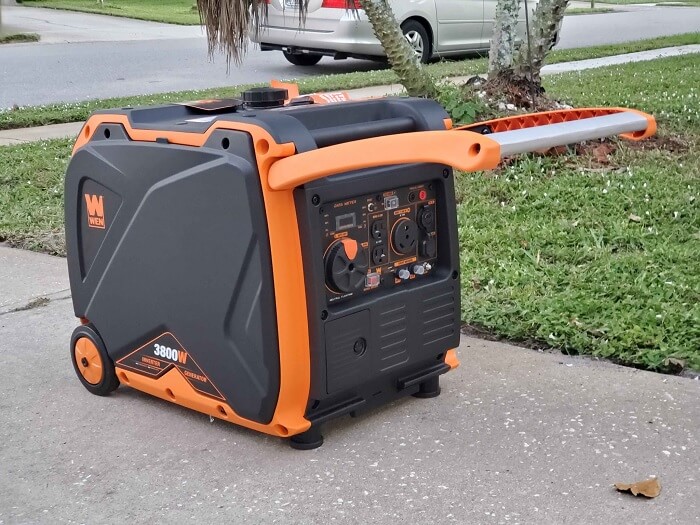 Features Comparison
About noticeable features, Generac iQ3500 possesses one 30 amp L5-30R outlet, two 20 amp 5-20R outlets, three AC outlets, two USB plugs, and a 25 amp point connecting two Generac devices with each other for power outputs. Generac iQ3500 is well-known for using modern Powerrush technology, which produces 50% more starting power on beginning your appliances.
Meanwhile, Wen 56380i only has three AC outlets but impresses the customer with the fuel shut-off feature, which automatically shuts off the flow of fuel, forcing the generator to use the fuel already in the carburetor instead of allowing any more to come into it.
Quick Rundown Of Generac iQ3500
Generac iQ3500 Portable Inverter Generator
ULTRA-QUIET – 40% Quieter than Honda* Advanced inverter technology and enclosure design provide optimal quiet performance (* Over 5 dB(A) quieter than the EU3000is, based on independent third-party testing)
Ideal for work or play - durable steel enclosure, clean inverter power and easy portability make this the ideal generator for jobsites or recreational activities
16% more power than Honda, Featuring power rush advanced technology.Rated AC Frequency:60 Hz
Digital smart lcd - digital wattage meter, run time remaining display, generator status, hour meter and fuel level
USB ports - charge mobile devices including smartphones and tablets

Quick Rundown Of Wen 56380i
Wen 56380i Portable Inverter Generator
Dimensions: 23.2" L x 18" W x 20.1" H | Weight: 99.2 lb
EPA III and CARB Compliant
212cc 4-stroke OHV engine produces 3800 surge watts and 3400 rated watts with a half-load runtime of up to 8.5 hours
Fuel shutoff maximizes the generator's lifespan by using up the remaining fuel in the carburetor before shutting down
Produces clean power to prevent damage to sensitive electronics such as smart phones, tablets and laptops

Product Videos
Conclusion
Hopefully, the information provided above has helped clear all of your product uncertainties about Generac iQ3500 vs Wen 56380i. In our opinion, with an extremely attractive price compared to Generac iQ3500, Wen 56380i is a more reasonable choice because it can completely bring you a great experience and adequate utilities.