Westinghouse iGen4500 and Wen 56380i: Which portable generator is the better option for you? Still, have no idea? Let's scroll down to find the answer!
Differences Between Westinghouse iGen4500 and Wen 56380i
Below is a summary of the specifications:
Image
The Winner (#1)
The Runner-up (#2)
Size
24,5 x 17,5 x 20,5 inches
The Winner (#1)
Image
The Runner-up (#2)
Image
Size
24,5 x 17,5 x 20,5 inches
Power Comparison
Both Westinghouse iGen4500 and WEN 56380i belong to the gas-powered portable inverter generator category.
Westinghouse iGen4500 uses a 212cc 4-stroke OHV engine to deliver 4,500 starting watts and 3,700 as running watts. Meanwhile, WEN 56380i features a 212cc 4-stroke OHV engine with 3400 rated watts and a maximum of 3800 watts.
Westinghouse iGen4500 also spends 18 hours to consume up a full tank of 3.4-gallons of gasoline under 25% electricity load. Besides, WEN 56380i takes 8.5 hours to consume a tank of 2.2 gallons of gasoline at 50% load.
About the noise level, Westinghouse iGen4500 delivers a super quiet experience for users (52 dBA) thanks to its design of the double-insulated acoustic enclosure, asymmetrical cooling fans, and low-tone mufflers. On the other hand, WEN 56380i is rated at 57 dBA, comparable with the level of a window air conditioner or an average conversation.
We consider that WEN 56380i is the safest device due to its total harmonic distortion rate (THD) under 0.3 percent at no load and under 1.2 percent at full load. It is highly compatible with the most sensitive devices such as laptops, cellphones, monitors, tablets.
At less than 3% THD, Westinghouse iGen4500 is also safe to provide power to many electric applications such as laptops, tablets, LCD/Plasma televisions, or mobile devices.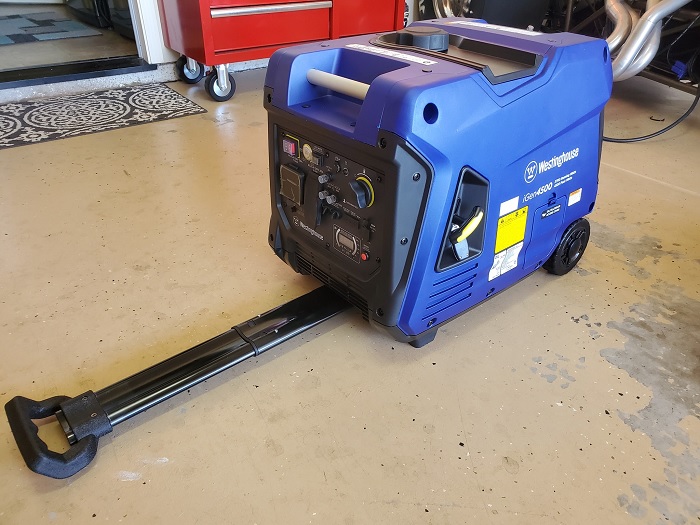 Design Comparison
Both Westinghouse iGen4500 and WEN 56380i have a catching-eye design with light-weight and ultra-portability. To be more specific, Westinghouse iGen4500 measures at 18 x 10 x 15.5 inches and weighs 93 pounds. The WEN 56380i is slightly bigger and taller with 23.2 x 18 x 20.1 inches and 99.2-pounds weight.
The notable design of Westinghouse iGen4500 is two convenient top-carrying handles and a built-in telescoping handle. Hence, it's so convenient and easy to carry.
WEN 56380i, on the other hand, is equipped with built-in never-flat wheels and folding handles to make it easy for storing and moving on different terrain.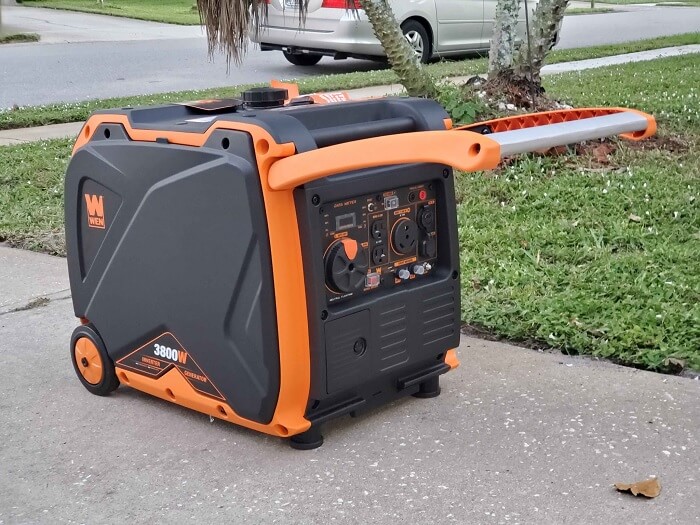 Features Comparison
The Westinghouse iGen4500 uses remote start, push-button start, and recoil start to operate. In contrast, the WEN 56380i features manual recoil and electric start as the starting-up method.
The Westinghouse IGen4500 features two 120V Outlets, a TT-30R RV Outlet, and two USB Ports. WEN 56380i is more functional, which can provide 5V USB port, AC 120V NEMA TT-30R RV receptacle, three-prong 120V receptacles, and 12V DC receptacle.
Moreover, WEN 56380i uses a digital display panel meter to control voltage, wattage, frequency, run time, and fuel supply. While the Westinghouse iGen4500 comes along with the LED Data Center, which will provide you with the most relevant information from wattage output, fuel level, remaining run time, low oil warnings, and when to maintenance.
Quick Rundown Of Westinghouse iGen4500
Sale
Westinghouse iGen4500 Super Quiet Portable Inverter Generator
4500 Peak Watts and 3700 Rated Watts at Less Than 3% THD; Telescoping Handle; Gas Powered; Remote Start With Included Key Fob, Electric and Recoil Start
Features a 5–20R 120V Duplex Household Outlet, an RV-Ready Tt-30R 30 Amp Outlet and Two USB Outlets – Great Choice for Travel Trailers or Home Use – Strong Enough to Run All Your Essentials
Led Data Center: Rotating Digital Display Shows Fuel Level, Power Output, Remaining Run Time, Voltage Output, and Lifetime Hours
Extremely Quiet, Extremely Fuel Efficient: as Low as 52 dBA Noise Output and Up to 18 Hour Run Time on a 3. 4 Gallon Gas Tank – Features "Economy Mode" for Maximum Fuel Efficiency
All Westinghouse Portable Generators are Functionally Tested in the Factory and May Contain Minimum Residual Oil and/or Fuel Odor; EPA and CARB Compliant; Backed By 3-Year Limited Service, Labor, and Parts Coverage and Nationwide Customer Service Network
[i2pc show_title="false" title="Pros & Cons" show_button="false" pros_title="Pros" cons_title="Cons" ][i2pros]Key fob remote start available aside push button & recoil start
Good, solid, clean RV Power
Powerful enough to run 15000 BTU air conditioners with ease
Easy to set up and operate [/i2pros][i2cons]Incapable of using parallelly with another Westinghouse iGen4500
Quite heavy
High price [/i2cons][/i2pc]

---
Quick Rundown Of WEN 56380i
WEN 56380i Super Quiet Portable Inverter Generator
Dimensions: 23.2" L x 18" W x 20.1" H | Weight: 99.2 lb.Dimensions: 23.2" L x 18" W x 20.1" H | Weight: 99.2 lb.Engine Speed : 3600 RPM. Spark Plug Gap : 0.7 - 0.8 mm (0.028 - 0.031 in).
Extremely quiet operation minimizes noise;, EPA III and CARB Compliant
212cc 4-stroke OHV engine produces 3800 surge watts and 3400 rated watts with a half-load runtime of up to 8.5 hours
Fuel shutoff maximizes the generator's lifespan by using up the remaining fuel in the carburetor before shutting down
Produces clean power to prevent damage to sensitive electronics such as smart phones, tablets and laptops
[i2pc show_title="false" title="Pros & Cons" show_button="false" pros_title="Pros" cons_title="Cons" ][i2pros]Super quiet
Providing clean and reliable power sources
Using parallel with another WEN 56380i[/i2pros][i2cons]Quite heavy
Small fuel tank
Easy drainage tube for the oil[/i2cons][/i2pc]

---
Product Videos
---
Conclusion
This informative comparison between Westinghouse iGen4500 Vs WEN 56380i makes it easy to realize that Westinghouse iGen4500 features more powerful engines, lighter weight, and a lower noise rate than its rival.
Hence, the WEN 56380i will stand behind Westinghouse iGen4500 in smaller fuel tank capacity and less powerful engine. But the generator is still a good choice, as it is suitable to run a typical 13,500 BTU air conditioner.