Here I will compare the power, portability, and functionality of the Westinghouse igen2200 and Wen 56200i.
Difference between Westinghouse IGen2200 and Wen 56200i
Before entering the following article, below is a summary of the specifications of the 2 generators.
Image
Dimension
19.8 x 11.4 x 17.9 inches
Image
Dimension
19.8 x 11.4 x 17.9 inches
Image
Power Comparison
In terms of wattage, the candidate from the Wen 56200i may lose one point to its peer. While Wen 56200i runs at 1600 watts, the Westinghouse iGen2200 is more powerful with 1800 running watts.
Westinghouse iGen2200 can peak 2200W higher than 2000W of Wen 56200i. As a result, the Westinghouse iGen2200 model will be more flexible and versatile in powering appliances or engines that need an external boost to start.
Besides, you must consider each model's runtime. With the same 50% of the maximum capacity, the Westinghouse iGen2200 can provide up to 10 hours of working non-stop, while Wen 56200i only operates up to 6 hours. Therefore, in general, the Westinghouse iGen2200 model gives you longer runtime.
How about their fuel efficiency? This sub-criteria is essential because it decides whether you can save a big deal of money for running the machine with gasoline.
Honestly, these inverter generators are both fuel-efficient. But in particular, with 50% of the maximum capacity, the Westinghouse iGen2200 consumes 0.12 gallons per hour, whereas the Wen 56200i figure is 0.17 gallons per hour.
Westinghouse igen2200 and Wen 56200i both have low THD, suitable for powering sensitive electronic equipment. (Westinghouse iGen2200 <3% THD and Wen 56200i <1.2% THD)
At 51 dBA, the noise of Wen 56200i is slightly lower than the 52 dBA of Westinghouse igen2200.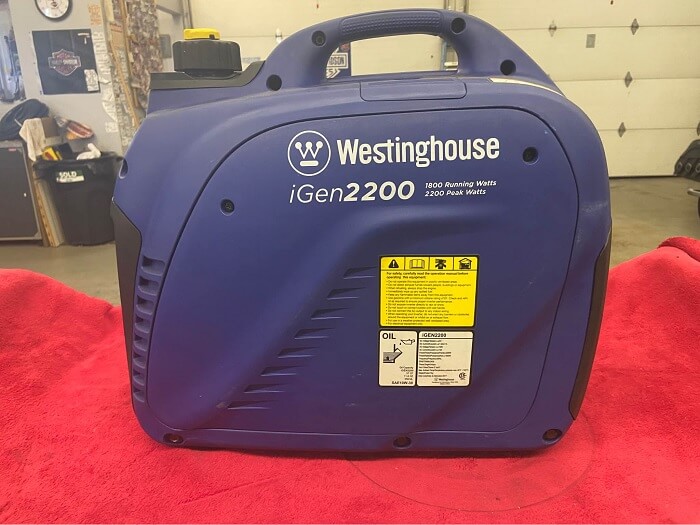 Design Comparison
The WEN 56200i features 18 x 11 x 18 inches in dimension. So, it is less bulky than the 19.8 x 11.4 x 17.9 inches of the Westinghouse IGen2200
At 46 lbs, the iGen2200 is slightly lighter than the Wen 56200i (which weighs 48 lbs).
With an integrated suitcase-style handle that allows both for easy portability
Features Comparison
First of all, let's talk about their starting system. You can start the Westinghouse IGen2200 and Wen 56200i with their pull-start mechanism
The second feature that should be taken into account is the outlet. Both of them provide 2 AC outlets
The Wen 56200i is equipped with a fuel gauge that provides an instant fuel level display
Quick Rundown Of Westinghouse IGen2200
Westinghouse iGen2200 Portable Inverter Generator
Great Choice for Home Use as an Emergency Backup in a Power Outage – Strong Enough to Run Most...
Product dimensions – 19.8" L x 11.4" W x 17.9" H | Engine displacement – 80 cc | Voltage –...
1800 Rated Watts and 2200 Peak Watts at Less Than 3% THD - Weighs Only 46 Lbs. - Gas Powered - Two...
Parallel Capable - Combine Your iGen2200 with the Westinghouse WH2200iXLT, iGen1200, iGen2200, and...
All Westinghouse Portable Generators are Functionally Tested in the Factory and May Contain Minimum...
---
Quick Rundown Of Wen 56200i
WEN 56200i Portable Inverter Generator
Dimensions: 18" x 11" x 18" | Weight: 50 lbs
Noise Level: 53 dB operation
EPA III and CARB Compliant 79.7 cc 4-stroke OHV engine produces 2000 surge watts and 1600 rated...
Great for campgrounds, construction sites, tailgates and power outages
Produces clean power to safely operate and prevent damage to sensitive electronics such as phones,...
---