Both Westinghouse iGen2200 vs WH2200ixlt come from a reputable brand, Westinghouse. They are fantastic portable generators, but which one will be a better investment?
To answer this tough question, today we will go through an in-depth comparison review about these products and choose one final winner.
Differences Between Westinghouse iGen2200 vs WH2200IXLT
Image
The Winner (#1)
The Runner-up (#2)
The Winner (#1)
Image
The Runner-up (#2)
Image
Price
The first thing everyone cares about before buying any portable generator is its price. Westinghouse is famous for providing its customers with a lot of affordable but high-quality products. Obviously, iGen2200 and WH2200ixlt are not exceptions.
To compare, currently, the Westinghouse WH2200iXLT is cheaper than Westinghouse iGen2200. However, the difference in the price is not too much.
In fact, for generators in the same segment as Honda or Yamaha, you will have to pay to own. High prices can make you feel good about quality but in reality, that's not always the case, especially for iGen2200 and WH2200ixlt.
Utilities
The next thing you should consider when buying any portable generator is how much power it boasts. A robust generator can allow you to power so many appliances at home or enough to use during your camping.
Thanks to the same surge and running wattage of 2,200 W and 1,800, both the Westinghouse WH2200iXLT and the Westinghouse iGen2200 can easily handle kick-starting your appliances and maintaining their operation.
However, the iGen2200 can run for a longer time than the WH2200ixlt. While the former can operate non-stop for up to 12 hours when loaded to 25% of their max capacity, the latter can provide the maximum runtime of 13 hours.
The number of outlets is directly related to the utility of the generator. One generation machine with more outlets will be much more convenient for using when you can operate many appliances at the same time.
The iGen2200 shows its advantage when compared to the WH2200iXLT. The Westinghouse iGen2200 comes with two 120V 20A AC outlets and two 5V DC USB ports.
Meanwhile, the WH2200iXLT features the same number of 120V 20A AC outlets and also a single 12V DC outlet. In this case, one more DC outlet will allow you to charge gadgets and devices through USB cables.
Weight and Portability
Weight and portability is another important factor when purchasing. The Westinghouse WH2200iXLT's item weight is only 43 pounds, and the iGen2200's is quite the same with 47 pounds. Both are not equipped with wheels but you can utilize the handle to carry them around.
Quick Rundown Of Westinghouse iGen2200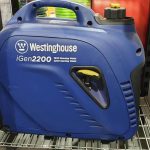 Westinghouse iGen2200
1800 Rated Watts and 2200 Peak Watts at Less Than 3% THD - Weighs Only 46 Lbs. - Gas Powered - Two...
Great Choice for Home Use as an Emergency Backup in a Power Outage - Strong Enough to Run All Your...
Extremely Quiet, Extremely Fuel Efficient: as Low as 52 dBA Noise Output and 12 Hour Run Time on a...
Parallel Capable - Combine Your iGen2200 with the Westinghouse WH2200iXLT, iGen1200, iGen2200, and...
All Westinghouse Portable Generators are Functionally Tested in the Factory and May Contain Minimum...
Pros:
It has several accessories included
Parallel capability can double the power supply
Inverter
It is very lightweight (43 lbs)
Quiet operation for its power (just 52 dBA)
Fuel efficient
Cons:
Comes with no data center
No electric start

Quick Rundown Of Westinghouse WH2200ixlt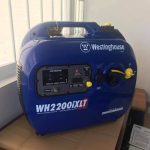 Westinghouse WH2200ixlt
Lightweight, Compact, and Quiet - Power Anywhere, Anytime (43 lbs. and 59dBa at 50% Load)
Safely Powers Sensitive Electronics Such as Laptop Computers, Cell Phones, & More (1800 Running...
Enhanced Fuel Efficiency - 1.3 Gallon Gas Tank Lasts 13 Hours at a 25% Load - Runs All Night
Double Your Power - Combine the WH2000iXLT to Another Westinghouse WH2000iXLT or WH2400i Digital...
Two Year Limited Warranty - EPA & CARB Compliant (Legal for Sale in California)
Pros:
Very quiet operation
Extremely fuel-efficient
Compact and lightweight
Low THD for safe, clean power
Parallel capable
Low oil automatic shut-off for engine protection
CARB compliant
Cons:
Low oil sensor tends to develop faults

Conclusion
Looking at these two models, Westinghouse iGen2200 vs WH2200ixlt, it can be very challenging in choosing one over the other. They both share many distinct features from the famous brand of Westinghouse.
Still, after days after days weighing my choices, finally, I could get to something. In most situations, both models are each other's ultimate rival. Still, should you be looking for an inverter generator with lightweight, higher runtime, fuel efficiency, and quiet operation, the Westinghouse WH2200ixlt will be the best investment for you.